Diseases of Cacti and Succulents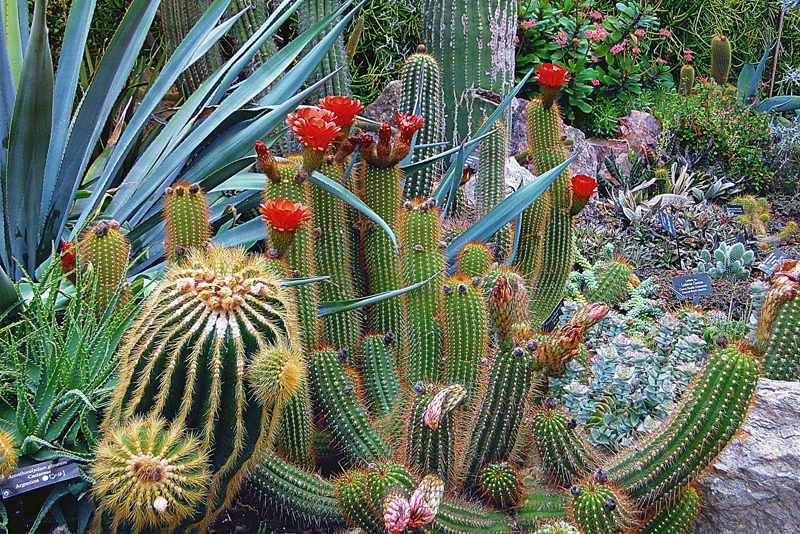 For the most part, cacti and succulents are carefree plants. Given the right growing conditions, they will rarely suffer from serious insect and disease problems. However, as with most plants there are exceptions. Typically, as a general rule the diseases are less likely to occur if the plants are kept in bright, airy sites. On the other hand, high humidity and overly warm temperatures can encourage the development of diseases. Of those
diseases that do occur, the ones below are the most common.

Cacti and succulents are prone to three basic types of diseases. These include fungal and bacterial problems as well as viruses. Strictly speaking, viruses aren't diseases though they are usually classified as such.

Of the different fungal problems, one of the most common is powdery mildew. This occurs on many different kinds of other plants as well. The name really describes what you will see on the plant, which is powdery white growth. It is most likely to occur if the growing conditions are wet and humid. Of all the different cacti and succulents, the ones most likely to be affected by powdery mildew are the Crassulas and the Euphorbias. This can often be treated successfully by removing the affected plant tissue and promoting good growing conditions, which will discourage a recurrence. Fungicides are effective against this disease, but if you can improve the situation in which the plant is growing this is not necessary.

Gray mold or Botrytis is similar to powdery mildew in that it looks moldy. Typically, this only occurs on plants that are already weakened. If this does occur, move the plants to a better location and remove all the affected plant tissue. Fungicides can also be used, but is rarely needed if conditions can be improved. This can also be found on dead plant tissue.

These sun-loving plants can get various kinds of rots, and you will typically see spots on the plants as a result. Black rot looks exactly what the name describes. The surface of the plant will develop blackish areas at the surface of the soil. You are most likely to see this problem develop on Stapelia. Depending on the type of rot, these spots may be either wet or dry. Wet rots are much more serious than dry rots. One of the more common wet rots is caused by phytophthora, a fungus. If these show up, I just prefer to discard the plant and start over. Because this disease can be spread in contaminated soil, it is best to throw the whole pot in the trash. Don't think about composting it, as this will not destroy the pathogen. It will simply spread the disease to other plants.

Dry rots are often caused by fusarium. These may start as odd colored spots, usually red to purple, and show up wherever the plant tissue has suffered injury. Depending on the location of the damage, it may be trimmed off. But if it is located further down the stems this isn't always possible. Fungicides are sometimes used. The best approach is prevention. Avoid injury to the plants.

The rots can occur in different areas. One of the most pernicious is root-neck rot. By the time the symptoms show up, it is probably not possible to save the original plant. In these advanced cases, all you can do is cut the healthy top part of the plant that remains and re-plant it.

Cacti and succulents can get leaf spots. It is easy enough to prevent. Keep the temperature and humidity at their proper levels. Leaf spots will often show up as sunken areas on the plant's surface. These may be yellow-brown, or in some cases dark reddish-brown. When leaf spots show up, these can be removed by cutting out the spot with a sterilized knife.

Damping off can occur in cacti and succulent seedlings. This disease is prevalent among all seed-grown plants. There will be whitish webs on the surface of the soil. This disease can be prevented if you take the proper precautions when planting seeds. First, sterilize your containers. This is best done by soaking the pots or containers in a solution of bleach and water. In addition, use sterilized media when planting seeds. Commercial media is already sterile. If you mix your own, sterilize it in the oven.

This site needs an editor - click to learn more!


Editor's Picks Articles
Top Ten Articles
Previous Features
Site Map





Content copyright © 2022 by Connie Krochmal . All rights reserved.
This content was written by Connie Krochmal . If you wish to use this content in any manner, you need written permission. Contact BellaOnline Administration for details.