How U.S. Coins are Graded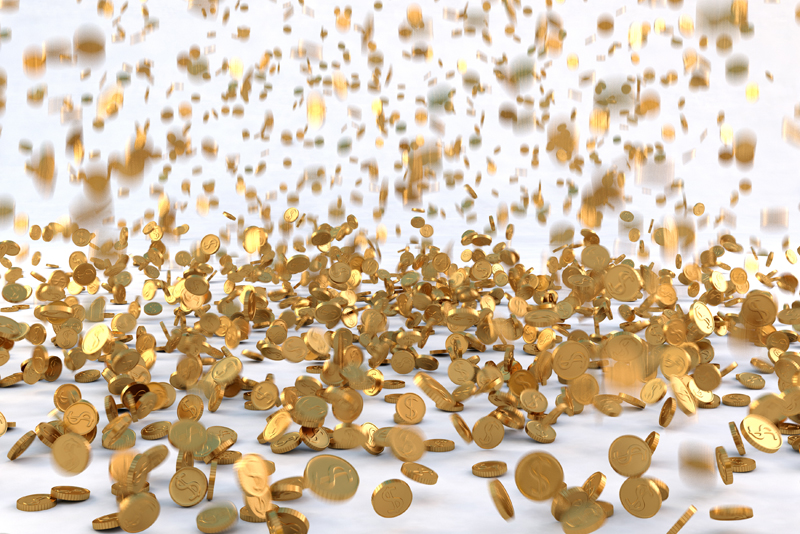 Coin Collecting is one of my great passions. There is nothing I enjoy more than talking to my clients, all day long, about something I love to do. It's more like play, than a job. Like anything, or anybody, you love; there is always something about it that just bores you to death. You have to take the good with the bad. Well, Coin Grading bores me to death. You have to learn it. It is an important part of Coin Collecting, so I will try to make this fun, and remove some of the mystery behind the grading of coins.

For the purpose of this exercise, we will be talking about coins that are "Business Strikes," that is, coins made for circulation or every day use. In coin collecting terms, they can fall into one of two categories, CERTIFIED (coins that have been graded by an independent grading service, e.g. NGC, PCGS, et. al.), and RAW (non-certified coins, e.g. your pocket change).

CERTIFIED coins are always encapsulated by the grading service with the grading service's name, logo and coin information, including the grade of the coin, sealed inside the encapsulation. The grade assigned to the coin is a numeric grade with 3 being the lowest and 70 being perfect. I know, you'd think a scale from 1 to 100 would make more sense, but you and I didn't design the system. RAW coins are generally graded in word terminology rather than by number, however some coin dealers will add a number designation behind the word grade. My advise, on buying RAW a coin, is forget the number, in most cases the dealer has not been formally trained in grading, and is just pushing for a higher price for the coin. (Wow, this will make me popular in the Coin Community).

Now, Let's put the word terminology and the numbers together. I know there will be some coin dealers who will disagree with me, but, in general, this is what I see in coin ads and at coin shows around the country.

RAW CERTIFIED

Superlative Gem Uncirculated MS (Mint State) 68, 69, 70
Choice Gem Uncirculated MS 66, 67
Gem Uncirculated MS 64, 65
Choice Uncirculated MS 62, 63
Brilliant Uncirculated MS 60, 61
About Uncirculated AU 50, 53, 55, 58
Extremely Fine XF or EF 40, 45
Very Fine VF 20, 30
Fine F 12
Very Good VG 8
Good G 4
About Good AG 3

All we have to do now, is define the word terminology and we're done. See, it has been fairly painless so far. Here are the definitions:

SUPERLATIVE GEM UNCIRCULATED – A virtually flawless coin, exactly as it was minted and it has no trace of wear or unusual striking traits.
CHOICE GEM UNCIRCULATED – A virtually flawless coin with very minor imperfections.
GEM UNCIRCULATED – No traces of wear, but may have a small blemish or two.
CHOICE UNCIRCULATED – No traces of wear, but will have minor blemishes that will detract from the coin's overall appearance.
BRILLIANT UNCIRCULATED – No traces of wear, and an obviously blemished surface.
ABOUT UNCIRCULATED – There are small traces of wear visible on the highest points of the coin.
EXTREMELY FINE – There is light wear on most of the high points of the coin.
VERY FINE – There is light to moderate, but even wear on the coin, and all the features are sharp.
FINE – There is considerable yet even wear across the surface of the coin however; the design is clear and bold.
VERY GOOD – The coin is well worn. The design is still clear, but somewhat flat and lacking detail.
GOOD – The coin is heavily worn. The design and wording on the coin is still visible.
ABOUT GOOD – You can see the outline of the coin's design with parts of the date and wording worn smooth.

We have just condensed about 30 pages of any good coin book into a few paragraphs. Yes, there is a lot more to grading United States Coin, but now you have the basic understanding of the process, which will make coin collecting more enjoyable. If you want to learn more, the desk reference I use is, "The Official A.N.A. Grading Standards for United States Coins" compiled, arranged and edited by Ken Bressett and Abe Kosoff. The American Numismatic Association (www.money.org) distributes the book.



Editor's Picks Articles
Top Ten Articles
Previous Features
Site Map





Content copyright © 2022 by Raymond F. Hanisco. All rights reserved.
This content was written by Raymond F. Hanisco. If you wish to use this content in any manner, you need written permission. Contact Gary Eggleston for details.