It follows naturally that if you collect dolls, and their dresses, you need some way of storing those dresses. This idea is a great one for doing just that with little or no money spent and a wonderful way to use some of those empty boxes and scraps of wrapping paper that just go in the trash.
Materials
Clean, empty cereal or cracker boxes
Scraps of pretty wrapping paper
Glue stick
Scissors
I used an empty cheese cracker box to make the hangers, and a small scrap of wrapping paper to decorate them. The box I used had contained cheese crackers that were also packed in a bag, so there was no grease or crumbs in the box. This is an important consideration for this project, you want as clean a box as possible.
I like this weight of cardboard because it is easy to cut, but you can certainly use heavier cardboard if you wish. Since the box is relatively light weight, I cut two pattern pieces for each hanger, so the finished hanger is a sturdy one. If you use heavier cardboard you may only need to cut one piece.
Since I wasn't sure that my wrapping paper would cover the bright colors on the outside of the box, I reversed the pattern to cut the second piece, the way you would with fabric, so that I could have the back of the cardboard (or wrong side of the box) facing out. I did the same thing when I cut the two pieces out of the wrapping paper because you want the pretty side of the paper to show on both sides of the finished hanger.
Once you have all the pieces cut out, coat the colored side of
one
of the pieces with the glue stick. Place the other cardboard piece on the glued one, with both colored sides facing each other, and press together. Coat one side of your hanger with the glue stick and place a wrapping paper piece on it and press. Repeat on the other side. Voila!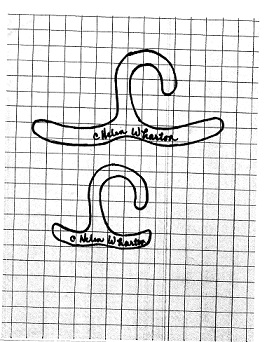 The pattern is shown on a 1/2 inch grid, so when you print it out, enlarge it so that the grid measures 1/2 inch.
The small hanger fits clothes for tiny dolls such as 8 inch Ginny dolls. The large hanger fits dresses I have made for my 20 inch
La Baby
by
Berenguer
. My closet has a rather thick wooden rod and the hangers fit on it, so they should work in almost any closet.
Making and Dressing Cloth Dolls
Ebook with patterns and instructions to make 5 cloth dolls as well as chapters on general doll making techniques.The book includes 21 inch Lalena Doll, 21 inch David Doll, Bear Dolls, 9 inch Destiny Doll and 15 inch Annie Doll, all together in one handy book. 53 pages.
Making and Dressing Cloth Dolls
.