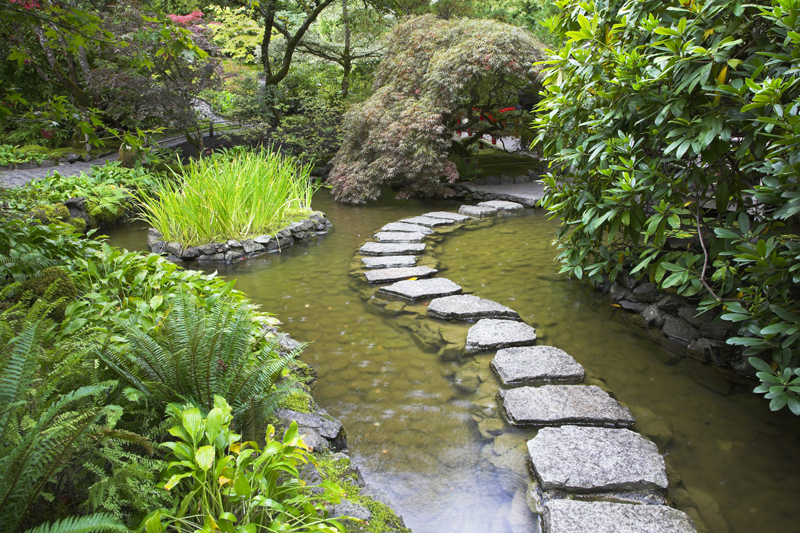 When it comes to pleasing plant combinations for the landscape, think opposites. Opposing colors can be quite effective when they're used in flower beds and borders.

Let's look at some combos to see how they might work. One of my favorites is very easy to do with spring flowering bulbs.

Rather than having an entire bed of pink and blue/purple, I just plant the bulbs for a pleasing early spring display among my later blooming perennials. This strategy extends the blooming season of this particular flower bed. In addition, this early color scheme gives way to the hot colors of summer, which are quite suitable for our sun-kissed climate here in western North Carolina. Delicate colors can often get a washed-out appearance in harshly, sunlit areas.

Creative combinations work especially well when you don't want an all-hot color or cool color garden. Hot and cool are opposites, and go together very well. One of the most commonly used duos is that of yellow/gold/orange with purple. As with my pink/purple color scheme, this is one I don't like to overuse. But it is wonderful for introducing much-needed color to ho-hum areas of the landscape. I prefer to use it with caution in a single bed, for it can overpower other landscape features. One of the most pleasing spring displays consists of yellow colored pansies with complementary purple-flowered ones. Many pansies have dark blotches that are almost black on their faces. This adds an intriguing emphasis to the yellow/purple tones.

This brings up another combination of which I am especially fond, black foliage with pink flowers or foliage. Now I'm not an expert on dark plants. I just know what I like. I'm drawn towards soft colors that are offset nicely by blacks and blackish-purple. On the other hand, dark plants can be combined beautifully with other contrasting hues. For more on this, I refer you to Karen Platt, the world's foremost authority on dark plants. She has written groundbreaking books on the subject. She is also an award winning garden designer. Founder of the International Black Plant Society, she was the first nursery owner to specialize in black plants.

Platt has written "Karen Platt's Black Magic and Purple Passion." This is so popular it is now in its third edition. Dark flowers, dark foliage, you'll find them there.

This comprehensive title features details on over 2700 dark plants illustrated with over four hundred color photos. In the A to Z plant profiles, she features a description, cultural information, hardiness information, and other details of interest for each one. She includes an entire section on black orchids. Platt explains how the different shades of black can provide seasonal interest throughout the year, and how the plants can be used to create stunning garden designs.

The appendix contains very useful information gardeners can use, including lists of suppliers in Europe and elsewhere. Buy this book, and you're bound to fall in love with the stunning photos. Well, the good news is that all the photos in Black Magic are available from Platt as cards and photographic prints. Check her website for more details.

The story of the Gold Rush may not be a happy one, but that isn't so for the gold plants. Once Platt began designing with dark colors, she found a growing need for appropriate companion plants. That's when she discovered yellow and gold is a garden designer's dream. As a result of her explorations, she wrote "Gold Fever." This comprehensive title lives up to its subtitle-"a complete guide to golden plants." The A to Z plant profile guide features 1350 golden or yellow plants with nearly three hundred color photos. As with her first title, this one provides gardeners with all the details they need to successfully design, choose, and grow yellow and gold plants for color throughout the four seasons.

Because there are so many gold and yellow plants available, she organized them by their primary feature, such as fruits, and flowers. In addition, this title has additional sections, including gold tropicals, ones with gold canes and spines, variegated plants, and seasonal color change. At the very end of this book, she lists her top ten favorites.

When Platt isn't growing her favorite plants, she travels the world lecturing on them. Recently, she completed a very successful tour of the U.S.


You Should Also Read:
Karen Platt


Editor's Picks Articles
Top Ten Articles
Previous Features
Site Map





Content copyright © 2022 by Connie Krochmal. All rights reserved.
This content was written by Connie Krochmal. If you wish to use this content in any manner, you need written permission. Contact Connie Krochmal for details.