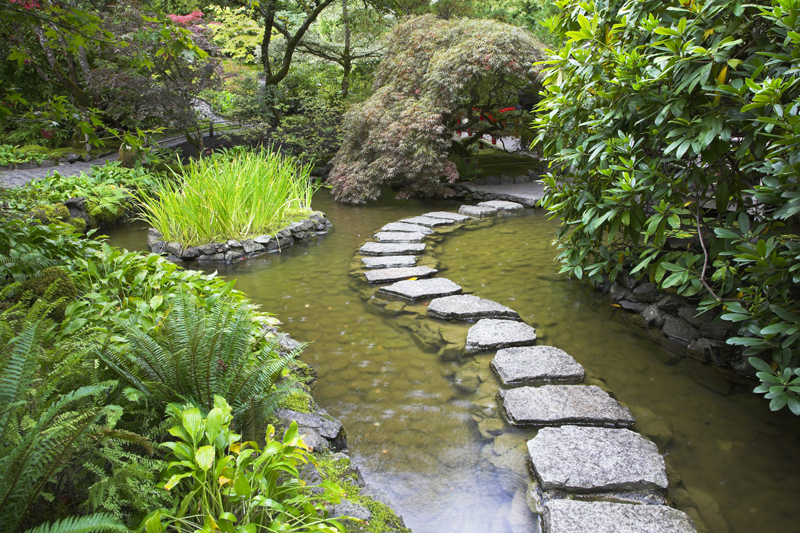 Here in western North Carolina, the mountains will soon be greening up. The coves will shimmer and shine with the native wildflowers. Everywhere we look, there'll be splashes of color. Home landscapes can join this spring chorus.

As beautiful as spring may be, it sheds light on one of our common landscape problems. Though there are certainly exceptions, many of us rely too much on flowers and too little on foliage. This becomes obvious in the dog days of summer when there is much less in bloom. It is in these critical periods that we need attractive leaves to bring our gardens to life.

For the most part, it is possible to have four seasons of interest with attractive foliage plants. Take the conifers, for example. They are wonderful for mixed borders. In addition to providing a lovely background for our flowering plants, they provide much-needed visual interest when the flowers aren't in bloom.

A lot of times we don't have to choose between flowers and foliage. Many flowering plants have very beautiful leaves. An example is the Pulmonarias. Most of these have foliage that is highly decorated with touches of white and silver on a beautiful gray-green background. Yes, in the spring they produce very beautiful flowers as well. However, the rest of the time we are free to enjoy the unique beauty the leaves have to offer.

Whatever kind of situation you have in the landscape, there is sure to be suitable foliage plants. While some thrive in full or partial sun, others prefer partial shade. It's a simple matter to match your plant choice to the growing conditions in your landscape.

As with other plants, the overall effect of foliage can vary greatly. Some foliage plants are so dramatic that you probably won't feel inclined to overuse them. Typically, these bold ones would be best used for accent plants.

Others are more delicate looking, and add a graceful, elegant look to the landscape. These can serve various functions in the landscape, and are suitable for flower beds, mixed borders, and the like.

When you're choosing foliage plants, you'll want to consider several factors, such as the actual size of the leaf as well as its visual texture and the color. Because of the lower light conditions in shady areas, some hues just seem to stand out very nicely with examples being silvers and grays.

There are a wide range of foliage plants from which you can choose. Ones like the conifers are woody species, while others may be herbaceous—either annual or hardy perennials. In addition, some may fall into a twixt and tween category, the so-called tender perennials. This means they will be tender in all but the warmest USDA hardiness zones. Typically, the tender perennials are used as container plants and annuals in colder climates.

In addition to their beauty, there is another feature of foliage plants that isn't clearly apparent. And that is the fact that once you start using them, they can become addictive. But that can be said of plants in general as well and not just for foliage. Whatever the case may be, your garden will never look the same, and you'll find yourself reveling in the gorgeous sights and textures of foliage plants.




Editor's Picks Articles
Top Ten Articles
Previous Features
Site Map





Content copyright © 2023 by Connie Krochmal. All rights reserved.
This content was written by Connie Krochmal. If you wish to use this content in any manner, you need written permission. Contact Connie Krochmal for details.