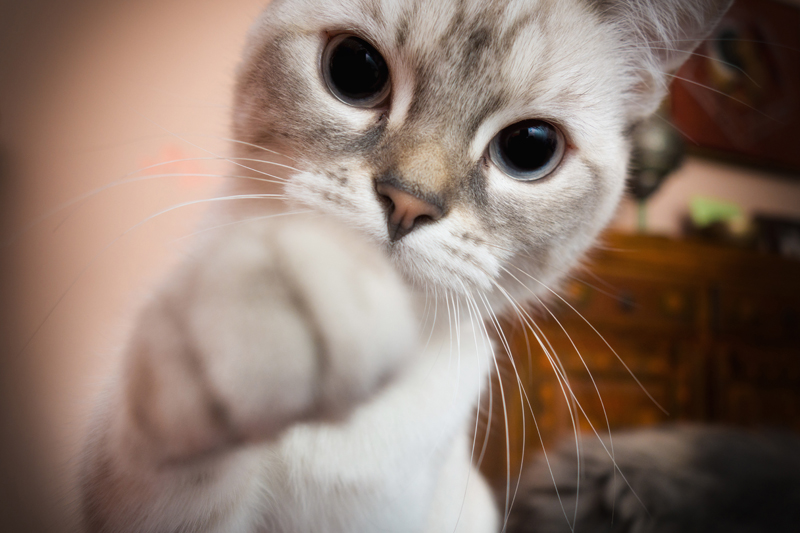 Michael Corvin finds himself caught in the middle of a war between Death Dealers (vampires) and Lycans (werewolves) that has raged for almost a thousand years. But he finds an unlikely ally in Selene, a Death Dealer who is trying to find out why Lycans are determined to capture him. Here are a few movie mistakes to look for while watching "Underworld".

∙ Selene, trying to find clues about why the Lycans were after Michael, is looking through things in his apartment. When she's looking through several pictures, the door to his apartment is mostly open. But a couple seconds later, when the phone rings and Michael is shown approaching the door from the hallway, the door is almost shut. He has to push the door open to get in.

∙ When Selene is in the tomb awakening Viktor, she bites her wrist and blood starts to drip into a circular opening on the side of the casket. In a side view of the opening, Selene's arm can be seen with the blood dripping. A drip/smudge of blood is on the outer rim of the circular opening (to the right of the screen). That shot is followed by a close-up of the opening and the drip/smudge of blood is now gone.

∙ Michael has been captured and thrown in the back of a police car when he suddenly starts to change because of the full moon. In one shot, he has the noticeable fangs but when he pulls at his shirt it's his normal teeth. The fangs are back a couple of shots later when his face begins to change.

∙ Before Viktor and Michael start their battle, a scene with Selene and Viktor shows there is blood on Selene's face (from the top of her forehead to the left side). The blood is still there during the battle between Viktor and Michael. But when the three gunmen show up and Selene stops them, a quick close-up reveals the blood is gone. It's back in the next shot when she starts running.

∙ CAUTION: May Contain Spoilers! When the battle is over, Selene approaches Michael. The front view of Michael (with Selene walking behind him) shows he turns his head to the left to see who it is. It then switches to a closer view of Selene and Michael can be seen turning his head to the left again!

"Underworld" (2003) stars Kate Beckinsale, Scott Speedman, Michael Sheen, Bill Nighy, Sophia Myles and Wentworth Miller. It runs 121 minutes and is rated R for strong violence/gore and some language.

Get your copy of "Underworld" here:




Related Articles
Editor's Picks Articles
Top Ten Articles
Previous Features
Site Map



Follow @IGMovieMistakes
Tweet



Content copyright © 2023 by Isla Grey. All rights reserved.
This content was written by Isla Grey. If you wish to use this content in any manner, you need written permission. Contact Isla Grey for details.