How to Make Chicken Lo Mein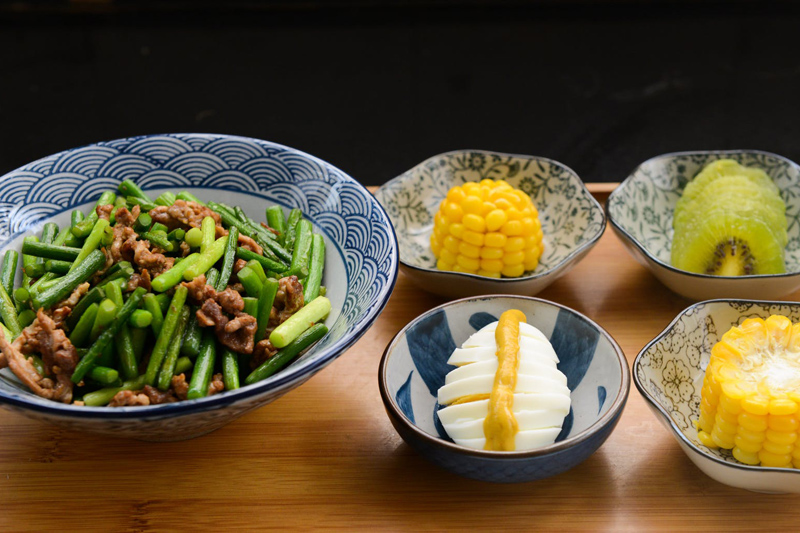 Making chicken lo mein is very easy, but a bit time consuming in the preparation and cutting of the vegetables. This chicken lo mein combines wide lo mein noodles with stir fried sliced chicken, crisp tender snow peas, carrots and green onions in an light and delicious sauce. The preparation of all the vegetables actually be done ahead of time and the prepared vegetables can be stored in the refrigerator for up to two days.
Ingredients:
3 boneless skinless chicken breasts (1.25 lb.)
1 tsp garlic salt
10 oz. wide lo mein noodles
¾ inch piece ginger
.5 oz. snow peas
2 medium carrots
5 green onions
Cooking oil (vegetable or peanut)
Sauce Ingredients:
1 tsp Maggi's bouillon (also called chicken powder)
2 tbsp oyster sauce
1 tbsp soy sauce
1 tbsp cornstarch
Remove any excess fat from the chicken breasts and then slice them into thin 1¼ inch long slices and place them in a bowl.


Sprinkle the chicken slices with the garlic salt and let them sit at room temperature. You can also use regular salt here as well.


Cook the noodles by bringing a large pot of water with about 1 teaspoon of salt added to a boil.


When the water boils, add the noodles and give them a quick stir. Then let them cook for 5 minutes, or until "al dente."


Once cooked, drain them in a strainer and run cold water over them to stop the cooking process. Then place them in a bowl and toss them with 1 tablespoon of oil and let them sit while preparing the other ingredients.


Peel and dice the ginger.


Rinse the snow peas and thoroughly dry them. Then trim off the ends and pull off the strings on the sides. Then set them aside with the ginger.


Peel the carrots and then slice them into thin rounds and set them with the other vegetables.


Rinse and dry the green onions. Then discard the ends and any wilted pieces and roughly chop the remaining stalks lengthwise into about ½ inch long pieces and set them aside.


Next, in a large cup prepare the sauce by mixing the Maggi's bouillon with ¾ cup of hot water and stir until it dissolves. Then stir in the oyster sauce and soy sauce. You can also use regular chicken broth here, but it may lack a bit of flavor since Maggi's has both added salt and seasoning. If you use plain chicken broth then add an additional tablespoon of soy sauce as well as a little salt and pepper.


Then in a smaller cup mix the cornstarch with a little cold water, just until it dissolves. This is going to thicken the sauce and give it a nice smooth texture.


Now it's time to start stir frying. Heat a wok on high and then add 1 tablespoon of oil. You can use either peanut or vegetable oil for this dish.


When the oil is hot, add the chicken and stir fry it for about 7 minutes, or until it lightly browns in spots. Then remove it from the wok and set it aside on a plate.


Wipe out the wok and reheat it on high. Then add another tablespoon of oil and let it get hot.


Then add the ginger and stir fry it for 30 seconds, or just until it is fragrant.


Then add the carrots and snow peas and stir fry them for 2 minutes.


Then add the green onion and stir fry for another minute.


Finally add the chicken and the sauce mixture and let everything cook for just 30 seconds.


Then add the cornstarch mixture and stir fry until it starts to thicken.


Once it starts to thicken add the noodles and toss everything together. Then cook, tossing constantly until the noodles are thoroughly coated with the sauce and everything is heated through. Then it is ready to serve. This makes 3 large servings of chicken lo mein, enjoy.
To watch a video on how to make this chicken lo mein click
here.


Related Articles
Editor's Picks Articles
Top Ten Articles
Previous Features
Site Map





Content copyright © 2019 by Lila Voo. All rights reserved.
This content was written by Lila Voo. If you wish to use this content in any manner, you need written permission. Contact Lila Voo for details.