Visiting Northern Italy's Christmas Markets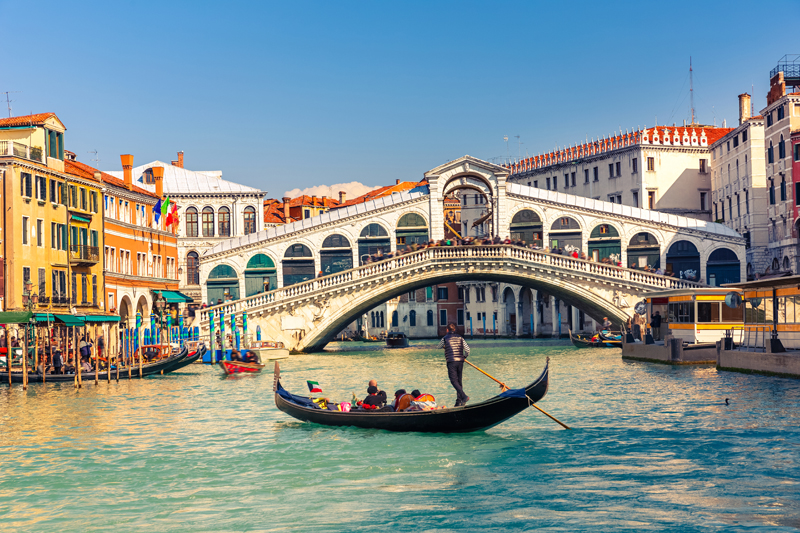 Italians celebrate Christmas with gusto, building giant crèche displays, baking special holiday treats and shopping in colorful street markets that last until the Feast of Epiphany on January 6.

Entire squares are transformed into festive Christmas markets where craftsmen sell decorations, gifts and treats, from bright Murano glass Christmas tree balls to delicious local food specialties. The presepio, a life-sized crèche scene, is a common sight even in small towns.

In planning a trip to Northern Italy in the Christmas season look for these highlights:

Christmas in Venice
Campo Santo Stefano becomes a holiday village December 2—24. Filled entirely with craftsmen and food producers, the square is lined with little wooden cabins that create tiny shops, with a backdrop picturing Venetian palaces. Look here for Murano glass, carnival masks, glass jewelry, marbled paper and other Venetian crafts. The market is in the sestiere of Dorsoduro, near the Gallerie dell'Accademia, and an easy walk from St Mark's.

Santa Lucia in Verona
The Rassegna del Presepe in Verona's Roman Arena, from December 1 to January 18 is northern Italy's largest presepio show, with more than 400 antique and modern manger scenes from all over the world. It is open daily from 9 am to 8 pm, and another collection is set up in the Duomo.

Festa di Santa Lucia is a Christmas market in Piazza Bra, next to the Arena. As much a fair and carnival as a market, it centers around Santa Lucia Day, December 12, beginning a few days earlier. Although there are craftsmen here, other vendors sell holiday treats and decorations. Throughout the entire season there is an antique carousel in Piazza Bra for children to ride.

Nativity Scenes on Lake Garda
Near Verona, several towns around the lake display collections of presepi from mid-December to mid-January, including Bardolino, Torri del Benaco and Bussolengo Here there is also a Christmas Village with decorated rooms to explore and a market of local crafts and local products that include glasswork, caramels, woodburning, toys and local wines.

At Peschiera, a nativity scene is set up in the lake, called Il Presepio del Lago. Malcesine, under its stone castle, turns into the Market of the Elves, where costumed elves appear at stalls full of crafts, holiday foods and decorations.

Christkindlmarkt in Bolzano
The huge Christmas market in this northern city uses the German name of Christkindlmarkt, and sells more traditional Alpine and Tyrolean decorations: carved wood crèche figures and Christmas decorations, hand-knit hats, gingerbread, painted wooden tree ornaments and decorated candles.

Bologna Nativity Figures
Although Naples is famed for its handmade crèches, the tradition in Bologna is just as old. The figures are quite different, molded or carved in wood, terra cotta, plaster or papier mache, with painted clothing, not dressed in fabric as Neapolitan figures are. Unique to Bologna are The Wonder, a, awe-stuck female, and The Sleeper, always asleep. Exhibits are in the Basilica de San Francesco, daily 6:30am-noon and 3-7pm, and also in the church of San Giovanni Monte.

A Santa Lucia Fair includes a Christmas market, from late November through December 27; from late November through Epiphany another market is open daily 9:30am—8pm in Via Atabella. Look for local torrone nougat made of honey and nuts.

Many European Christmas Traditions
Northern Italy is an especially interesting place to enjoy European Christmas preparations because it reflects the dual Austrian-Italian heritage of the Sud-Tirol region. The farther north one goes, the more the markets are similar to those In Innsbruck, Austria, just across the Brenner Pass. South of Verona they are distinctly Italian.



Related Articles
Editor's Picks Articles
Top Ten Articles
Previous Features
Site Map





Content copyright © 2022 by Barbara Radcliffe Rogers. All rights reserved.
This content was written by Barbara Radcliffe Rogers. If you wish to use this content in any manner, you need written permission. Contact Barbara Radcliffe Rogers for details.