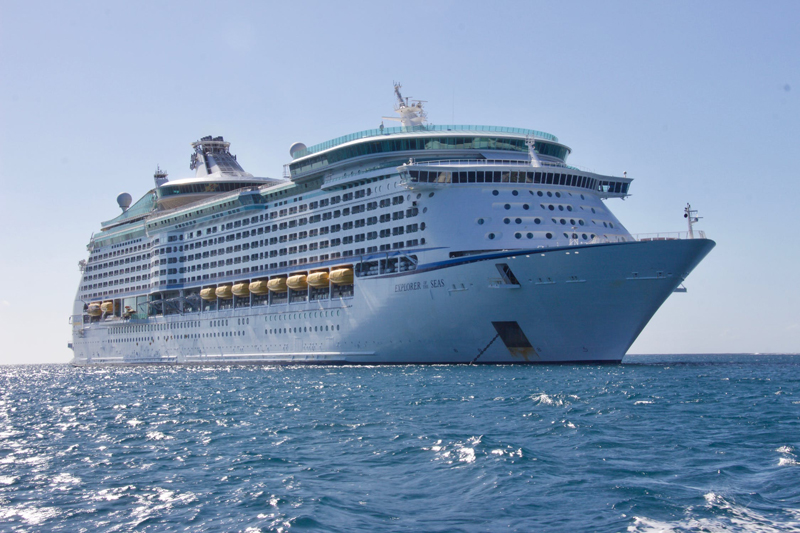 There are a number of cruise myths that often keep people from considering a cruise vacation. While some of these misconceptions may have been grounded in reality decades ago, they couldn't be further from the truth now. Today's cruise ships have changed dramatically from decades ago and offer something for every age group and interest.

Check out these ten common cruise myths and why they're not true:

1. It's Just For Seniors. This is one of the most common cruise misconceptions – and it's definitely not true. Cruise Lines International Association (CLIA) released its latest Cruise Travel Report earlier this year with findings that showed that "cruise travel has become the most popular travel preference among younger generations, including Millennials." According to CLIA's findings, 90% of Millennials who have cruised say they'll continue to choose cruise vacations. While cruising is still very popular with vacationers over 50 years of age, CLIA's study shows that there's a new younger "Cruise Generation" that's avidly flocking to the cruise experience.

2. Too Boring. Today's cruise ships are anything but boring. These floating resorts offer a wide range of activities and amenities for everyone. For example, Carnival Cruise Line's new Carnival Vista is packed with exciting features. In addition to attractions like the thrilling SkyRide, SkyCourse ropes course and massive WaterWorks aqua park, Carnival Vista has nearly 30 distinctive dining and bar venues with diverse flavors and food choices from around the globe. Families can view Dive-In movies by the pool or watch others at the Thrill Theater or in the first IMAX Theatre at sea. The key is to find the ship that's just right for you – and a knowledgeable cruise travel agent can help make that match.

3. Super Formal. While some travelers enjoy dressing up on vacation, others would prefer to leave their fancy clothes at home. That's not a problem. On most major cruise lines, dressing up on formal night is optional. Norwegian Cruise Line's Freestyle Cruising approach launched a more relaxed style of dress on cruises, with resort casual attire being standard on their ships. Others such as Disney Cruise Line, Carnival Cruise Line and others have adopted this as well, with dressy attire considered optional on formal nights.

4. Packed With Kids. While CLIA's study showed that 46% of cruise vacationers bring children along on their cruise vacation, the majority of cruise passengers do not. Furthermore, families tend to cruise during school vacation periods such as the holidays, spring break and during the summer months. Travelers who would prefer to vacation without lots of kids around can choose to cruise when schools are in session. There are also cruise lines that do not cater to families with younger children. These include cruise lines such as Viking Ocean Cruises, Silversea Cruises and others.

5. It's Expensive. This myth couldn't be further from the truth, as cruises are an excellent vacation value. Just do the math, particularly if you're driving to one of the many North American cruise homeports to start your cruise vacation. Cruises are highly inclusive vacation option. Accommodations, meals, snacks, some non-alcoholic drinks, entertainment and transportation to beautiful ports of call are all included in the cruise fare. There are usually some great sales, too. When weighing cruises to land-based vacation options, it's important to run the numbers to get an accurate comparison. A good travel agent can help.

6. Over-Scheduled. Some vacationers simply want to relax when they go away on a holiday, choosing to do whatever they want and dine whenever they please. For these travelers, the thought of having any type of schedule is a major turn-off. Norwegian Cruise Line's Freestyle Cruising caters well to these vacationers and a similar approach can be found on Carnival Cruise Line, Royal Caribbean, MSC Cruises and others as well. While there is a schedule of activities offered every day, cruise guests can do as much as they want – or nothing at all. For those who prefer a lack of scheduling, dining times on most cruise ships can be very flexible as well.

7. Too Cramped. Getting claustrophobic while being "stuck on a cruise ship" worries some travelers, but that would be highly unlikely on one of today's new megaships. These ships are huge with lots of expansive interior and exterior deck spaces. Royal Caribbean's Oasis of the Seas, for example, has seven different neighborhoods and 25 dining options. There's even Central Park onboard. Guests can go surfing on one of the ship's FlowRider surf simulators, fly down the ship's zip line, and climb two 43-foot high rock-climbing walls. There's a huge family-friendly water park onboard, but adults can enjoy their own Solarium pool as well.

8. Easy To Get Sick. Vacationers sometimes have wellness concerns about cruising and Norovirus outbreaks are typically mentioned. It's important to know that Norovirus is not limited to cruise ships. In fact, the Centers for Disease Control and Prevention estimate that over 20 million Norovirus cases occur each year in restaurants, hotels, resorts, school dormitories and other areas. People commonly think that Norovirus occurs primarily on cruise ships, but that could be because health officers must report outbreaks on cruise ships – but not at hotels and resorts. Cruise lines have instituted a number of health procedures to limit Norovirus outbreaks. The best bet to avoid Norovirus on land or sea is to wash your hands frequently with soap and hot water, drink bottled water and eat cooked foods.

9. Everyone Gains Weight. There's certainly a lot of delicious food on cruise ships. Since three meals and snacks are included as part of the cruise fare, it can be easy to overindulge. Gaining weight on a cruise vacation isn't a given, though. In fact, some guests end up losing weight by walking up the stairs, exercising at the gym, eating in moderation and just staying active. There's no need to be sedentary or pack too much food onto your plate. The choice is up to you.

10. "Booze Cruise" Environment. While everyone likes to have fun, one common misconception is that many cruise sailings have a party atmosphere with loud passengers. While a few shorter cruises to the Bahamas and Mexico can have more of a party-type atmosphere during certain times of the year, most cruises are decidedly different. There's a great cruise option for almost every kind of vacationer. Alaska and European cruises tend to be highly focused on their destinations, as are Canada/New England cruises. The same can be true of the Caribbean as well. An experienced cruise travel agent will help you find the right voyage to fit your style.








Related Articles
Editor's Picks Articles
Top Ten Articles
Previous Features
Site Map





Content copyright © 2023 by Nancy Schretter. All rights reserved.
This content was written by Nancy Schretter. If you wish to use this content in any manner, you need written permission. Contact Nancy Schretter for details.