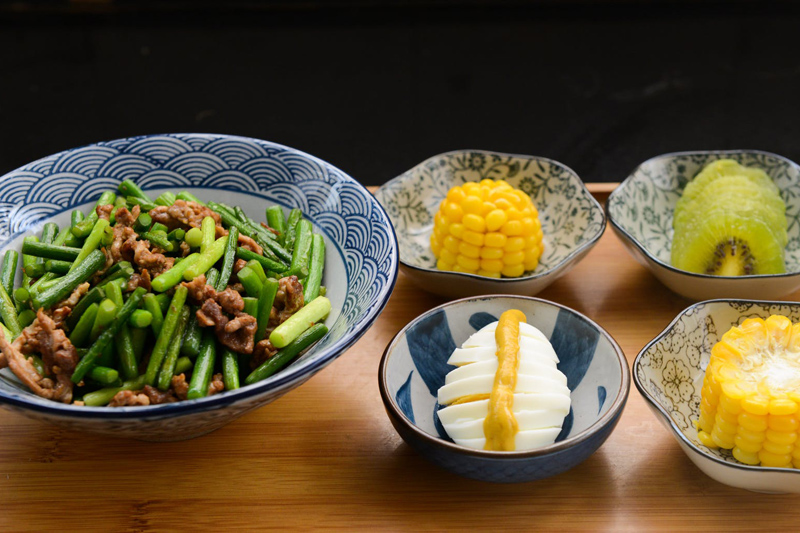 Cashew chicken is a wonderful warm and delicious dish that is found in most Chinese restaurants today. As with many popular stir fry recipes, there are various versions of this delectable dish. After experimenting with several combinations of vegetables and sauce variations, I stumbled upon this amazing concoction below. Try this recipe for yourself and let me know what you think in the Chinese food forum. Enjoy!
To watch a video for these instructions click
here
.
3 boneless skinless chicken breasts (1.5 lbs)
1 head of broccoli
1 large red bell pepper
1 tbsp cornstarch
1 ½ tbsp peanut oil
7oz can whole cashews
Marinade:
1 tbsp sherry
1 tsp soy sauce
¼ tsp garlic salt
1 tsp sugar
Sauce:
3 tbsp soy sauce
2 tbsp sherry
2 tbsp sugar
2/3 cup chicken broth
Remove all of the fat from the chicken and cut each breast into ½ inch cubes. Place these cubes in a container and add the marinade in the following steps. First add the sherry and soy sauce stirring thoroughly. Then slowly sprinkle in the garlic salt and sugar, making sure to hit each piece. Mix well and let the chicken marinate for 15 minutes at room temperature.


While the chicken marinates, prepare the vegetables. Rinse the entire head of broccoli under cold water and then cut off the crowns. Break or cut these florets into smaller pieces and place them in a large microwave safe bowl. The stalks can then either be discarded or saved to be used in a future recipe.


Next, cut the red pepper in half lengthwise and remove the stem, seeds, and white inner meat. Then rinse the remaining pepper under cold water, dry it with paper towels and cut it into 1 inch squares.


Place these pepper squares in the bowl with the broccoli and cover them with hot water. Microwave these vegetables on high for just 2 minutes. This is the same as parboiling except it takes much less time. Once they have been microwaved, drain them in a colander and set them aside.


In a cup, mix together all of the ingredients for the sauce and set it aside.


In a small cup, mix the cornstarch with just enough water to dissolve and set it aside.


Once the chicken has marinated for 15 minutes, heat a large pot or wok on high. Then add the oil and let it get hot. Once hot, add the chicken cubes and stir fry them for 3 minutes. Then remove them from the wok and set them aside.


Without wiping out the wok, add the cashews and stir fry them for 1 minute. Add the vegetables and stir fry for another 2 minutes.


Then return the chicken to the pan, add the sauce and bring everything to a boil. Once it boils add the cornstarch mixture and stir until thick.


Serve with either white or fried rice. Makes 3 servings.


Related Articles
Editor's Picks Articles
Top Ten Articles
Previous Features
Site Map





Content copyright © 2018 by Lila Voo. All rights reserved.
This content was written by Lila Voo. If you wish to use this content in any manner, you need written permission. Contact Lila Voo for details.