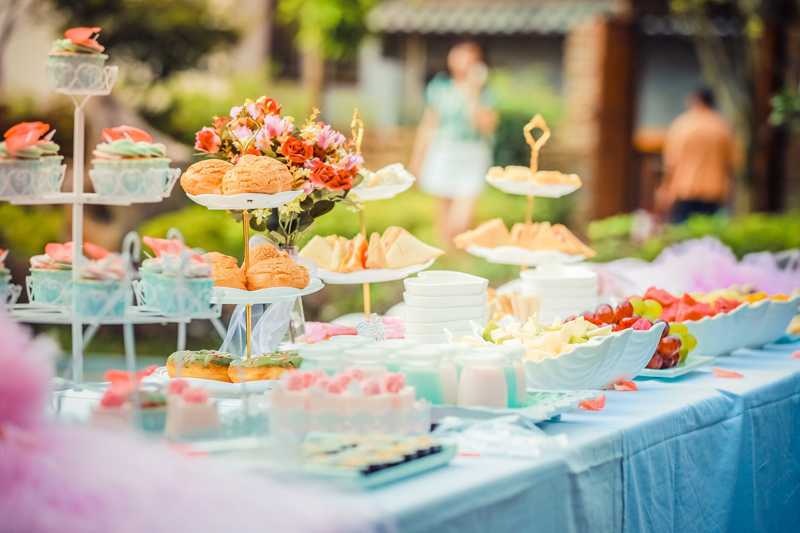 Do you love cupcakes? A cupcake war is a contest where several people bake different types of cupcakes and present to a panel for judging. Winner gets to bake cakes for a party. At this party the winner must share their recipe with the guests. Here, everyone wins!

If you love throwing parties and having fun with your friends then this party is for you!

Invite guests over for an after dinner cupcake war. Ask guests to bring 1-2 types of cupcakes (quantity= # of guests attending). You can either ask the guests to bring ready to serve on plates or provide pretty dishes yourself. You can serve them on cake/cupcake servers. If you do not have enough space, grab some old plates and cups and glue together with a high-powered glue and make your own cake tiers.

When friends arrive put out cupcakes and let everyone grab samples. Before guests leave have them pick which recipe is the best. Winner has to share their cupcake recipe with the crowd so you can all make winning cupcakes!

One of the most popular cupcake recipes floating around right now is for Red Velvet Cupcakes. Below you can find a recipe for homemade cupcakes and icing that will wow your guests or family:

Red Velvet Cupcakes:



2 1/2 cups sifted cake flour
1 teaspoon baking powder
1 teaspoon salt
2 tablespoons unsweetened cocoa powder
2 oz. red food coloring (two bottles) or 4 oz beet juice (if you use unprocessed light cocoa you can leave out the food dyes and you'll get a warm red/brown color)
1/2 cup unsalted butter, softened
1 1/2 cups sugar
2 eggs, at room temperature
1 teaspoon vanilla extract
1 cup buttermilk, at room temperature
1 teaspoon white vinegar
1 teaspoon baking soda

1. Preheat oven to 350 degrees. Line two 12-cup muffin tins or silicone pans with cupcake liners.

2. Sift together the cake flour, baking powder, and salt into a medium bowl and set aside. In a smaller bowl, mix food coloring and cocoa powder to form a thin paste without lumps and set aside.

3. In a large bowl, using a hand mixer or stand mixer, beat butter and sugar together until light and fluffy, about three minutes. Beat in eggs, one at a time, then beat in vanilla and the red cocoa paste, scraping down the bowl with a spatula as you go. Add one third of the flour mixture to the butter mixture, beat well, then beat in half of the buttermilk. Beat in another third of flour mixture, then second half of buttermilk. End with the last third of the flour mixture, beat until well combined, making sure to scrape down the bowl with a spatula.

4. In a small bowl, mix vinegar and baking soda. Add vinegar mixture to the cake batter and stir well to combine. Fill cupcake cups with cake batter until they are a little under 3/4 full. Bake for approximately 20, rotating pans halfway through. The cupcakes are done when you are able to pat the tops and the cake springs back up. If it sinks down they are not yet complete.

5. Cool the cupcakes in their tins on a wire rack for 10 minutes then remove and allow to cool completely before frosting.

Cream Cheese Frosting

8 oz (2 sticks) unsalted butter
12 oz cream cheese
3 3/4 cups confectioners' sugar, sifted
1 tsp vanilla extract

1. All ingredients should be room temperature.

2. In a mixing bowl, mix butter on medium speed until light and creamy. Add cream cheese and mix until fluffy. Slowly add the sugar, one cup at a time. Continue to mix. Finally, add the vanilla extract to the mixture and mix until it has a creamy consistency.

3. Ice away!



Related Articles
Editor's Picks Articles
Top Ten Articles
Previous Features
Site Map





Content copyright © 2022 by Amelia Johnson. All rights reserved.
This content was written by Amelia Johnson. If you wish to use this content in any manner, you need written permission. Contact Shalia Hayes for details.