Succulents and Cacti as Hedge Plants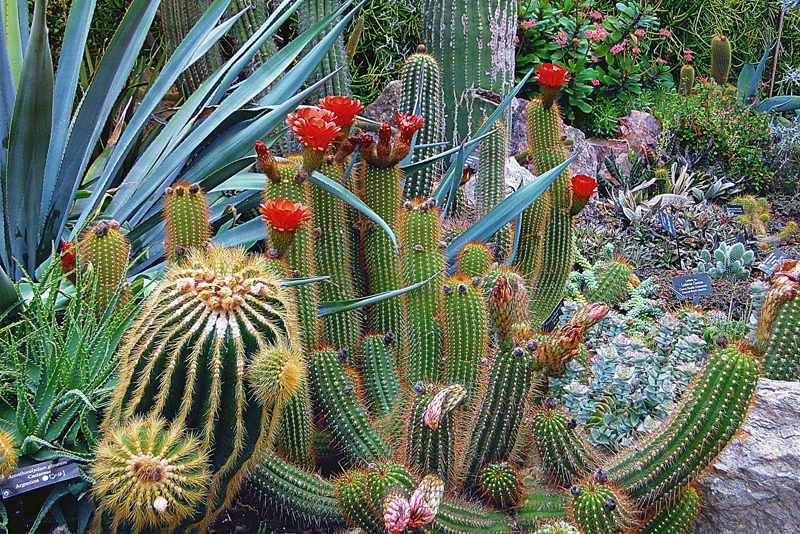 Hedges can serve many roles in the landscape. Typically, they're used as barriers along property lines and for planting along driveways and the like.

When it comes to choosing plants for hedges, don't neglect the succulents and cacti.

In most areas of the U.S., there are winter-hardy cacti that are suitable as hedge plants with the pad-type Opuntias being a good example.

For areas with warm winters, there are many suitable kinds of bushy, succulent Euphorbias. The Malayan spurge tree is among this group. In its native habitat, this can grow to over 15 feet in height. This species grows well in both full sun and shade. Tolerating poor soil, it even withstands salt spray, making it a good choice for coastal areas.

There are similar tree/shrub varieties of these upright Euphorbias, including the one called the milk bush or pencil bush. Resistant to wind and salt spray, this species prefers full sun. It can reach 15 to 20 feet or more tall.

Both of these Euphorbias can be sheared to keep them to the desired height.

Though the agaves and yuccas are lower growing, they make fine low barrier hedges. The edges of these leaves often have sharp teeth. This would tend to discourage foot traffic wherever you plant them in the landscape. Usually, there are suitable yucca species for all hardiness zones.

Though they aren't suitable for colder areas, the Cereus and similar vine-like succulents would be suitable elsewhere. These aren't true bushes or trees, but when they're allowed to clamber up hillsides, fences, and the like, they can create thickets and barriers.

Columnar cacti are suitable as barrier hedges. There are a number of suitable species, especially for warm climates.

In addition, the Opuntias or prickly pears that I mentioned earlier are often used for low-growing barriers. If given enough space, these plants can grow to be very wide, so it isn't necessary to cram then together to get the effect you want.

This is by no means all of the cacti and succulents that can be used for hedges and barriers. But this brief look at specific groups and kinds serves as a brief introduction to the subject.

This site needs an editor - click to learn more!


Editor's Picks Articles
Top Ten Articles
Previous Features
Site Map





Content copyright © 2023 by Connie Krochmal . All rights reserved.
This content was written by Connie Krochmal . If you wish to use this content in any manner, you need written permission. Contact BellaOnline Administration for details.