As I mentioned in my article
18 Inch Dolls on a Budget
, there are many 18 inch dolls available that are very similar to
American Girl
dolls, but at less cost.
One of these is my new friend, whom I have named Kathy. With thank-yous to Susan, I received her as a gift and she reminded me so much of an old friend that I gave her the same name.
Kathy is a
Madame Alexander Favorite Friends
doll. As it says on her box, she fits clothes for most 18 inch dolls, and that she has "bright, sparkling eyes" as you can see in the photos. She is called "Too Cute in Boots" which is why I gave her a name I liked better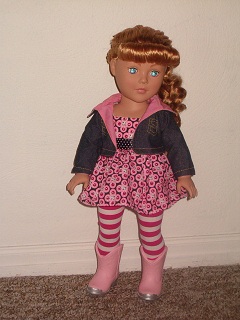 She comes with the outfit you see in the photo. The leggings do not have feet in them, which helps to get the boots on her feet. Those boots are so cute, but be warned, if you are giving this doll to a young doll lover, they are very difficult to get off and may lead to some frustration. Fortunately, they are much easier to get back on. She fits just fine in the shoes that came with my
Gotz Precious Day
doll, Julia, so I'm sure she would also fit into
American Girl
clothes and shoes.
I just love Kathy's pretty face, the colors are muted and subtle in her lips, cheeks and eyebrows, but her lovely eyes really do sparkle. Her hair is nice and thick with beautiful soft curls. Her body is pink, which I love, instead of flesh colored, and just the right combination of firmness and softness to make her very huggable.
I think this is a great doll to choose for a young friend that is starting to be interested in 18 inch doll collections without breaking the bank for a young child. But she is also a great choice for anyone because she is just lovely.
Making and Dressing Cloth Dolls
Ebook with patterns and instructions to make 5 cloth dolls as well as chapters on general doll making techniques.The book includes 21 inch Lalena Doll, 21 inch David Doll, Bear Dolls, 9 inch Destiny Doll and 15 inch Annie Doll, all together in one handy book. 53 pages.
Making and Dressing Cloth Dolls
.