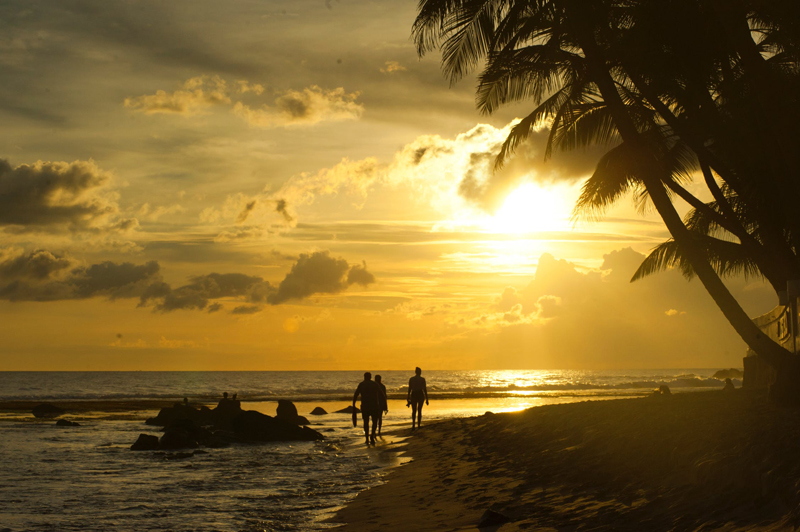 After sundown, disparate groups claim the Caribbean night. Around the major resorts, the default setting is the Happy Hour, a boisterous affair of two-for-one shots and giant Margaritas, tropical house bands pumping out 'Reggae Nights', the air thick with mosquito repellent. A conga line here, lobster red flesh there, speckled by light from the dance floor glitter ball.

A handful of islands, however, have retained something altogether more authentic, where the whole island, local and tourist, appears to descend on a chosen location as if drawn by an inner force. This is liming, a spontaneous gathering for no other reason than there still being a few hours left before Monday.

Shirley Heights Lookout is a former military outpost, almost 500 feet above sea level, overlooking by day one of the most beautiful natural harbours in the Caribbean, the seasonal megayacht base of English Harbour. But as sundown approaches on Sunday, the crowds begin to gather, catching the sunset before plunging into a bacchanal celebration of live Soca, Calypso, Steel Pan and reggae. Swathed in the smoke of numerous barbecue grills and lubricated by ample supplies of local Wadadli beer, a rich tapestry of revelers, from cruisers and yacht crew to English Harbour expat aristocracy, mingles among 18th century buildings. The Sunday party at Shirley Heights is over 30 years old, meaning over 1,500 nights have taken place.

Down south, Tobago is a sleepy island by nature, with lights out relatively early during most of the week. Head to Buccoo Beach front from 8pm onwards on a Sunday night, however, and the whole island seems to have turned up for a raucous street party called Sunday School. Steel Pan eventually gives way in the late night to sound systems, blasting out dancehall, reggae, and soca. Outside, the grills go on and the barbecue starts. Grab an ice cold Carib with a slice of lime and watch local boys on scooters sweet talk tourist girls, their hair freshly braided at the beach, or groups of island elders loudly debating anything from fish to cricket.
Sunday School is almost 40 years old. In recent years, complaints have surfaced that the event has lost some of its charm and soul, and it's not uncommon for the party to end with a punch up around the witching hour, but it would still be a shame to spend a Sunday on the island without dropping by.

In Barbados, the Oistins Fish Fry at the small coastal village up the coast from Dover and Rockley beaches was once a quiet affair, but now ranks as the island's second biggest tourist attraction after Harrison's Cave. Come on Friday night to plunder the food stalls serving some of the best fish you'll ever clamp your jaws on. In the background are live music, sound systems, and a craft market. Music varies between old school reggae and current Crop Over hits. Yes, it's very touristy and the lines can be long once things are in full swing, but it remains a local event where visitors get the chance to shoot the breeze with locals at play. Besides, the beer is cheap and the local Mount Gay Rum never tasted better.

St. Lucia's Gros Ilet was also once a quiet coastal town. No longer. If you find yourself anywhere else in St. Lucia on a Friday night, you'll be on your own. This island institution ticks all the boxes of a perfect Jump Up. Loud music, good food, plenty of Piton beer, dancing, crowds of all types. The event covers several blocks, but descends into a uniform sprawl of plastic plates loaded with bbq chicken, rice and peas, wining locals and sunburnt Babyboomers on tour letting themselves go to a Caribbean soundtrack. Be warned, though. Like any other spontaneous lime, there is the occasional off-night when fists fly or wallets go missing, but these remain the exception.





Related Articles
Editor's Picks Articles
Top Ten Articles
Previous Features
Site Map





Content copyright © 2023 by Nick Marshall. All rights reserved.
This content was written by Nick Marshall. If you wish to use this content in any manner, you need written permission. Contact Nick Marshall for details.