Container Plantings with Succulents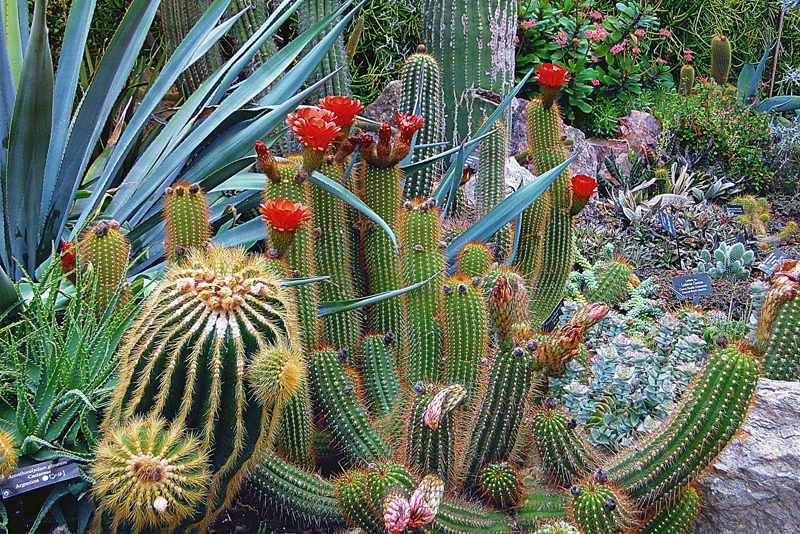 Container gardening continues to grow every year. It's easy to see why. You don't need an outdoor garden space for these potted gardens. A balcony or deck will do.

When it comes time to choose plants, the best choice by far is to mix and match different ones with succulents so long as they need the same growing conditions. Depending on your preference, this can be a mixture of succulents, or a combination of the succulents with other plants that like sunny, dry growing situations.

You'll find all sorts of herbaceous plants that can be combined with succulents at local garden centers and nurseries. First let's look at some of the companion plants, and then see how they can be combined with the succulents to create creative combos.

Annuals are the place to start. These include ones like the ever-popular geraniums as well as spider flower and the cup flower. So far as geraniums are concerned, I prefer the zonals and the fancy-leaf ones. Why settle for plain, red-flowered ones when you don't have to?

Spider flowers have long been a favorite of mine. They're just irresistible. These flowers tend to bloom from mid-summer through the fall. As the old blooms dry up, new ones show up. For containers, the best varieties are some of the newer dwarf spider flowers.

In warm areas, the cup flowers can be grown as perennials. Elsewhere, they're best treated as annuals. The cup shaped blooms are up to two inches wide. They come in a wide array of colors, including blues, and purples as well as white.

The red hot poker or poker plant is actually a perennial that is hardy to zone 6. However, there are quick blooming varieties that bloom the first year from seed. For that reason, it is suitable in mixed planters. Choose a dwarf variety for the usual ones often grows to four feet in height, somewhat large for most containers. Depending on the variety, the blooms are red, yellow, orange, or cream.

Annual types of baby's breath or Gypsophila are very suitable for combination plantings. Thompson and Morgan offers seeds of Gypsy baby's breath. Less than a foot tall, Gypsy has a tidy, mounding growth habit. It is perfect for containers.

Some tender perennials, such as Cuphea and the licorice plant (Helichrysum) are ideal choices for mixed planters with succulents. These plants like hot, dry conditions. Cupheas bloom right up until frost, while the lovely foliage of the licorice plant beautifully highlights the unique charm of succulents.

Though the mulleins are perennials that usually bloom the second year, their attractive, woolly gray foliage deserves a place in potted gardens. Their stately flower stalks, over a foot in height, also contribute much to the plants' beauty.

Moving on to foliage plants, there are many that go very well with succulents in mixed containers. The herbs are a great starting point. Ones with fine-textured foliage include lavender cotton, lavender, rosemary, savory, thyme, and germander. Several herbs with large leaves contrast nicely with succulents, including Cuban oregano, and lamb's ears. I would also include the garden sage and the ornamental-leaved sages, such as the Tricolor sage, with this group.

Some of the dwarf ornamental grasses are also compatible pot plants for succulents. Among these are blue fescue and dwarf varieties of the European feather grass.

Now, let's look at some of the succulents that are most suitable for mixed planters. Moss rose is invaluable for use as a ground cover in such container gardens. Plant it around the outside edges so the trailing stems will cascade around the edges of the pot. The low-growing, spreading Sedums can be used the same way. Many Senecios can be used for the same purpose.

When designing mixed planters, do include some taller succulents for horizontal interest. Sedum Autumn Joy and Frosty Morn are examples. The hardy Euphorbias would work very well. Depending on the cultivar, Euphorbia foliage may be gray-green, blue-green, purple, or chartreuse. An example would be Euphorbia Orange Grove is a new variety with shiny, reddish foliage and bright orange flowers that fade somewhat after they first open. Kalanchoes are also a good choice even if many of these typically quit blooming after some weeks. Check stores in your area to see if they sell the landscape kalanchoes. Some of these specially bred varieties can bloom for months off and on when they're planted outdoors.

For best results do include some of the rosette-type succulents, such as the aloes and the sempervivums.

Now for some details on creating the mixed planters. Choose combinations that look good together. What usually works best is to combine ones with different growing habits, for example tall upright ones with mounding and rosette types. You can easily do this without ever taking the selected plants out of their original pots. Try different arrangements, and move the small pots around until you get the effect you want. Finally, remove each plant from its container, and place it in the final container garden in its appropriate spot.

This site needs an editor - click to learn more!


Editor's Picks Articles
Top Ten Articles
Previous Features
Site Map





Content copyright © 2022 by Connie Krochmal . All rights reserved.
This content was written by Connie Krochmal . If you wish to use this content in any manner, you need written permission. Contact BellaOnline Administration for details.