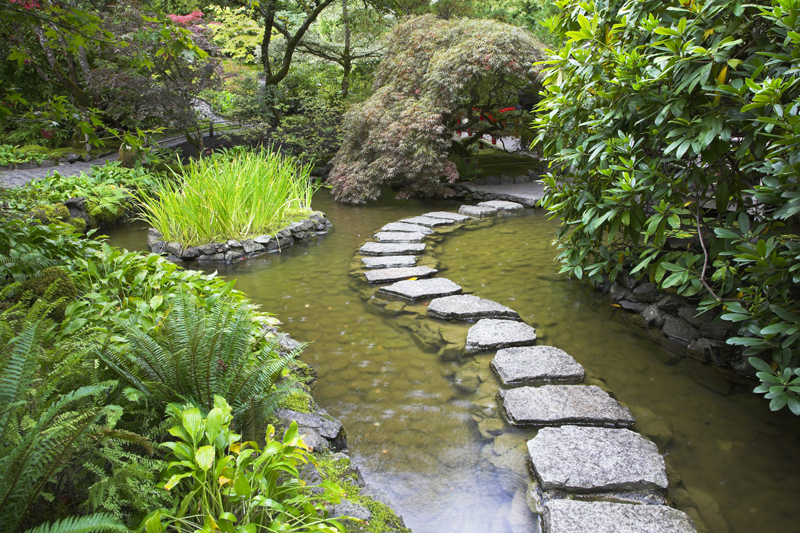 So far as spending is concern, Mother's Day and Father's Day are about equal. Most people will spend around $100 for gifts. A recent survey showed that clothing was at the top of list for Father's Day gifts with home improvement and gardening-related items coming in a close second.

Give a long lasting gift that will be around for years to come—a very special tree or shrub. Here in the Southeast, suitable choices might be the grafted Japanese maples and special cultivars of magnolias. When your dad is a gardener, other types of plants are also suitable. If you aren't sure which ones he would like, a gift certificate to a local nursery or garden center is just the thing.

When shopping for gardening and landscaping gifts for Father's Day, it is an easy matter to pick out some high quality, heavy duty gardening tools and supplies. These might include rakes, shovels, garden hoses, spades, pruners, and the like.

Other outdoor items can help your dad create a relaxed atmosphere for the backyard. Among these are bird feeders, bird baths, and bird houses. Fountains and garden art are also suitable for the same reason. Get him an Adirondack chair. These now come in beautiful colors, so it doesn't have to be plain white.

If your dad is a do-it-yourself type, he would appreciate various kinds of outdoor projects. For example, he might be dreaming about building a gazebo or pergola, or putting up a privacy fence. Perhaps, he's always wanted to install a stone or brick wall or patio. In that case, have a load of these materials delivered in time for the holiday.

If your dad spends a lot of time outdoors gardening, help him to avoid overexposure to the sun. There are now special clothes with built-in sunscreen protection. Special, broad brimmed hats are also great for the same reason.

Books and CD's are also popular Father's Day gifts. Let's look at some book titles that should be especially suitable for this occasion. For bird lovers, you won't go wrong with "The Bird-Lover's Backyard Handbook" by Jan Mahnken from Thunder Bay Press. This comprehensive title features all the information your dad needs to attract and supply the birds with everything they need. In addition to the practical details on food and housing, this guide has individual profiles of over 25 different kinds of birds. There are handy charts and tables of all sorts, including a list of their favorite foods.

"Birds in the Hand-Fiction and Poetry About Birds" was edited by Dylan Nelson and Kent Nelson, a father-daughter duo. They've birded together for the last 30 years. Published by North Point Press, this title features over 60 works by contemporary writers. Though the tone in each does vary considerably, all these writings will touch the heart of bird lovers. Among the featured authors are Derek Wolcott, Eudora Welty, and James Wright.

For hikers and outdoorsmen, there are lots of appropriate titles. For each region of the country, and often for each state as well, there are suitable wildflower guides. "Wildflowers and Ferns of Kentucky" being a wonderful example. Though this title specifically addresses plant distributions in Kentucky, it is useful for much of the eastern U.S. This is by Thomas G. Barnes, an award-winning photographer, wildlife specialist and writer, and S. Wilson Francis. It was published by the University Press of Kentucky. This quality hardcover features a color photo and complete profile for each species featuring a description, distribution, and frequency, and even includes a handy ruler on the inside cover for taking plant measurements. The plants are arranged by season of bloom. It is easy to locate the plant you want by using the handy color guides on the spine. For example, look for yellow blooms under the yellow section. In addition, the authors provide detailed family descriptions and a list of plants for each one. The introduction features all sorts of helpful information, including lists of exotic or invasive species.

Those interested in the outdoor lifestyle will find another title to be very useful indeed. "Gather Ye Wild Things-a Forager's Year" by Susan Tyler Hitchcock is from the University Press of Virginia with illustrations by G.B. McIntosh. Engrossing and informative, this is natural history at its best. By using the table of contents, it is very easy to find the plant you're interested in. They're arranged by the four seasons. Along with the usual edibles, the author delves into some of the species the other uses, such as jewelweed as a treatment for poison ivy. In addition to useful native plants, the author highlights introduced ones like kudzu.

For gardeners and those interested in landscaping, the sky is the limit when it comes to suitable books. "Plan it, Dig it, Build it!" by David Sauter was published by Thomson/Delmar Learning. Suitable for novice and experienced gardeners, this fully illustrated guide features complete instructions from initial site evaluation to project installation. It addresses specific issues of concern, such as drainage and soil problems, and grading a lot. In addition, the author addresses safety and how to avoid accidents during landscape projects and how to meet local regulations.






Related Articles
Editor's Picks Articles
Top Ten Articles
Previous Features
Site Map





Content copyright © 2023 by . All rights reserved.
This content was written by . If you wish to use this content in any manner, you need written permission. Contact Connie Krochmal for details.