This bunny is a perennial favorite for Spring and Easter, so I am bringing it back for the season. The bunny is small and easy to make. If you have some spring or pastel fabric in your stash, you can make it up in a few hours and have the perfect gift or Easter basket addition in time for the big day. This bunny is also a good choice for stuffed doll collectors or new babies at any tine of the year.
If you're planning to make this doll for infants or toddlers you'll want to be sure to use only cotton or polyester fabric and polyester stuffing so that it will go into the washer and dryer frequently. The bunny as I have made it, has beads for eyes. You'll want to embroider the facial features on for these young ones.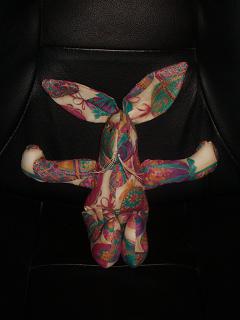 The bunny measures 12 1/2 inches from the tips of the ears to the bottom of the feet.It requires about a quarter of a yard of fabric and a small amount of stuffing. I made it using fabric that is printed with Easter eggs all over it and kept all the eggs right side up, so be aware of the design of your fabric and make sure you have enough to cut all the pieces in the direction you want.
Materials
- 1/4 yard fabric, or more as needed.
- polyester stuffing, I recommend
Polyfill
.
- 2 1/8 or 1/4 inch beads for eyes.
- carpet thread, or any stiff thread for the whiskers, you could use quilting thread that you have soaked in starch and allowed to dry flat.
- matching thread
The pattern is shown on a 1/2 inch grid and all pattern pieces include a 1/4 inch seam allowance. To make 1/2 inch graph draw horizontal lines 1/2 inch apart all the way down the paper and then repeat with vertical lines all the way across the paper
So gather your supplies and make your graph paper so you'll be ready to start making several.
You can find the pattern
Here
.
The sewing instructions are
Here
.
The most popular dress on the Doll Making Site, The Spring Dress for 18 Inch Dolls, is included as well as 5 other outfits, underwear, and accessories such as jewelry, a bag, a knitted hat and scarf, and the new scrub suit. There are also patterns for slender Magic Attic type dolls as well as full-bodied American Girl dolls and an antique Saucy Walker doll from the 1950's.
If you love 18 inch dolls, and want a collection of patterns for a wardrobe, all in one handy Ebook, this is for you! All these patterns are available on the Doll Making site, but I have brought them all together in one book for ease of finding and using them.
Make Clothes for 18 Inch Dolls
.