Landscapes for Birds and Wildlife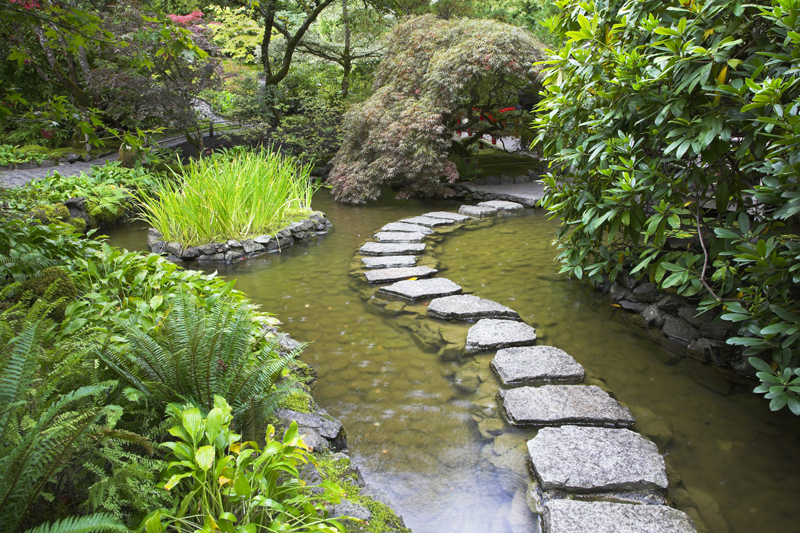 The goal of habitat lanscaping is to attract birds, butterflies, and/or wildlife to the landscape. We do this by offering them food, shelter, and water. A lot of gardeners begin by adding a bird feeder to the landscape, and expand their offerings as time passes.

Bird feeding and bird watching are the favorite pastimes of many people. The joys of birding have been enjoyed for generations. An ancient papyrus some 2000 years ago was found in Egypt in the 1800's. It recorded the purchase of pigeon houses in one household.

William Morris, founder of the Arts and Crafts movement in England, welcomed the songbirds to his garden even though they ate many of his fruits. He memorialized one of these in a textile he created and called The Strawberry Thief.

In colonial times, Americans had dove-cotes. These were later included in some landscape designs of a renowned garden designer, Ellen Biddle Shipman.

There is some concern that many of the songbird populations are diminishing. Some of the ones depicted by John James Audubon some 150 years go in his masterpiece, "Birds of America", became extinct or endangered since his death in 1851.

As more natural areas are developed, the wildlife has less space. We need sound advice on how to turn urbanized areas into wildlife-friendly habitat.

Normally bird watchers are elated at seeing exotic species of birds in their neighborhood. But this can sometimes mean the birds were swept off-course by winds or storms as I recall occurred in western North Carolina once.

You don't have to be musically inclined to enjoy the exquisite symphony nature provides in the form of bird songs. For the most parts, bird books give scant details on how to identify birds by their song. However, there is a delightful title from Algonquin Books of Chapel Hill devoted entirely to bird songs. "The Music of Wild Birds" is illustrated and adapted by Judy Pelikan. There is a very interesting story behind this book. F. Schuyler Mathews, a 19th century naturalist and composer, was so intrigued by bird song that he wrote down the songs he heard. He delved into literature and the arts to discover that songs are embodied in poetry, opera, and more. In 1904, Mathews published an in-depth book on this subject with musical notations for the songs. This new beautifully illustrated, annotated edition, which was adapted from Mathews' original, features fifty different birds and their songs.

Butterflies and birds share some of the same needs, such as for food sources and water. There are many butterfly species that are commonly seen in our landscapes. When it comes time to identify the ones you have, the best place to turn is "The Butterfly Handbook" by Dr. Jacqueline Y. Miller and Dr. Lee D. Miller. Their book was published by Barron's Educational Series. This high quality, spiral bound reference features exquisite color photos along with complete details on their world-wide distribution, habitat, and ecology. It also provides a thorough introduction to butterflies, and their migration with tips on how to identify them.

The University Press of Florida has released an authoritative guide to butterfly plants. "Florida Butterfly Caterpillars and Their Host Plants" is by Marc C. Minno et al. Though the distribution maps are for Florida, many of these species can be found throughout the East. This book addresses an issue that is often ignored—caterpillars, their natural history, distribution in the U.S., how to identify them, and how gardeners can offer them the things they need to reach adulthood. The introduction provides all the background information one needs to create a caterpillar-friendly landscape. Along with complete descriptions for each caterpillar, there is a color plate. In addition, it gives complete details and photos of the plants they need.




Related Articles
Editor's Picks Articles
Top Ten Articles
Previous Features
Site Map





Content copyright © 2023 by Connie Krochmal. All rights reserved.
This content was written by Connie Krochmal. If you wish to use this content in any manner, you need written permission. Contact Connie Krochmal for details.