Japanese Gardens Through the Seasons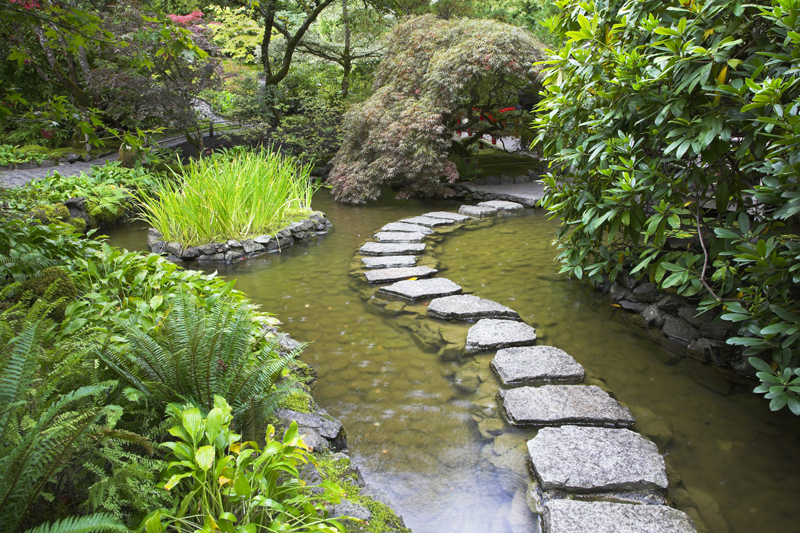 Landscapes are the place where we wind down after a busy day at work.In a normal lifespan of 70 years, the average American will spend about 16 years of that time working. Americans definitely work too hard and get much shorter vacations than Europeans and others. One way of compensating for such long hours is to create a restful home and garden, such as Japanese gardens, where we can recharge our batteries.

Creating a Japanese garden is by no means easy, and it must be done with care. For that reason, you may wish to visit either private or public gardens, such as the JC Raulston Arburetum at North Carolina State University in Raleigh, so you can study them as examples. Others include the Japanese Garden in Portland, Oregon, that shows the five traditional styles of Japanese gardens.

If you are unable to travel to faraway places, take a marvelous armchair tour of modern Japanese gardens.

Each item in a Japanese garden has a very special meaning, and must be placed with the utmost care. These would include hand carved Japanese lanterns and basins made from granite. Sometimes it is hard to locate such items in local garden centers and nurseries. Yet, they're expensive if you buy them by mail-order due to the high cost of shipping.

There are various types of Japanese gardens, including the courtyard garden. For most landscapes, the meditation garden is a very suitable Japanese style garden.

In Japan, interior décor follows the same aesthetic principles as the gardens so the two areas seem to flow seamlessly together. In this manner, we can encourage a sense of sanctuary-like calmness and relaxation.
If you're thinking about creating a Japanese garden for your landscape, the first thing you should do is visit ones in your area. Also, when you're visiting other cities, do the same. This will help you decide what features to include in your own design. Books on Japanese gardens will also help a lot.

Japan Publications recently released "Styles and Motifs of Japanese Gardens" by Katsuhiko Mizuno. This is available in the U.S. through Kodansha America. This handy spiral bound guide is small enough to stick in a pocket or purse when you're taking tours of Japanese gardens.

In this invaluable reference, the author has captured the very best that Kyoto gardens have to offer. All but three of the 30 gardens depicted are open to the public. For each garden, he provides details on the garden type and its unique features along with the address, and contact information and an explanation on the garden style. In addition, he also devotes considerable attention to the various items that are displayed in the gardens, such as water basins, stone lanterns, and the like. Mizuno is a renowned, award-winning writer and photographer. His specialty is Japanese gardens.


Though there are general guidelines and design principles, modern day Japanese gardens aren't meant to be exact replications of historical gardens. That's where a wonderful guide released by Stone Bridge Press is so invaluable. "Mirei Shigemori-Modernizing the Japanese Garden" is by Christian Tschumi. This guide focuses on the visionary works of Shigemori, a leading Japanese landscape architect and scholar. He specialized in Zen gardens, also called Japanese dry landscape gardens. By applying modernist principles and concepts to the garden design process, he revolutionized landscape architecture. This wonderful title profiles ten of his works, including a famous tea garden and a checkboard garden. For each, there is a garden plan, lush, full color photos, quotes from Shigemori, and an analysis of the design with the garden's history, and description. This is only one of the books that Stone Bridge Press has published on Japanese gardens and related subjects.

Whether you create a tranquil Japanese courtyard garden or a Zen meditation garden, these have much to offer overworked, harried Americans.


You Should Also Read:
Kodansha America Inc.


Editor's Picks Articles
Top Ten Articles
Previous Features
Site Map





Content copyright © 2022 by Connie Krochmal. All rights reserved.
This content was written by Connie Krochmal. If you wish to use this content in any manner, you need written permission. Contact Connie Krochmal for details.