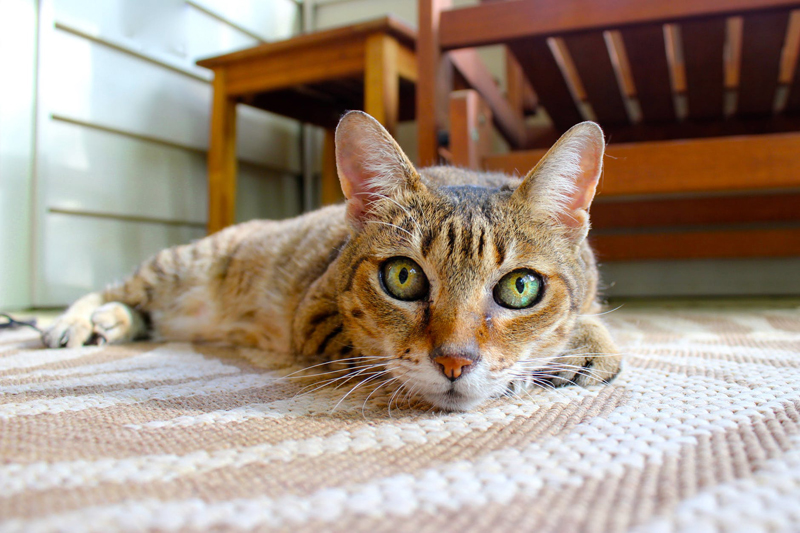 Before starting your rug, taking a few minutes to read instructions and match up the yarn with the pattern will save time later. One of the easiest mistakes to make when latch hooking, is placing the wrong color in the wrong spot. This mistake is usually found when you run out of a color.

If you hook the wrong color in an area, push the surrounding yarn away from the area you need to fix. If you are right handed, loosely hold both ends of the yarn with your left hand. Place a toothpick under the right side of the knot. Pull knot over the ends of the yarn, letting go of the yarn with your left hand as the knot slips over the ends. Reverse hands if left handed. After hooking with the correct color, push yarn toward the bottom of the rug.

Placing masking tape along the edges will keep them from fraying and getting hooked on your clothing and hands as you work. This works well when you have a hem of six or more rows of holes along the outside edge of your pattern. Place the tape along the edge, covering just one row of holes. Fold the tape over, covering the one row of holes on the opposite side of the canvas. When you have finished hooking the rug, the hem should be trimmed to four rows of holes, cutting off the tape. Holes should be surrounded by mesh on all four sides. Cutting to close to the outside edge will cause the canvas to unravel. Once the hem has been trimmed, place a dot of white glue at each joint in the mesh along the outside edge to prevent the canvas from unraveling. I have purchased Elmer's Glue-All in the school supply section at my local discount store and it works well. Allow to dry.

It may be tempting to work on one color at a time, but your yarn will lay better and it will be easier to hook if you complete one row at a time. Starting at either the left or right lower corner of the rug, hook straight across, finishing one row, before starting the next. After hooking each piece, grab both ends of the yarn and give a gentle tug to firm up the knot. After each row is completed, push yarn toward the bottom of the rug.

After completing your rug, remove any fuzz and trim yarn ends as needed.

This site needs an editor - click to learn more!

You Should Also Read:
Latch Hook - Cutting Yarn
Latch Hook - Joining Canvas
3.75 Graph 'N Latch Rug Canvas




Related Articles
Editor's Picks Articles
Top Ten Articles
Previous Features
Site Map





Content copyright © 2019 by Christine Dux. All rights reserved.
This content was written by Christine Dux. If you wish to use this content in any manner, you need written permission. Contact BellaOnline Administration for details.