Taking a Cruise Photo Safari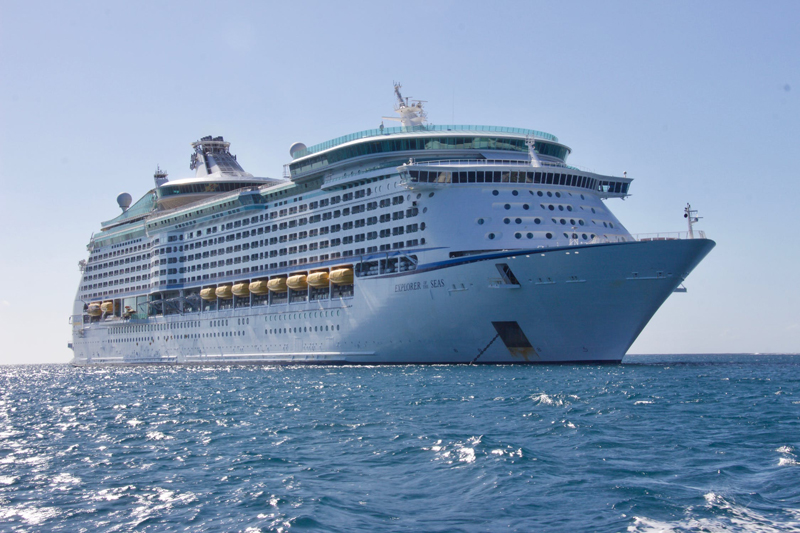 I'm up at 6 a.m. and heading out the door, camera in hand. No, it's not due to an early morning shore excursion. It's our first sea day and I'm going on a photo safari aboard the Carnival Miracle.
Many guests spend the first few hours of their cruise touring the ship so they can feel more at home. Such exploring also helps passengers to uncover appealing attractions and venues that might not be discovered until later in their cruise. I was one of many guests finding my way around the ship during embarkation, but all the kitschy places I saw on the Carnival Miracle had me longing to take a closer look – particularly when I could do it at a leisurely pace on my own.
Photo safaris are a fun approach to learning more about a new ship. They're also a great way to gather pictures to share with your friends on social media. The best time to do a photo safari is early in the morning on your first day at sea, before lots of people are out and about. I had a fun doing this aboard the Carnival Miracle on our way to Alaska, and it helped me to locate interesting ship features that I could have missed.
The Carnival Miracle is the perfect ship for photo safari. Built in 2004, the mid-size 2,214-passenger Carnival Miracle was decorated by Joe Farcus using a "fictional icons" theme. As a result, guests are treated to white mask decorations straight out of "The Phantom of the Opera" in the Phantom Show Lounge and electric bolts plus a massively-sized statue of Frankenstein in Dr. Frankenstein's Lab dance club. But honestly, it wasn't those that I wanted to see. It was the whimsical venues, niches and nuances that passengers rarely find on ships these days.
One of my favorite places on the Carnival Miracle is the Mad Hatter's Ball. The entrances to this second smaller show lounge are hidden away on Deck 2, right below the Phantom Show Lounge. The cute spiral staircases going down to the lounge are lit up by festive red and white candelabras, hearts, roses, and painted foot soldiers straight out of "Alice in Wonderland." Interior designer Joe Farcus decorated this space brilliantly - descending down the narrow steps evokes the feeling of going down the rabbit hole.
Once down in the Mad Hatter's Ball show lounge, I promptly burst out laughing. The cavernous room is done up in rich reds and it's simply adorable. The walls are decorated with huge statues of the Mad Hatter and the White Rabbit toasting each other with tea cups, along with paintings of the King and Queen of Hearts. This lounge is the perfect spot for hosting Carnival's Punchliner Comedy Club Presented by George Lopez. Looking around, one can't help but grin.
Another spot well worth finding is Gatsby's Garden, a soothing promenade area located on Deck 3. With its large circular windows, white and gold trellises and flower-bedecked garden party chairs and tables, it's the perfect place to relax with a good book or play cards on a sea day. Find this one early – it wasn't crowded until later in the cruise.
The Carnival Miracle's Metropolis Lobby comes from "Superman," just like the large Gotham Lounge is drawn from works about another superhero – Batman. Both are great places to hang out for a while, as are the rest of the Carnival Miracle's many bars and lounge areas. When you go, take time to look at all the spiral staircases and little decorating nuances that Joe Farcus used to evoke time and place.
It's in the dining spots that Farcus shines as well. The ship's two-story Bacchus Dining Room is festooned with over 4,000 large purple colored lights, arranged into bunches of grapes. While some may find it to be a bit over the top, I thought it was magical. Then there's Nick and Nora's Steakhouse with its 1930's era picture of the Chrysler Building and the surrounding Manhattan skyline, along with appealing tables for two located around the floor-to-ceiling windows upstairs. Make sure to come to this specialty dining venue for a romantic sunset dinner at some point during your cruise. The food and atmosphere are superb.
I spent almost two hours exploring and taking pictures of all the fun places I found on the Carnival Miracle. To see some of them, check out my Carnival Miracle Pinterest board. One of the things I could never capture, however, was the feel of this ship. The crew is extraordinary. They're all so warm and welcoming, quickly making the ship the kind of place where "everybody knows your name." That's fitting, of course, since the sitcom "Cheers" is definitely another fictional icon. It's wonderful to see how the staff of the Carnival Miracle has brought the essence of such a place to life at sea.
So go on, take a break and get away on the Carnival Miracle someday. I'll bet you'll find yourself taking a photo safari, too.
If You Go:
* For more information on the Carnival Miracle, visit Carnival's website at
www.carnival.com
.
* To see some of the pictures from my Carnival Miracle photo safari, visit
www.pinterest.com/kidtravel/carnival-miracle/
.


Related Articles
Editor's Picks Articles
Top Ten Articles
Previous Features
Site Map





Content copyright © 2022 by Nancy Schretter. All rights reserved.
This content was written by Nancy Schretter. If you wish to use this content in any manner, you need written permission. Contact Nancy Schretter for details.