Some Award Winning Succulents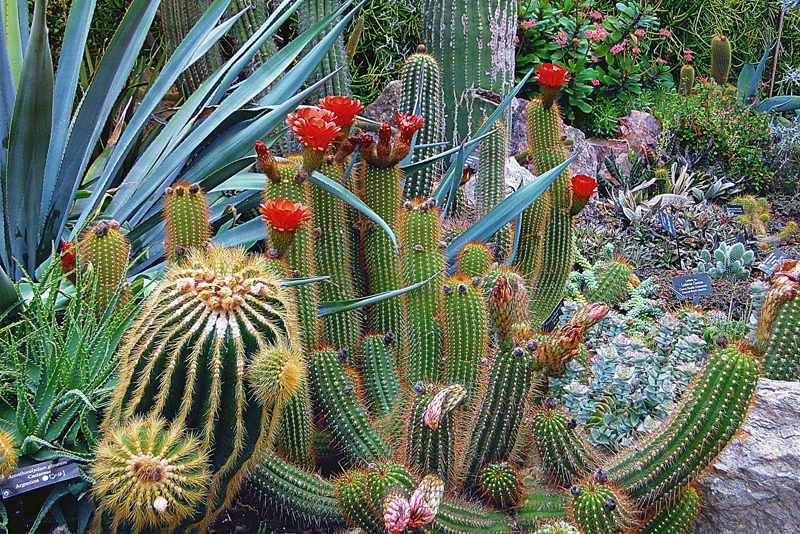 When we're looking for reliable succulents with long blooming periods, the first ones to consider are the award winning ones. For the most part, these have survived extensive trials in different climates, and are the most likely to give good performance.

A very special kalanchoe was named a FloraStar winner in 2004. Sold as a pot plant, Kalanchoe Midi Twilight is quite attractive. Less than a foot in height, it is covered with very large flowers in a mix of colors. Initially, when they first open they're yellow. Over time, this becomes cream, and finally light pink. All colors can be present at one time on the same plant. These shimmering blossoms smother the plant, and are held well above the foliage. Midi Twilight blooms earlier than similar types of kalanchoes. In addition, this has particularly long lasting blooms. If purchased when less than 20% of the blooms are open, the plant will continue to flower for around five to seven weeks. Midi Twilight is quite at home indoors, and will tolerate both full sun and full shade. If you purchase it from late spring to early fall, you could use it as an outdoor plant.

In 2003, Kalanchoe Calandiva Pink was named a FloraStar winner. All the Calandiva series has enjoyed tremendous popularity, but this one is very special. Calandiva Pink is also sold as a flowering pot plant. It has a compact growth habit. Especially floriferous, it features fully double, rose-like blooms in gigantic flower heads. These are most frequently in bicolors of orange and pink. Unlike most other kalanchoes, which only have 4 petals, this one has 26 of them in layer upon layer. Generally, the blooms will be around for around six weeks or more. Even when Calandiva Pink isn't flowering, the plant remains quite attractive. So you might decide to trim the flower stalks off after it quits blooming, and keep it around as a foliage plant.

FloraStar is an independent trialing organization in North America. Though much of its work deals with flowering pot plants, it also trials ones we might consider as bedding plants as well. The new varieties are tested and evaluated at 20 locations throughout North America. In order for a variety to be eligible for trial, it must be new, novel, and propagated by vegetative means as opposed to seed. The ones that are high performing and superior in beauty receive FloralStar awards.

In 2004, one of the garden sedums was named a Fleuroselect Quality Award winner. Initially introduced in 2003, Sedum spurium Voodoo plant can be grown from seed. Due to its spreading stems, it is typically used as a bedding plant and a ground cover. Throughout the summer well into September, Voodoo will produce small, star-shaped blooms in shades of bronzish-red. This plant is considered a knockout partly because of the beautiful foliage, which matches the flower color. As with most outdoor sedums, this one needs full sun.

Fleuroselect is an international flower organization. Their purpose is to encourage the breeding of new, innovative, outstanding flower varieties that can be grown from seed. The new varieties are tested for reliability, distinctiveness, and superiority to existing varieties. Ones meeting these criteria are awarded appropriate honors from Fleuroselect.

Recently, a euphorbia received several honors. Euphorbia hypericifolia Diamond Frost was awarded the United Kingdom Product of the Year at the Grower of the Year Awards in February 2005 in London. Around the same time it was named Most Innovative Plant of the Show at Salon du Vegetal Exhibition, which is considered a premier horticultural event in France. This was held in Angers, France. This particular variety will be sold in the U.S. under the Proven Winners brand in the future. At the present time (2005), there is limited availability, but this is expected to change. This plant is originally from Colombia. A shrubby plant, Diamond Frost tends to have a rather spreading growth habit. Though it may look delicate, this robust plant will continue to produce blooms during the summer months.

This site needs an editor - click to learn more!


Editor's Picks Articles
Top Ten Articles
Previous Features
Site Map





Content copyright © 2023 by Connie Krochmal . All rights reserved.
This content was written by Connie Krochmal . If you wish to use this content in any manner, you need written permission. Contact BellaOnline Administration for details.