Courses and Camaraderie: Learning at Sea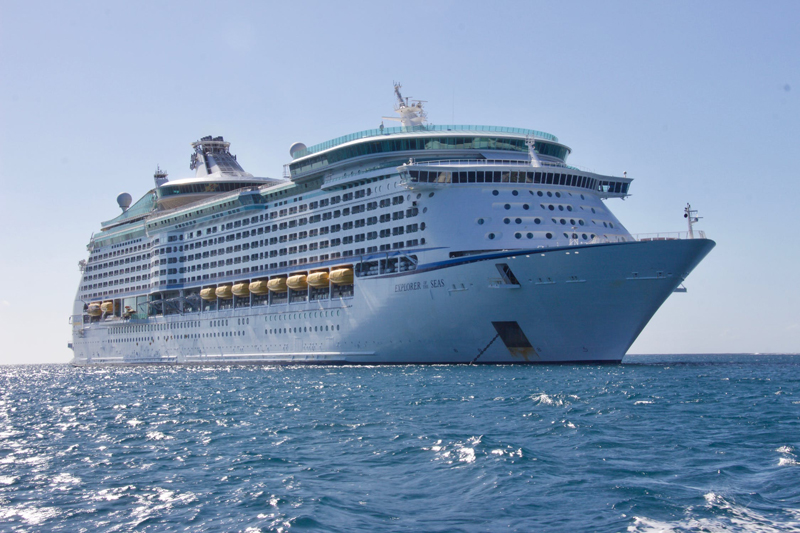 Educational cruises are very popular these days, and it's no wonder. Extraordinary things happen when a group of like-minded people get together on the high seas – especially when it involves learning together. This type of unparalleled travel experience develops lifelong friendships, changes the way participants see the world, and creates opportunities to acquire new skills. Although enrichment cruises may seem like a relatively new development in cruising, there's actually an organization that's been championing this cause for almost fifty years.
The non-profit Institute for Shipboard Education (ISE) is the long-time leader in educationally-oriented sailings. ISE operates the popular Semester at Sea® program, the only study abroad program of its kind in the world. Founded in 1963, the program focuses on global comparative education with top-ranked University of Virginia as its academic sponsor. On their modern ship, the 836-passenger MV Explorer, undergraduates, lifelong learners, families, college faculty and staff live and learn together while traveling around the globe on its floating campus.
ISE offers programs of varying lengths, allowing them to meet the needs of a wide range of learners. The full-length Semester at Sea (SAS) voyages operate during the Fall, Spring and Summer terms, while a short-term version of the program is offered in the May/June time frame. Lifelong learners on these voyages may audit a full range of University of Virginia college credit courses on a space available basis.
For those who can only get away for a few weeks, ISE's Enrichment Voyages fill the gaps. Created as a sister program of Semester at Sea, these sailings feature a wide array of outstanding guest lectures and seminars offered on a continual basis, along with field programs (shore excursions), workshops, entertainment and opportunities for relaxation. Enrichment Voyages are open to participants of all ages – guests on some sailings range from 2 to 92 years of age.
In addition to their superb learning opportunities, the intimate, intensely engaging atmosphere created on the MV Explorer is one of the most appealing aspects of the Semester at Sea and Enrichment Voyage programs. The ship's small size allows people to meet and interact easily. There's an overwhelming sense of camaraderie and a strong intellectual component that's unlike anything found elsewhere. "Since learning is the focus of everything that we do, it's not just a recreational activity," says Lauren Heinz, Vice President, Communications, Marketing, and Public Relations for the Institute for Shipboard Education. "It's a community focused on a common purpose." As a result of these strong ties, ISE's programs have developed a loyal, committed alumni following with a high rate of return.
Guests and crew quickly meld together into a large, extended family aboard the MV Explorer. Lifelong learners become surrogate grandparents to undergraduates on Semester at Sea voyages, adding a special dimension to an already multifaceted experience. Parents and children become attached to students and single passengers on Enrichment Voyages, creating a floating village of caring individuals who look after each other. To those who sail on an ISE voyage, the ship feels like home.
Participants develop special connections traveling around the world together, creating mutual friendships and lifelong memories. Guests on the MV Explorer return from their voyages with a changed perspective, able to see the world from fresh new angles. These voyages are also excellent vacation options for parents (and/or grandparents) who wish to spend time with their children and strengthen their unique bonds through shared travel experiences.
Mother and daughter Hyla and Glenna Vine traveled on an Enrichment Voyage together recently. Hyla is a Semester at Sea alumna and Glenna participated in this spring's Semester at Sea program. Since they had both circumnavigated the globe with Semester at Sea, although decades apart, they shared a common understanding of ISE's approach to travel and its special appeal. "This gave us the chance to bond and spend quality time together and appreciate each other as adults," said Hyla. "Our roles changed on this voyage, allowing us to be equals instead of mother and daughter." As most parents know, opportunities like these don't come around often and they create memories that last a lifetime.
Multiple generations can happily travel together on the MV Explorer as well. Award-winning author and consultant Dr. Louis Patler, an expert on generational differences and a renowned ISE program faculty member for many years, thinks the MV Explorer is an exceptional choice for multigenerational vacations. He brought three generations of his family on an Enrichment Voyage last month. Other passengers agree. Matt Bershinsky traveled on the same Enrichment Voyage with his 12 year-old son, Matt, and his parents Donna and George Bershinsky. They gave their experience rave reviews.
Tween-age Matt doesn't live close to his grandparents, so family bonding time was one of the great benefits of the trip. "Having the chance to know Matt better and have him know us better was very important," said George Bershinsky. In addition, the enrichment cruise gave Matt's father the opportunity to give his son the freedom to explore, be a bit adventurous, and try new things. The transformation was amazing. "Two weeks ago, there's no way he would have gotten up and done some of the things he did," said his father. "He's proud of himself for being a leader."
Everyone gets to know kids and parents quickly on this ship - and there's a strong neighborhood presence onboard. As a result, parents feel that it's a safer experience than a huge megaliner. As they say, it takes a village to raise a child and this community definitely looks out for its own, no matter what the age. For those lucky enough to travel with ISE, the MV Explorer is one incredible village. Intellectually curious voyagers will feel right at home here.
If You Go:
* For more information on The Institute for Shipboard Education and its Semester at Sea® programs, visit
www.semesteratsea.org
For more information on ISE's Enrichment Voyages, visit
www.enrichmentvoyages.org
* On Semester at Sea voyages, lifelong learners can register to audit a course after undergraduate college student registration is completed, taking any seats that are still open. Since the majority of the students in courses are undergraduates, lifelong learners generally comprise less than 20% of the total in each class. The cost to audit is $200 for one or more courses. Lifelong learners who register to audit a course are encouraged to participate in field labs that accompany each course. The charge for field labs is $100 per course.
* Those taking an Enrichment Voyage should sign up for field programs as soon as they become available. Some excursions are very popular and sell out quickly. If a favorite port excursion is already filled, research other options online and make alternative plans. It's fine to travel independently. Be aware, however, that the ship may be forced to alter its itinerary due to weather, sea conditions, and other unforeseen circumstances. The Enrichment Voyage staff also keeps a notebook for those wanting to buy/sell sold out excursions at the Field Programs desk onboard the ship.
* Both the Semester at Sea and Enrichment Voyage environments are very comfortable for adults traveling solo. ISE helps to match travelers seeking a roommate if desired, but a number of single guests choose to pay the supplement and have their own cabin. Because of the large number of seminars and lectures offered, it's very easy for single guests to mingle and there are always many people onboard who want to talk and share experiences.


Related Articles
Editor's Picks Articles
Top Ten Articles
Previous Features
Site Map





Content copyright © 2023 by Nancy Schretter. All rights reserved.
This content was written by Nancy Schretter. If you wish to use this content in any manner, you need written permission. Contact Nancy Schretter for details.