See Alaska's Miracles Without Breaking The Bank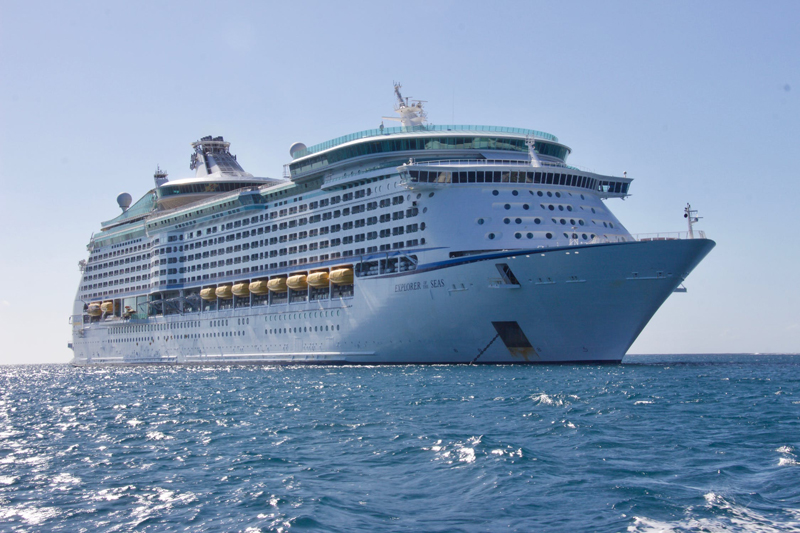 Alaska is a dream destination for many vacationers. Aptly called "The Great Land," Alaska is filled with majestic mountains, breathtaking scenery, and incredible experiences. Imagine dogsledding atop a glacier, taking a flightseeing helicopter ride, watching humpback whales breaching, and seeing massive grizzly bears prowling along the shoreline.
If an Alaska cruise is on your bucket list, plan now to make it happen. The wonders of Alaska are within reach of many vacation budgets and can easily be seen without breaking the bank. If you're planning to beat the heat and sail to the largest of the United States, here are five money-saving tips to put an Alaska cruise within your reach:
1. Depart from Seattle.
Flights to Alaska and Vancouver can be expensive, particularly when compared to the cost of flying into Seattle. To cut costs, focus on cruises on ships that sail out of Seattle, such as the Carnival Miracle. Seattle is served by several low-cost airlines. Some don't show up on popular booking sites like Orbitz and Expedia, so make sure to check their websites. If you have frequent flyer miles, this might be the time to use them. Make sure to book flights early for the best availability and itineraries.
2. Cruise during the shoulder season.
The most popular (and most expensive) times to take an Alaska cruise are late June, July, and the first few weeks of August. As a result, these sailings tend to be significantly more expensive than those in late May, early June, and September. If you're budget conscious, consider cruising during this shoulder season period when prices can be as much as 30% less than in peak months. Alaska's weather is changeable from year to year, and the unpredictable nature of the shoulder seasons can scare off some cruise passengers. In my experience, however, it's hard to tell what the weather in Alaska will be like – even in the best months. Many vacationers have paid significantly more to cruise in July counting on sunny skies, only to encounter rain. Southeast Alaska is a temperate rain forest known for its wet weather, so be flexible, plan for rain, and take what you get. It may be absolutely gorgeous.
3. Choose a cost effective itinerary.
If cost is one of your most important considerations, select a round-trip Seattle cruise rather than one that begins in Seattle or Vancouver and ends elsewhere. Choosing this itinerary cuts down significantly on transportation and lodging costs, often putting an Alaska cruise within reach. Although this itinerary tends to eliminate a visit to Denali National Park, guests choosing this route still have a classic Alaska experience complete with whales, snowcapped mountains and glaciers. The Carnival Miracle, for example, cruises round-trip from Seattle and visits Tracy Arm and its Twin Sawyer Glaciers, Skagway, Juneau, Ketchikan, and Victoria, British Columbia. On this cruise, guests have the opportunity to watch massive glaciers calving, see humpback whales breaching and bald eagles circling overhead, explore the route of the '49ers and pan for gold, kayak through pristine bays, go fishing for salmon, take glacier flightseeing trips, and much more. That's what an Alaska cruise is all about.
4. Pick the right ship.
An Alaska cruise doesn't have to be prohibitively expensive. Choose a ship that emphasizes value. The Carnival Miracle has a number of features that put it at the top of this category. Staterooms on this ship are larger than average, with even inside cabins measuring a comfy 185 square feet. The Carnival Miracle's adults-only Serenity area with its plush lounge chairs and hot tubs is available free of charge to all adult guests, rather than at a cost like some other cruise lines. A free brunch with an expansive menu is available on sea days and complimentary tapas are available at the Carnival Miracle's Taste Bar from 5-8 p.m. on all sea days and some port days. There's even free sushi available right outside of Maguire's Bar, always an added treat.
5. Consider purchasing independent shore excursions.
If you're taking a large ship cruise in Alaska, shore excursion expenses can really add up. Contemplate booking your tours independently to save money. There are pros and cons for booking through the ship or on your own - and yes, the ship will wait for you if you buy your excursion through the cruise line. Purchasing your own tours independently can easily save you hundreds of dollars on some types of tours, however. Visit sites like Viator.com as well as the ports' official tourism websites for information on available public transportation, car rental companies, attractions and more. If there are two or more of you traveling together, consider buying the Alaska Tour Saver. This coupon book offers more than 130 2-for-1 deals on many of Alaska's top tours, hotels, car rentals and attractions.
If You Go:
For more information on the Carnival Miracle, visit Carnival's website at
www.carnival.com
.


Related Articles
Editor's Picks Articles
Top Ten Articles
Previous Features
Site Map





Content copyright © 2021 by Nancy Schretter. All rights reserved.
This content was written by Nancy Schretter. If you wish to use this content in any manner, you need written permission. Contact Nancy Schretter for details.