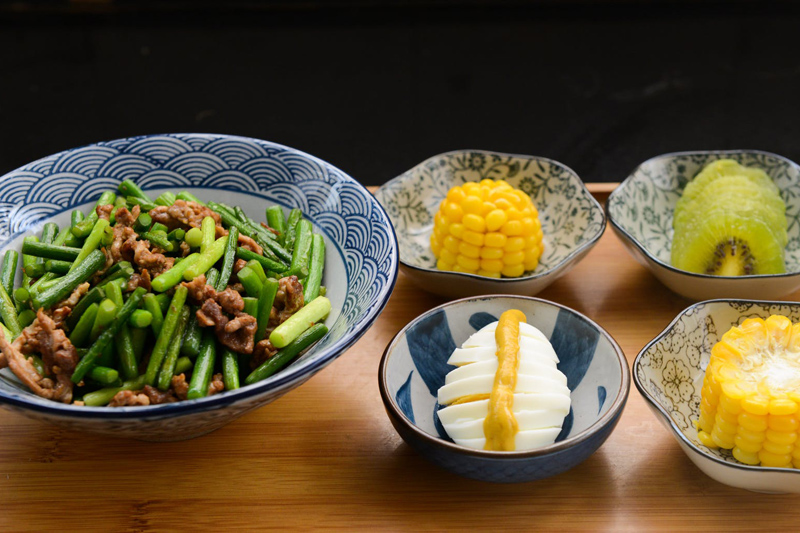 There are so many different ways to make delicious barbequed ribs. Some recipes call for the ribs to cook all day in a crock pot, while others have them grilled or roasted in an oven. I personally prefer to boil the ribs first and then finish them in the oven under the broiler. This two step process creates a wonderful, fall off the bone, texture and infuses a delicious flavor into the ribs. Try this delectable Chinese rib recipe and let me know what you think in the Chinese food forum. Enjoy!
Rack of pork ribs
1½ cups water
¼ cup white vinegar
2 tbsp sugar
1 tbsp soy
½ tsp ground ginger
Sauce:
5 tbsp hoisin sauce
1 tbsp hot mustard
2 tsp honey
½ tsp ground ginger
½ tbsp gravy master
Basting liquid:
1 tbsp hoisin
1 tbsp water
When shopping for ribs, look for those with the least amount of fat. Once you are ready to cook them, try to trim off as much of the fat as possible. Then break them in the center so that you have two equal sets of ribs.


In a large non stick pot place the ribs bone side up. Add the water, vinegar, sugar, soy, and ground ginger and bring them to a boil. Once they boil, turn the heat to low and let them simmer for 1 hour.


After an hour, remove the pot from the heat and let them sit in the water mixture for one more hour.


Then take a large baking sheet and cover it with foil. Non stick foil is perfect for this recipe. If you don't have non stick foil, simply wipe a piece of regular foil with just a bit of olive oil on a paper towel. Just to give it a light coating so that the ribs can be removed easily after cooking.


In a small bowl, prepare the sauce. Mix together the hoisin, hot mustard, honey, ginger, and gravy master.


Place the ribs bone side down on the foil and spread a thin layer of sauce over the top. Let them sit for 45 minutes. Then spread another thin layer of sauce on top and place them in the oven.


Prepare the basting liquid by mixing one tablespoon of hoisin sauce with one tablespoon of water. If you need more basting liquid, simply keep this ratio of one tablespoon to one tablespoon.


Broil the ribs on high for about 10 minutes. Then take them out and baste them.


Broil the ribs for another 10 minutes, baste them again, turn off the broiler, and let them sit in the hot oven for another 10 minutes.


Baste them one more time and let them sit in the oven for 5 more minutes and then serve.


Serve with fried rice. Makes 2 generous servings.


Related Articles
Editor's Picks Articles
Top Ten Articles
Previous Features
Site Map





Content copyright © 2023 by Lila Voo. All rights reserved.
This content was written by Lila Voo. If you wish to use this content in any manner, you need written permission. Contact Lila Voo for details.