The World Inside Middle Eastern Dance Making Rounds By Way of Documentary Film Projects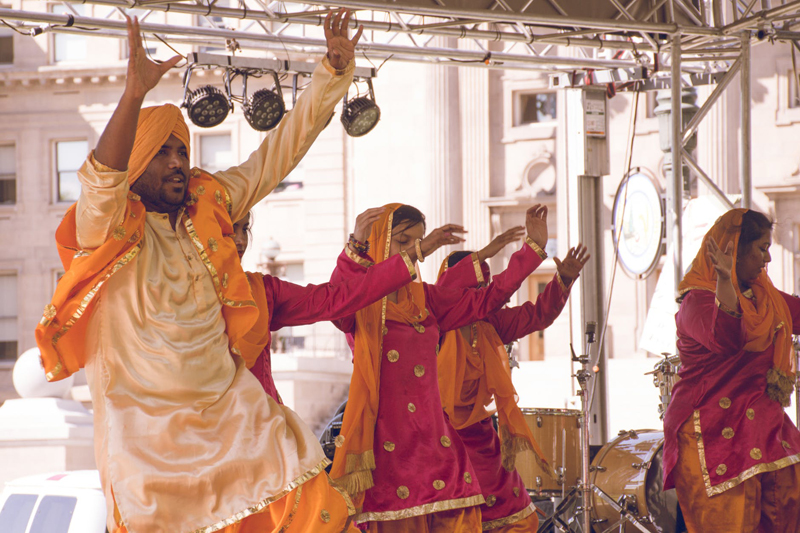 Being a dancer in this community is not as easy as
it may look from the outside. As with any art form or field in which entertainment is the biz, the intricacies are endless and the excitement always electrifying. To give a glimpse into this mystifying and costumed world, a variety of documentary projects are acting as that portal of insight and information: "American Bellydancer", "Tribal Style" and "Aiwa!: Bellydancers of Color".
"American Bellydancer", is the Miles Copeland infused documentary that chronicles the creation of the 1st professional, touring bellydance performance troupe, "The Bellydance Superstars" and the accompanying troupe, "Desert Roses". Copeland has been subjected to jeers for his thoughts of what constitutes the BEST bellydancer and for his selection process which often leaves people questioning "Just WHAT is he looking for??!!". He has also seen his share of cheers as well for his desire to make Middle Eastern dance a mainstream and more widely accepted vehicle to rival the "Riverdance" & Celtic music craze several years ago.
I can appreciate the drive and hustle of the former manager for the band "The Police", but at times in the film Copeland seems like a fish out of water in a sea of sequins and body glitter as it pertains to a dance form that encompasses more than pretty young girls in costumes dancing on a stage. I will give him credit however, which is probably the MOST endearing thing I took from him in the film, is when he stood up for the ladies during a havoc-wrecked performance overseas. At that point, Copeland the PROMOTOR became Copeland the PROTECTOR. I also thought it was impressive that he actually manned the booth in which he was selling Bellydance Superstars goods and merchandise.
As many people may associate Middle Eastern dance exclusively with beaded bras and fringed hip belts and flowing skirts, "American Bellydancer" does show that the rising ATS & Tribal Fusion sub-genres in bellydance are marketable and exciting. By incorporating Rachel Brice into his touring show, Copeland tapped not only into the Cabaret fans but the lucrative and eager audience willing to support an amazing talent in Brice.
Where "American Bellydancer" gives a small taste of the Tribal Fusion experience, a new documentary "Tribal Style", goes deeper & gets more personal. Dancer/filmmaker Cortney Amitage's film documents the year in the life of a woman, completely new to the world of Middle Eastern dance, as she goes through the process of becoming a bellydancer. The film includes interviews with established professional Tribal dancers. Just from the teaser/trailer I saw on the film's website, this documentary will surely give insight and even inspire. "Tribal Style" is expected to be released in late 2005. According to Cortney, her plan for distribution of the film is "to try to get it in the festival run". With a soundtrack fitting a tribal bellydance documentary, courtesy SOLACE providing the songs throughout, "Tribal Style" is going to be a great project to check out.
While "American Bellydancer" showed the beautiful women of color, "BellyQueen" duo Amar Gamal & Kaeshi Chai, overall I still feel that women of color continue to be under-represented. I would have loved to have seen more of Amar & Kaeshi as they are a reflection of me as a dancer of color but so much was being covered & focused on in the documentary it simply was not possible to show more of them I suppose. So, what started for me over 3 years ago as a research project to unearth the treasures of the many beautiful, talented and powerful bellydancers of color throughout history, turned into a full blown mission for me this past February as I put the gears in motion to produce a documentary entitled, "Aiwa!: Bellydancers of Color".
Even though I am still early in the pre-pre-production stages, support grows enormously every day. With my documentary, I hope to enlighten, educate and inspire, just as "American Bellydancer" and "Tribal Style" have done in some way, shape or form.
You Should Also Read:
Aiwa! Bellydancer Documentary
Tribal Style
Bellydance Superstars


Editor's Picks Articles
Top Ten Articles
Previous Features
Site Map





Content copyright © 2022 by Asmina. All rights reserved.
This content was written by Asmina. If you wish to use this content in any manner, you need written permission. Contact Ronnette Ramirez for details.