Succulents for the Landscape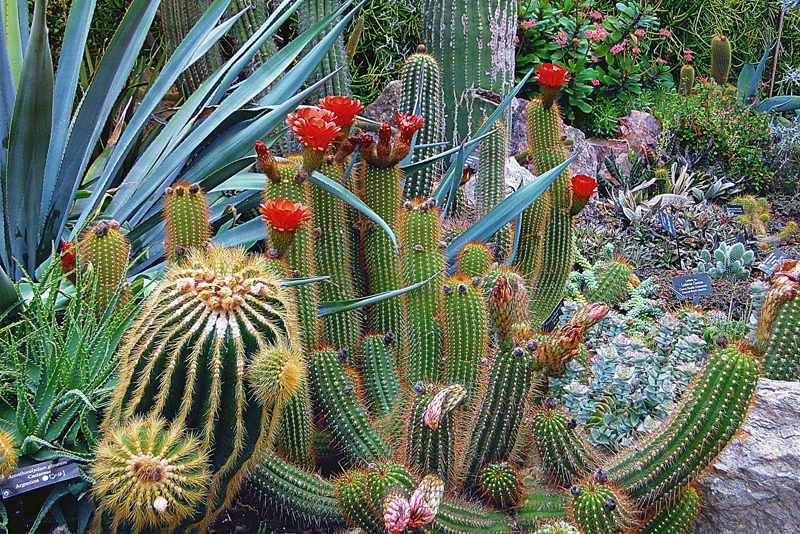 Jade plants and other tender succulents are often seen in homes as house plants. In addition, there are hardy species of succulents that are well suited to outdoor conditions. They make marvelous additions to any flower bed or border because generally both the flowers and foliage are very attractive. Smaller ones are also suitable for container gardens. So those without outdoor gardens can still grow them on sunny decks, porches, and patios.

One of the most useful features of succulents is their ability to tolerate sandy soils and dry conditions, making them ideal plants for hot, dry areas.

Succulents suitable for growing outdoors include many species. Some of the ones most commonly seen are the sedums or stone crops, hen and chicks, the euphorbias, and the ice plants.

Over the years, I've grown any number of outdoor succulents and have found them very well adapted.

Though these various succulents have different appearances, they all share certain characteristics. All of them are able to store water within their tissues, typically leaves and/or stems. Generally, these species are natives to areas, such as the deserts or high, dry mountains, where growing conditions are less than ideal. The outdoor succulents I've grown have always been easy to care for. Normally, they seldom require watering. However, I do water them immediately after planting, and continue to do so until they are established if the rainfall becomes sporadic.

With their fat, fleshy leaves, garden succulents are attractive even when they aren't in bloom. The color of the foliage does vary. Some of the euphorbias are blue to blue-green, while most of the sedums are an attractive light green.

The blooms of succulents can be quite attractive, particularly those of the sedums. These look star-shaped, and open in round clusters. 'Autumn Joy' is probably the best known among this group.

Portulaca or moss rose, another succulent grown specifically for its delicate, papery, rose-like flowers, is popular as an annual. It is used for annual flower beds and also for hanging baskets.

The daisy-like blooms of ice plants or Delosperma come in a range of colors. These plants are perennial succulents. Depending on the species, most will have yellow, pinkish-purple, or true purple blooms. I've found this to be an excellent plant for sunny, dry spots, particularly in spots getting afternoon sun.

Almost any well-drained garden spot is sufficient for succulents. Avoid planting them where the soil is constantly water-logged as such conditions can cause the plants to rot and die.

Most of these species make superb additions to any flower bed or border. But I've found one of the best uses for them is as ground covers. I love to use the ice plants for this purpose. Their refined, rounded, ground-hugging growth habits tend to smother weeds. Lower growing sedums, such as the 'Ruby Glow,' can also be used as ground covers.

Propagating these plants couldn't be easier. I've grown them from cuttings with the exception of hen and chicks. This is generally best done by division since all the leaves tend to be in tight rosettes on extremely compact stems.

For the others, I take cuttings about six inches long. The preferred time does depend partly on the blooming time. In other words, for the spring flowering ones wait until they are finished flowering. For 'Autumn Joy,' take them in mid-spring so the mother plant will have plenty of time to produce new stems for its fall flowers.

I strip the lower leaves from the cut stem. Then, I allow the stem to dry for 24 hours before sticking it in moistened soilless potting mix. The delay in planting allows the stem end to dry somewhat so it is less likely to rot or develop other problems.

I've also grown some species of sedums and others from seeds. This is somewhat challenging as the seeds are extremely tiny. They should be barely covered with potting soil. Water the pot from the bottom if possible. If you pour it from above, the seedlings can be knocked over. Bottom watering is done by placing the pot in a sink or tub filled with water. The moisture rises to moisten the soil.

Some of the succulents tend to act as herbaceous perennials, while others have a tendency to remain semi-evergreen to evergreen. Most of the sedums are somewhat herbaceous, and die to the ground over the winter months here in the East. The following spring, they will develop new shoots.

Depending on the winter temperatures, ice plants are mostly evergreen to semi-evergreen. Hen and chicks are evergreen.

Portulaca or moss rose is usually treated as an annual in cold areas. In areas with warm winters, it may survive outdoors. When grown in pots, these can also be taken indoors provided you can give them with the light they need.

Easy to propagate and care for, these succulents make wonderful additions to the garden.

This site needs an editor - click to learn more!


Editor's Picks Articles
Top Ten Articles
Previous Features
Site Map





Content copyright © 2023 by Connie Krochmal . All rights reserved.
This content was written by Connie Krochmal . If you wish to use this content in any manner, you need written permission. Contact BellaOnline Administration for details.