President Gerald R. Ford - Online
Gerald Ford was our 38th President and holds the distinction of being the only person to assume the office without ever being elected. He pull together a disenchanted nation, fragmented by war and political corruption.
Almost half the current population of the United States wasn't even alive at the moment Ford became President. For those who were alive, time has dulled the memory of the visceral outrage felt by a large segment of the American Public when President Ford granted President Nixon a pardon.
As time has marched on from the historic day in August of 1974 when Ford assumed the Presidency, his pivotal role in holding together a nation has become clear. Ford was a man of vision, who was willing to do what was right for the nation even if it was at the risk of his own reputation.
The following is one of my favorite Ford quotes: "I am not a saint, and I am sure I have done things I might have done better or differently, or not at all. I have also left undone things that I should have done. But I believe and hope that I have been honest with myself and with others, that I have been faithful to my friends and fair to my opponents, and that I have tried my very best to make this great Government work for the good of all Americans." [Vice Presidential Confirmation Hearings] November 1, 1973
At a time when a Vice President had already fallen from grace and a President would soon follow, Ford admitted that like all people he had made mistakes and had regrets. In the end, he lived up to his own words. He
was
honest with himself and others, faithful to his friends, fair to opponents and he made the Government work for the good of all Americans.
President Ford leaves behind a grateful Nation, that appreciates the many sacrifices he made for his country.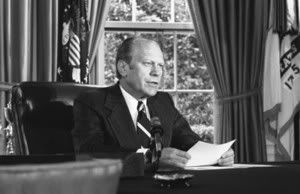 Gerald Ford Foundation.
Ford Library and Museum
The Gerald R. Ford School of Public Policy
at the University of Michigan
Gerald R. Ford International Airport
Legacy.com
Leave a condolence message for the Ford Family.
GVSU.edu
Another site where you can leave message of condolence for the Ford Family.
WoodTV.com
Wood TV is located in Grand Rapids Michigan. This is a forum dedicated to President Ford where anyone can leave a message.
Official announcement of President Ford's Death
Official statement by President Bush regarding the loss of President Ford
Desertsun.com
Blog of the events that have taken place since President Ford died.
Gerald Ford Memorial
Information about the funeral service, tributes and memorial fund.
Gerald R. Ford Presidential Papers
Access the Papers of Gerald Ford, starting with his remarks upon taking the Oath of Office On August 9th 1974 through his remarks at the GOP Convention on August 12, 1996.
Nebraska History
Information about the Gerald R. Ford Conservation Center.
WhiteHouse.com
Official history and biographical information for the 38th President.
AmericanPresident.org
Recounts the early years of President Ford with links to information about the First Lady and his Cabinet.
pbs.org
An essay about Gerald Ford, his life, family and achievements by James Cannon.
Historycentral.org
Another short biographical history of President Ford's life.
Navy History
A short history of President Fords service in the U.S. Navy.
Military.com
Another site recounting an overview of President Ford's Navy career.
NPR.org
Bio of President Ford
youtube.com
View video of President Ford including his 1976 campaign ad.
This site needs an editor - click to learn more!


Editor's Picks Articles
Top Ten Articles
Previous Features
Site Map





Content copyright © 2019 by Kim Lynch. All rights reserved.
This content was written by Kim Lynch. If you wish to use this content in any manner, you need written permission. Contact BellaOnline Administration for details.