New Years Cocktail Party Recipes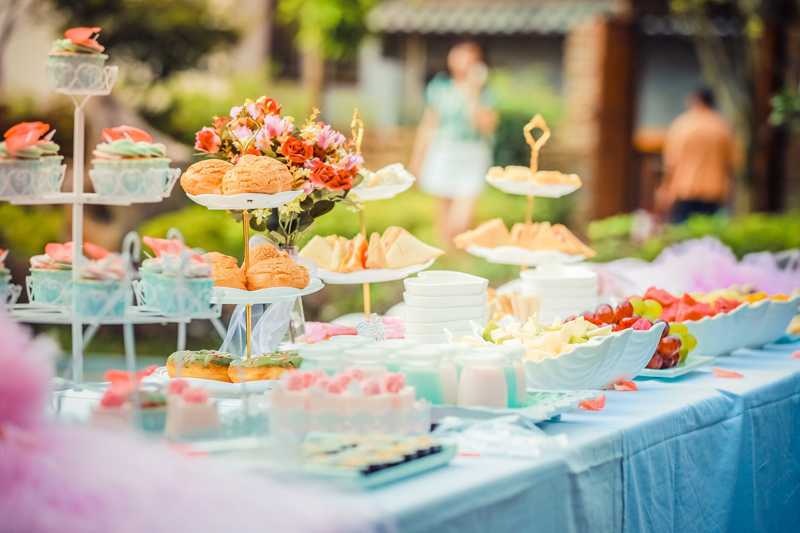 New Years eve is right around the corner! Use these simple recipes to throw a fabulous impromptu cocktail party your guests are sure to love.

Cocktail Recipes:

Punch

3/4 liter Southern Comfort
1 cup pineapple juice
1 cup grapefruit juice
1/2 cup lemon juice
2 quarts champagne
orange slices (garnish)
ice

1.Chill all ingredients.
2.Mix all in a punch bowl, add champagne last.
3.Add ice and garnish with orange slices.

Sidecar

Glass:

fresh lemon juice

sugar

Cocktail:

1 cup Cognac
1/2 cup triple sec
1/4 cup Fresh lemon juice
maraschino cherry or lemon peel for garnish

1. Dip the rim or 4 martini glasses in a shallow plate of lemon juice and then in the sugar. Allow to dry for 15 minutes.

2.Combine the Cognac, Triple Sec, and lemon juice in a pitcher. Pour
into a cocktail shaker with ice, shake well and pour into the glasses.

3.Garnish with a cherry or lemon peel.

serves 4

Champagne Cocktails:

4 sugar cubes
4 drops Angostura bitters
1 (25 ounce) bottle champagne, very cold
4 teaspoons cognac
# 4 teaspoons fresh squeezed orange juice
# 4 orange slices
4 maraschino cherries

1.For each cocktail, place 1 drop Angostura bitters on a sugar cube in the bottom of a chilled champagne flute.

2.Fill with very cold champagne.

3.Garnish with a squeeze of fresh orange juice, a drop of brandy, an orange slice and a cherry.

Dessert Recipes:

Mini Cherry Cheesecakes

2 (8 ounce) packages cream cheese
3/4 cup sugar
2 eggs
1 teaspoon lemon juice
1 teaspoon vanilla
12 vanilla wafers
1 (21 ounce) can cherry pie filling

1.Mix softened cream cheese, sugar, eggs, lemon juice and vanilla in bowl.

2.Place wafer in bottom of each of 12 cupcake papers (in cupcake tin).

3.Spoon in cream cheese mixture 3/4 full.

4.Bake in 375 degree oven for 15 minutes & let cool.

5.Top each with cherry pie filling and refrigerate for 1 hour

Mint Balls

1 (4 ounce) package cream cheese
1 lb powdered sugar
1 teaspoon flavoring
food coloring (optional)
1 cup sugar


1.mix cream cheese, powered sugar, flavoring, & food coloring (optional) with hands in large mixing bowl.

2.shape or press into molds.

3.roll in sugar to reduce stickiness.

Appetizers

Swiss Cheese Dip

2cups mayonnaise
3/4cup fine minced onion
2cups grated swiss cheese
chopped chives (optional) or scallions (optional)
2loaves sourdough bread


preheat oven to 350 degrees.

1.Mix mayo, onion, swiss and chives(or green onion).

2.Cut out center of bread bowl and put mixture in the cavity.

3.Tear the bread that was cut from the center into bite size pieces, and do the same with the other loaf of bread.

4.Wrap the stuffed bread bowl loosely with foil and put it into a baking pan.

5.Bake for 30-45 minutes.

6.I usually uncover the top of the bowl for the last 10 minutes or so in order for the cheese dip to brown.

7.Place the finished dip on a serving platter and sprinkle the torn bread pieces around it.

Sausage Cheese Balls

3 cups Bisquick baking mix
1 lb sausage
4 cups shredded mild cheddar cheese
1/2 cup milk
1/2 teaspoon dried rosemary leaves, crushed
1/2 teaspoon parsley flakes

1.Heat oven to 350ºF. Lightly grease bottom and sides of cookie sheet.

2.Stir together all ingredients, using hands or spoon. Shape mixture into 1-inch balls. Place in pan.

3.Bake 20 to 25 minutes or until brown. Immediately remove from pan. Serve warm with sauce for dipping.


Related Articles
Editor's Picks Articles
Top Ten Articles
Previous Features
Site Map





Content copyright © 2018 by Amelia Johnson. All rights reserved.
This content was written by Amelia Johnson. If you wish to use this content in any manner, you need written permission. Contact Shalia Hayes for details.