Easy Succulents for Beginners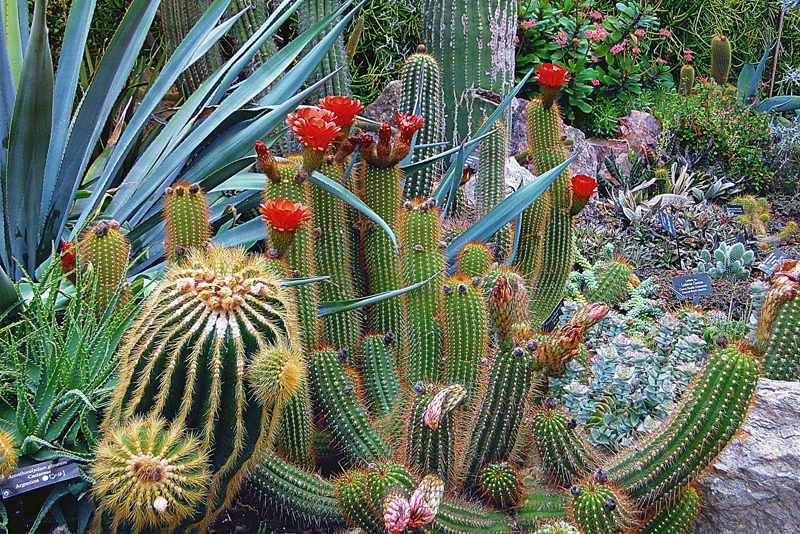 All kinds of indoor succulents and cacti are available. These will often be seen in local garden centers and chain stores as well as online. How can those new to indoor gardening get started? The best place to begin is with some no-fail succulents that are easy to grow.

The majority of house plant deaths are due to overwatering. Succulents take the mystery out of watering, so this risk is less likely to happen.

There are at least six or more carefree species of succulents that are suitable for beginning gardeners. It is by no means a coincidence that these also tend to be the most popular house plants. The ones I am going to recommend are probably ones you've heard of.

Let's start with one that has been around for a long time—the snake plant. These are noted for their sword shaped foliage. Depending on what cultivar or species you buy, the leaves will have undulating patterns of different greens, golds, cream, and white. Depending on the cultivar, snake plants are either dwarf or standard size. This will tolerate lower light conditions than most succulents. My mother had one that lived for years in a spot where it received very little sun.

When it gets older, the beautiful jade plant assumes a tree-like form. But most of us start small with a low growing one in a four or six inch pot. These will typically be about a foot in height when they are sold. Whatever size you buy, the jade plant will have a thick, succulent stem and blue-green foliage. The edges of the leaves often turn reddish to purple when it is receiving enough sun.

Sometimes, jade plants will even produce flowers. These white blooms tend to be rather inconspicuous.

Aloes are commonly grown as house plants. Lots of folks keep one on the kitchen counter or window in case they need to grab a leaf off to put the sap on a burn. For this to work as a burn remedy, you need to apply it as soon as possible after you get the burn. Time is a serious issue here. When I do this soon enough, I don't even get a blister.

Aside from this herbal use, aloe is a gorgeous plant. The lovely, light green to blue-green leaves are typically decorated with white dots. The edges of the foliage are notched so that they spine-like. However, these are by no means true spines.

For sheer beauty, the burro's tail is hard to beat. This species of sedum has cascading stems. For that reason, it is an exceptional choice for hanging baskets. Along the stem are small, thick, crowded leaves.

Those new to indoor gardening can't go wrong if they choose the holiday cacti. Sold mostly during the Thanksgiving and Christmas season, these are very appealing. Whether you have an Easter cactus, Thanksgiving cactus, or Christmas cactus, the care will pretty much be the same. These have segmented stems with either rounded or notched edges. The notched ones are often described as claws. Chances are when you buy your holiday cactus, it will already be in full bloom.

Now for some specifics on caring for these popular succulents. With respect to light, these are mostly sun-loving plants with the exception of the holiday cacti and the snake plant. During the winter, my holiday cacti receive a little morning sun. But, other than that they just get ordinary daylight. I take them outdoors on my front porch during the warm months where they receive a little sunlight very late in the day.

Regarding their water needs, the holiday cacti like to be kept evenly moist during the growing season. When they're resting, let them dry out a little between waterings.

On the other hand, the other easy care succulents prefer to be kept a little drier. Allow their potting soil to dry out between waterings. Reduce the water a little when they are not actively growing.

For the most part, these plants will experience few insect problems. The exceptions are scale and mealybugs. Generally, if you catch these problems early enough, you can remove the insects with cotton swabs dipped in alcohol.

Repotting may be needed from time to time, especially as the base of the plant increases in size. When you repot, move the plant up to a pot one size larger. For example, go from a four inch pot to perhaps a six inch, or a ten inch to a twelve. For best results, don't skip from a small four or six inch up to a ten or twelve.

In some cases, certain species will typically produce offsets, such as the snake plant and aloe. Leave these in place long enough to develop good root systems. Then, transfer each of these new little plants to small pots.



This site needs an editor - click to learn more!


Editor's Picks Articles
Top Ten Articles
Previous Features
Site Map





Content copyright © 2023 by Connie Krochmal . All rights reserved.
This content was written by Connie Krochmal . If you wish to use this content in any manner, you need written permission. Contact BellaOnline Administration for details.