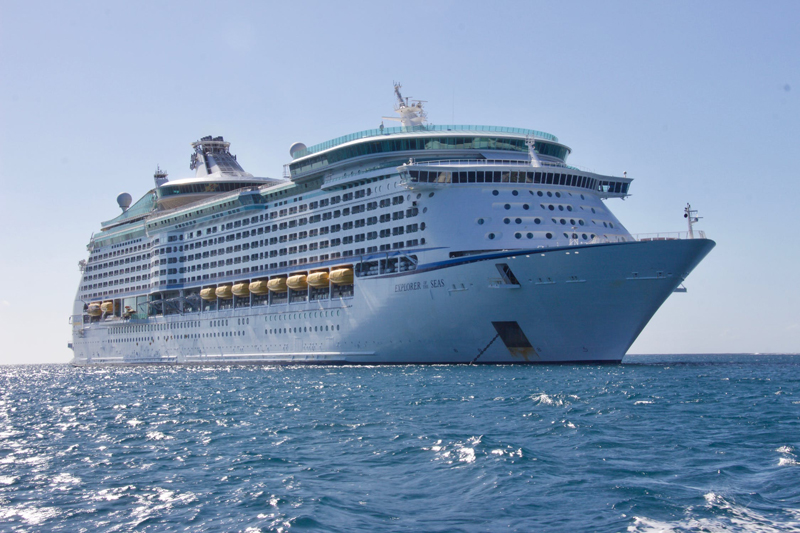 As the island of St. Kitts changed its focus from sugar cane to tourism, this laid-back Caribbean paradise began its road to development. St. Kitts is blessed with cooling tradewinds, abundant sunshine, and year-round temperatures of about 80 degrees. Mt. Liamuiga towers over the island and its 3,792-foot volcanic peak provides a great venue for hiking and adventure. Here, green vervet monkeys and mongoose can be seen among the vine-covered banyan trees and rainforest vegetation.

Ships dock at Port Zante, a large cruise port with shops and restaurants. Basseterre, the capital of St. Kitts, is located within an easy 15-20 minute walking distance. Downtown Basseterre features historic buildings as well as shops, art and craft galleries, souvenir stores, Internet cafes, and restaurants. English is the official language and while the East Caribbean Dollar is the official currency, U.S. dollars are generally widely accepted here.

What To Do

Spending the day at the beach is a popular St. Kitts shore excursion. The golden sand beaches at Frigate Bay, White House Bay, Cockleshell Beach, South Friars Beach, Turtle Beach and Banana Bay are favorites with cruise passengers. White House Bay is particularly good for snorkeling and kayaking. Cruisers often enjoy spending the day at Cockleshell Beach and having lunch at the Reggae Beach Bar & Grill, the Spice Mill Restaurant or the Lion Rock Beach Bar and Grill. Beach chairs and umbrellas line the sandy shore and the bay's calm waters are perfect for kayaking and snorkeling.

Although the island of St. Kitts is very laid-back, there are many adventures and diversions available. Take an adrenaline-charged hike to the top of Mt. Liamuiga, horseback ride through the rainforest, scuba dive in crystal clear waters, or go sailing aboard a catamaran. The St. Kitts Scenic Railway (also known as the "Sugar Cane Train") provides families with a unique way to tour the island. Those interested in history will enjoy exploring Brimstone Hill Fortress National Park, one of the largest forts in the Caribbean, while fashion lovers can make their way to Romney Manor where Caribelle Batik produces handmade dyed clothes and colorful wall hangings. The island's historic plantation houses, including Rawlins Plantation and Ottley's Plantation Inn, are also good spots for touring and dining. Clay Villa Plantation is lovely as well.

There are many excellent places to have lunch around the island. Favorites include the Reggae Beach Bar, the Lion Rock Beach Bar and Grill, the Royal Palm Restaurant at Ottley's Plantation Inn, Serendipity Restaurant, Spice Mill Restaurant, Marshall's, and El Fredo's. The South Frigate Bay area features a number of open air restaurants and beach bars, as well as beach chair and water sports rentals.

Some cruise passengers seek out island resorts that offer day passes. If this option is appealing, check out the St. Kitts Marriott Resort and The Royal Beach Casino. Day passes are available when occupancy levels allow. Room-inclusive day passes are available that includes the use of a room and all of the facilities at the hotel. A cheaper day pass that does not include a room is available as well. The family-friendly St. Kitts Marriott sits on 26-acres with a golden sand beach, pools, numerous restaurants, a world-class spa and fitness center, and a championship 18-hole golf course. The beach at the St. Kitts Marriott has many cabanas for shade and chairs are plentiful at the pools.

If you want to go island hopping, check out the nearby island of Nevis. Ferries operate regularly each day, and the trip usually takes approximately 45 minutes each way in good weather. Sunshine's offers a good place to have lunch, try their signature drink – The Killer Bee, and chill out on the sandy beaches. Compare your cruise itinerary and the ferry schedules carefully to make sure you will have enough time to make an independent visit.

If You Go:

* For more information about the island of St. Kitts, visit www.stkittstourism.kn

* For more information about the St. Kitts Marriott Resort, visit the property's website at www.stkittsmarriott.com. Contact the resort directly to determine the availability of passes on the day you will be arriving. Resort day passes may be available for purchase through CaribbeanDayPass.com as well.

* Be aware that multiple ships may be arriving in St. Kitts on the same day, leading to potentially crowded conditions at some locations.

* If you're planning to take a taxi or island tour, make sure to ask about prices before starting out on your trip.

* Green vervet monkeys can sometimes be spotted along the road to Cockleshell Beach, in the rainforest, near Brimstone Hill Fortress, and at Turtle Beach and Cockleshell Beach. If you go island hopping to Nevis, keep an eye out for green vervet monkeys there, too.




You Should Also Read:
BellaOnline Cruises Newsletter


Related Articles
Editor's Picks Articles
Top Ten Articles
Previous Features
Site Map





Content copyright © 2019 by Nancy Schretter. All rights reserved.
This content was written by Nancy Schretter. If you wish to use this content in any manner, you need written permission. Contact Nancy Schretter for details.