This is an easy to make dress for small, 12 to 14 inch, baby dolls. There are only 2 pattern pieces, but you will also need to cut a 1 inch wide by 8 inch long piece of fabric; cut on the bias, for neck facing. To see an example of how to cut out a strip on the bias, look at the pattern
Here
. This pattern is free for your personal use but you may not use it commercially.
The dress is shown at right on my 13 inch
True to Life Newborn
doll. I have decorated it with a bow in front and trimmed the bottoms of the sleeves with the same ribbon. Since this is such a simple dress you can add anything you'd like to make it your own. Try ribbon or lace, buttons, bows or contrasting fabrics.
The pattern is shown on a 1/2 inch grid and the pattern pieces include a 1/4 inch seam allowance. To make your 1/2 inch grid mark dots down both sides of a plain sheet of paper, 1/2 inch apart. Draw a line, connecting the dots from side to side, all the way down the paper. Then repeat the process across the top and bottom of the paper. Now you can copy by hand the contents of each box in the grid on the pattern sheet. You can also print the sheet out on your printer, making sure that the grid prints out at 1/2 inch.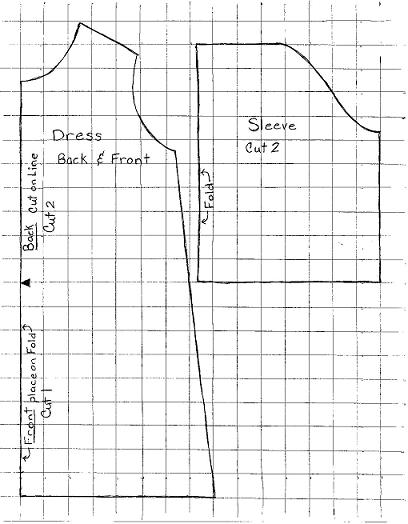 Materials
1/2 yard cotton fabric
1 yard of 1/8 inch satin ribbon
matching thread
hook and eye or hook and loop dots for closing the back
So gather up your supplies and think about how you want to decorate your dress because next week we will sew the dress.
Making and Dressing Cloth Dolls
Ebook with patterns and instructions to make 5 cloth dolls as well as chapters on general doll making techniques.The book includes 21 inch Lalena Doll, 21 inch David Doll, Bear Dolls, 9 inch Destiny Doll and 15 inch Annie Doll, all together in one handy book. 53 pages.
Making and Dressing Cloth Dolls
.