5 Reasons To Choose A Mid-Sized Cruise Ship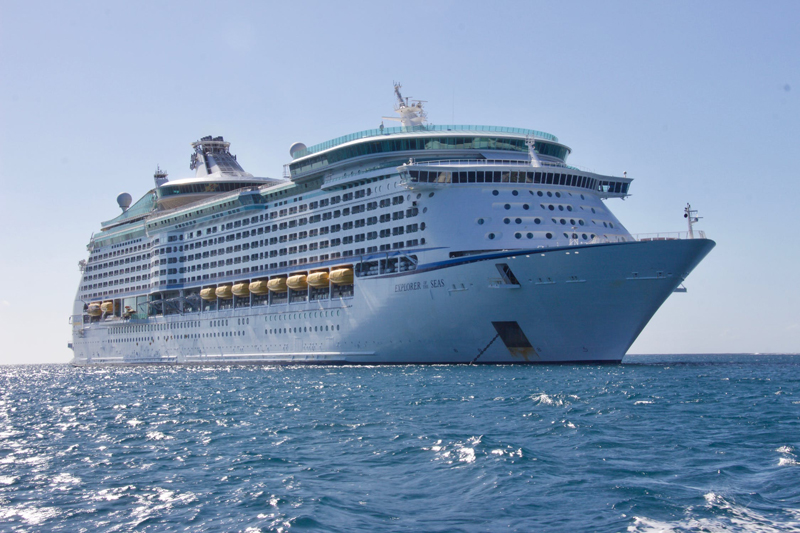 New ultra-large cruise ships are very popular right now. These ships feature a wide variety of specialty restaurants, bars, and cool amenities. Sometimes it's nice to cruise on a smaller mid-sized ship, however, particularly if you're looking for a relaxing cruise experience.
It's important to note that choosing a mid-sized ship doesn't mean you have to sacrifice delectable specialty dining options and a wide variety of onboard attractions. You just have to pick the right ship. Take Norwegian Cruise Line's Norwegian Jade, for example. This 2,400-passenger ship features a wealth of bars, restaurants and specialty dining options as well as excellent shipboard amenities. Its exceptional crew is also second to none.
If you're looking for a great mid-sized ship for your next cruise experience, here are five reasons to choose the Norwegian Jade:
1. Freestyle Cruising.
Norwegian Cruise Line's Freestyle Cruising concept contributes substantially to the laid-back vibe onboard the Norwegian Jade. There's lots of great entertainment and activities going on constantly onboard the ship. The schedule isn't completely geared to set dining times. Norwegian's Freestyle Dining approach means guests can have meals at anytime that's convenient for them. There are no fixed dinner times or seating locations and the ship's wide variety of dining options lets passengers choose what they'd like to eat and how dressed up they want to be. Eliminating regimented schedules and structure creates a relaxing atmosphere for guests on the Norwegian Jade. It's much easier to just go with the flow after enjoying a full day of exciting experiences.
2. Exceptional Service.
The staff and crew of the Norwegian Jade makes the ship feel like a "home away from home" for its guests. They go out of their way to deliver the kind of customer service that exceeds expectations. The staff and crew of the Norwegian Jade seem to operate like one big family and they welcome guests as members of their close-knit group. Their warmth and caring is evident from their friendly smiles to the little touches that make such a difference on a cruise vacation.
3. Wide Array of Dining Choices.
The Norwegian Jade is loaded with dining options, making it a true standout among other ships in its class. Some of the dining venues are complimentary and other specialty dining options carry an additional charge. Don't worry – there are plenty of free options from which to choose. The Norwegian Jade's two complimentary main dining rooms are the light and airy Grand Pacific and Alizar. Dinner menus change constantly each evening and there's also a wide variety of items on the "Always Available" list. Open seating is offered in the main dining rooms, but the Norwegian Jade staff enables advance reservations for those who want to eat at a specific time.
Some of the additional free dining options on the Norwegian Jade include the Jasmine Garden Asian restaurant, Blue Lagoon – which is open around the clock, and the Garden Café buffet dining area. Families will love the Kids Café section for younger guests. There are plenty of deckside cookouts offered on the ship and room service is available as well.
It's the Norwegian Jade's vast choice of specialty dining options that makes the ship particularly exceptional in the mid-size class category. Dining at these restaurants carries a small per-person cover charge. These include the terrific Cagney's Steakhouse, Teppanyaki Asian restaurant featuring outstanding performances by hibachi-style chefs, Le Bistro French restaurant, Moderno Churrascaria Brazilian steakhouse, La Cucina Italian restaurant, and an a la carte sushi bar. Guests can opt for before or after dinner drinks at their choice of twelve bars and lounges on the ship.
4. Excellent Family Programs.
The Norwegian Jade's kids and teens programs receive rave reviews from families. The ship offers Norwegian Cruise Line's complimentary Splash Academy youth program on all its sailings. Splash Academy features programs designed specifically for three age groups: Turtles for ages 3-5; Seals for ages 6-9; and Dolphins for ages 10-12. Programs include Circus School activities, interactive arts & crafts workshops, treasure hunts, games, storytelling and more.
Splash Academy also offers activities for Guppies – little cruisers between the ages of six months and three years of age. Parents with young children under three can enjoy fun Guppies events along with their child, including sensory play classes and "Motion in the Ocean" parent and tot mini workout sessions. Parents must be present at Guppies programs.
If you're traveling with teens, the Norwegian Jade caters to older kids with its Entourage teen's club, providing free programs and activities. Entourage is a high energy zone exclusively for teens ages 13-17. At night, Entourage turns into a teens-only nightclub with a dance floor, video jukebox, large screen television and other amenities. Themed events for teens are offered as well.
Norwegian's Port Play program for children ages 3-12 can come in handy on cruises, particularly on days when parents are taking long or active tours. Parents who are booked on shore excursions and want to leave their kids onboard the ship can register for this complimentary program, enabling them to have fun ashore while their kids enjoy playing with their friends on the ship. There's a small fee for supervising kids if parents will be away during meal times. Late Night Fun Zone activities from 10:30 p.m. to 1:30 a.m. are also available for ages 3-12 for a small fee.
5. Extensive Choice of Stateroom Options.
For families, multigenerational groups and anyone seeking the best in stateroom accommodations, the Norwegian Jade is an absolute gem. It features a wide variety of stateroom choices to satisfy guests' needs. About sixty percent of the ship's staterooms are outside cabins, so it's easy to get a great view, and over fifty percent of those have balconies. In addition, many of the ship's staterooms can be connected which is perfect for families and groups traveling together.
Those seeking a truly luxurious vacation experience should opt for some of the Norwegian Jade's sumptuous suite and villa options. These include Romance Suites, Owner's Suites, Penthouse Suites that can be perfect for families, and the exclusive Courtyard Villas and Family Villas. Guests looking for even more magnificent space can stay in the ship's Garden Villas which feature three bedrooms as well as a private roof-top terrace. Concierges and butlers work with suite and villa guests to make sure that their stay aboard the Norwegian Jade exceeds expectations.
For more information on the Norwegian Jade, visit the Norwegian Cruise Line website:
www.ncl.com.


Related Articles
Editor's Picks Articles
Top Ten Articles
Previous Features
Site Map





Content copyright © 2023 by Nancy Schretter. All rights reserved.
This content was written by Nancy Schretter. If you wish to use this content in any manner, you need written permission. Contact Nancy Schretter for details.