Guest Author - Elizabeth Darrach
Hello, and welcome back! I think we're stuck in the dog days of summer, and it doesn't look like there's any relief in sight, unfortunately. Good thing I have a great supply of reading material, between my review stack and the books I've brought home from work in the last week. Going outside, for even the briefest of chores, is unpleasant to say the least. Though you'll probably want to have an icy cold drink at hand for this week's review books.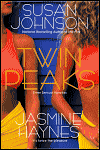 Twin Peaks: Three Sensual Novellas (Berkley), with stories by Susan Johnson and Jasmine Haynes starts things off for us this week with tales of twins. The first has Sofie Piper mistaking Jasper Finn for his sexy twin Jake on the weekend she'd intended to finally seduce Jake. And, of course, Jake finds out, at a most inconvenient time. The next two stories feature twins Kristen and Kirby Prescott, with Kristen lusting after her boss but too shy to do anything about it--until she pretends to be her sexier sister--and Kirby quite satisfied by her regular phone sex with a business acquaintance she's never actually met, but his arrival in town turns her world upside down. Of the three, I liked Ms. Johnson's story best, with the sexy Jake doing his best to convince Sofie his apology is sincere and so are his feelings. Ms. Haynes's stories are definitely more erotic and less romantic, from this jaded romance reader's point of view. Not that that's a bad thing, unless you're looking for a little more romance. Either way, while this one is enjoyable, it's not a keeper for me. It's earned three of Cupid's five arrows.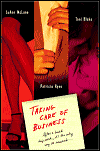 Taking Care of Business (Signet Eclipse) has stories by LuAnn McLane, Patricia Ryan, and Toni Blake, and I was very much looking forward to reading Ms. McLane's after her baseball anthology last summer, but I'm sorry to say that 'Driven' was my least favorite in this set, with author Ian Parker clueless when it comes to writing the expected love scenes for his characters, though Maxine Mitchell's assistance will give him all the ideas he needs. I just didn't love Maxie or Ian. 'What Happens in Vegas' by Ms. Ryan didn't do much for me either, since the relationship between Jay Douglas and Libby Thatcher is completely based on lies, no matter how noble the intentions. 'Brushstrokes' by Toni Blake was better, with Mia Drake painting a mural on the ceiling of Rick Rose's bar, but Rick isn't very nice to her, so his 'sexy' appearance didn't make up for his behavior in my opinion. I was disappointed with this one, but you may feel differently. It gets only three arrows as well.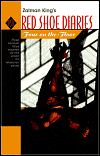 Red Shoe Diaries: Four on the Floor, Vol. 2 (Berkley) is definitely not romance, but fans of the series of 'Red Shoe Diaries' movies already know that. This one features four stories, starting with 'The Psychiatrist', which wasn't my fave, with Evelyn acting out her own fantasies after listening to a patient. Kind of icky, I thought. 'Four on the Floor' was a lot more fun, with two couples finally getting it right when they're stranded on a weekend trip. 'Emily's Dance' didn't do much for me, though--a little too weird. And the 'quickie' at the end continues the story from the last volume, and is also not a fave for me. But if you're looking for pure sex with little romance, this might just be the book you're looking for. Since it's not a romance, though, I can't rate it as I do the others.

Hopefully you've found something here this week to add to the steam heat of your summer. And until next time, happy reading!