Weathering the Dog Days of Summer-Part I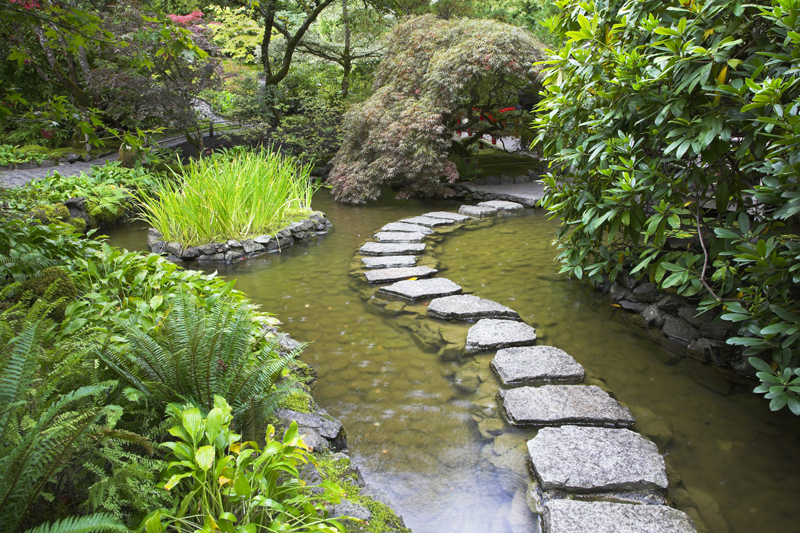 The dog days of summer seem to have arrived early this year. The lack of holidays between July 4th and Labor Day can only add to our late summer doldrums. Short of moving to Alaska or other cooler areas, what else can we do to preserve our sanity? This article is the first of a two-part series.

Our gardens can become a shady retreat during the cooler hours of the day. The trick is to make this area as picture-perfect as possible. I like to use containers of plants that continue to bloom all summer, such as fuchsias and impatiens.

Early morning and late evening are the perfect time to be outdoors on shady patios and porches. Well designed landscapes will have spots like this where we can sit and listen to the birds singing early in the morning and enjoy the sights and sounds of nature. During the late evening, I enjoy sitting on my back deck and watch the fireflies and hear the katydids.

The sun can be very intense in the afternoon. That's the time to be doing things indoors. If you haven't ordered your spring blooming bulbs yet, now is the time to look through those catalogs. There is still time to place an order online or by phone and charge it to a credit card.

Now that we've had a taste of heat and humidity to remind us what summers are really like, this is the perfect time to begin planning a low maintenance landscape where you don't have to spend hours watering, weeding, and pruning. As you draw up new garden beds and plans, make it easy on yourself by
including an irrigation system.

Look ahead to autumn. Fall is a great time for planting in many parts of the country. With a few exceptions, most plants are fine if planted in the autumn. This needs to be done about six to eight weeks before the ground freezes. Take the time now to draw up a list of the plants you will need. Just be sure to select ones that are appropriate for your growing conditions, whether that be for sun or shade, damp or dry spots.

We may not feel like doing much in the garden right now. However, a perfect activity you can do indoors is to begin your garden planning for next year. In case you haven't noticed, the new 2006 almanacs are now available in many stores. Buy or order the ones you want to help in your garden planning for next year. Of all the almanacs, my favorite by far is "Baer's Agricultural Almanac and Gardener's Guide," which is edited by Gerald S. Lestz. 2006 will be the 181st year for this publication. Published by John Baer's Sons, this features weather tables for the coming year. In addition, it is packed with useful information you can use along with gardening tips and hints.

Regarding other kinds of almanacs, Llewellyn Publications has released its 2006 titles. As always, they are so detailed and thorough that it is hard to imagine going without. They're written by leading experts in their respective fields. Llewellyn's "2006 Moon Sign Book" is the 101st edition of this legendary guide. It has extensive tables and charts giving weather and other kinds of forecasts along with the best dates for different activities. In addition, there are loads of articles on assorted topics, including a whole section on gardening and farming by the moon.

Llewellyn's "2006 Herbal Almanac" is a treasure trove of information on growing and using herbs for all different kinds of things. There are lots of articles on a diverse group of topics from cooking and crafts to beauty and health. This edition explains how to use native plants to attract butterflies, how to grow herbs hydroponically, and how to create your own herbal spa at home.

Llewellyn also published the "2006 Magical Almanac." An award winning title, this was named Best Magic Book of the Year for 2000. It features 85 articles by leading experts in the field. In addition to the articles, the almanac section presents all sorts of charts and handy tables giving the phases and signs of the moon, incense and color of the day as well as a list of all the world holidays.

Now is also the time to begin looking at the 2006 calendars and deciding what kind you need to use for recording pertinent gardening information. The American Quilter's Society recently released some delightful 2006 calendars. The "Quilt Art 2006 Engagement Calendar" by Klaudeen Hansen and Annette Baker will really help you organize your time. For each day there is plenty of room to record appointments and daily reminders. For this wonderful calendar, the authors researched and selected a collection of prize winning quilts from around the country. The exquisite photos were taken by Charles R. Lynch and Richard Walker.

The American Quilter's Society 2006 Wall Calendar was also released recently. Each year for this title, the publisher chooses thirteen of the very best from its annual quilt competition. At the end of 2006, you'll probably want to save the photos. Of the different prize winning quilts depicted, I'm particularly taken by the birds n' roses, the nature scene for August, and the hellebore for Christmas.

Llewellyn Publications has released its "2006 Astrological Calendar," which is by far the most popular of its kind in the world. This is much more than just a calendar. It features forty pages of tables, and monthly horoscopes with the best dates for various activities like gardening and fishing as well as a complete section on lunar gardening. It is illustrated with delightful contemporary art by Mia Bosna.

Think cool thoughts. Think Halloween and Christmas. It really isn't too soon to begin creating those special holiday decorations. Many craft stores typically have sales on the items you need during the late summer months. Start planning your autumn décor with a new pattern from Mount Redoubt Designs. By renowned artist Letitia Hutchings, "Harvesting Dreams" is sure to become a fall favorite. This wall hanging features pumpkins and fall motifs highlighted by a beautiful purple and blue background. As with all of Hutchings' designs, this includes full-size pattern pieces, step-by-step instructions, and a complete list of materials.

C & T Publishing recently released a seasonal title called "Simple Fabric Folding for Halloween" by Liz Aneloski. It features a dozen tasteful, delightful projects with classic Halloween themes that are sure to suit your home décor. The author presents illustrated, step-by-step instructions for each.

This concludes Part I. Part II will appear next week.



Related Articles
Editor's Picks Articles
Top Ten Articles
Previous Features
Site Map





Content copyright © 2023 by Connie Krochmal. All rights reserved.
This content was written by Connie Krochmal. If you wish to use this content in any manner, you need written permission. Contact Connie Krochmal for details.