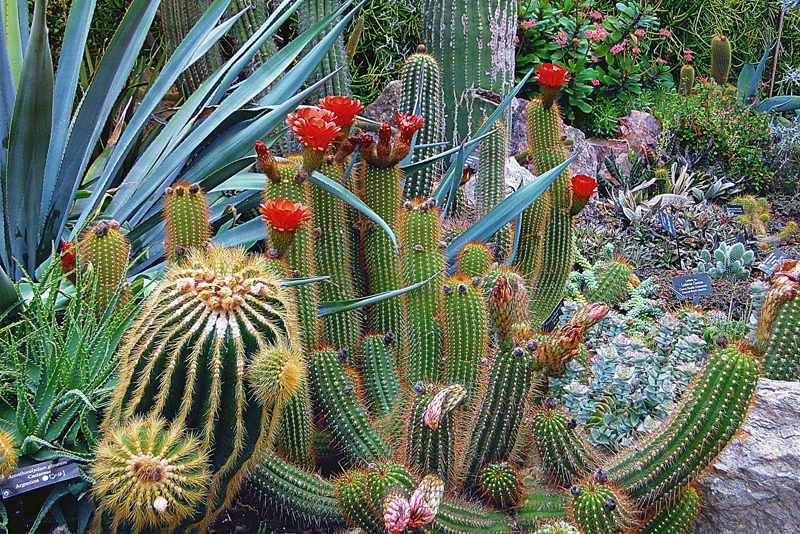 We can't always recognize a succulent by its leaves. The ponytail palm is an example. This is also known as the elephant-foot tree and bottle palm. Often grown as a houseplant in cold climates, this plant is native to Mexico. Its Latin name is Beaucarnea recurvata.

It is a member of the Agave family. As a houseplant, the ponytail palm normally reaches about three feet in height. When grown outdoors in warm climates, it can easily reach 20 feet tall. Normally it will only have one main trunk until it is a few years old. Then it develops branches towards the top.

For the most part, this plant behaves much as a shrub or tree. When it is young, it has almost no trunk to speak of. At that time it looks more like an oversized onion with lots of long, thin, ribbon-like leaves at the top. These have sharp edges, and emerge in a fountain-like fashion. They tend to curl downward. The foliage can be up to two feet in length and only an inch or so wide. Because they are so long, the plant really does need a generous amount of room indoors.

As the plant matures, the trunk becomes thicker, and develops a brownish-gray bark on the surface. The swollen base continues to increase in size until it looks more like a bottle than anything else. This can be over six feet across.

As a houseplant, the ponytail palm doesn't have a chance to develop flowers very often. When grown as an outdoor garden plant, it produces a flower stalk that can be 16 feet or more in height. This contains clusters of small beige or yellowish blooms. These normally open during the summer months. Because the male and female blossoms are on separate plants, a single plant will likely not produce seeds.

Regarding care, the ponytail palm needs full sun, but will take a little bit of shade. If you normally put your houseplants outdoors for the summer months, choose a sheltered spot where this will be protected from rain.

During the winter months, the ponytail palm likes a cool temperature, down
to 50 degrees Fahrenheit.

So far as watering is concerned, this needs to dry out between waterings. Remember that it uses the swollen trunk to store water. During the winter, water just enough to keep the potting soil from going completely dry.

For the growing season, this will need fertilizing every couple weeks.

When it comes to insects and diseases, this plant can be attacked by scales. If the humidity is low, it can develop spider mites.

Never think of pruning this plant. In other words, if your plant gets too tall or too wide for its indoor space, you will need to give it away and get a smaller one. Trimming should be restricted to removal of the side shoots when the trunk starts to develop new branches at the top.

The ponytail palm doesn't need repotting very often. Every three or four years is usually often enough. As a matter of fact, it prefers to be pot-bound.

This plant can be propagated from seeds and offsets.

There is a related species, Beaucarnea stricta. This resembles the ponytail. However, its foliage is a little stiffer in nature. The leaves have touches of yellow along the edges. This species has more of a tapered trunk that looks less like a bottle.

This site needs an editor - click to learn more!


Editor's Picks Articles
Top Ten Articles
Previous Features
Site Map





Content copyright © 2023 by Connie Krochmal . All rights reserved.
This content was written by Connie Krochmal . If you wish to use this content in any manner, you need written permission. Contact BellaOnline Administration for details.