Succulents With Red Color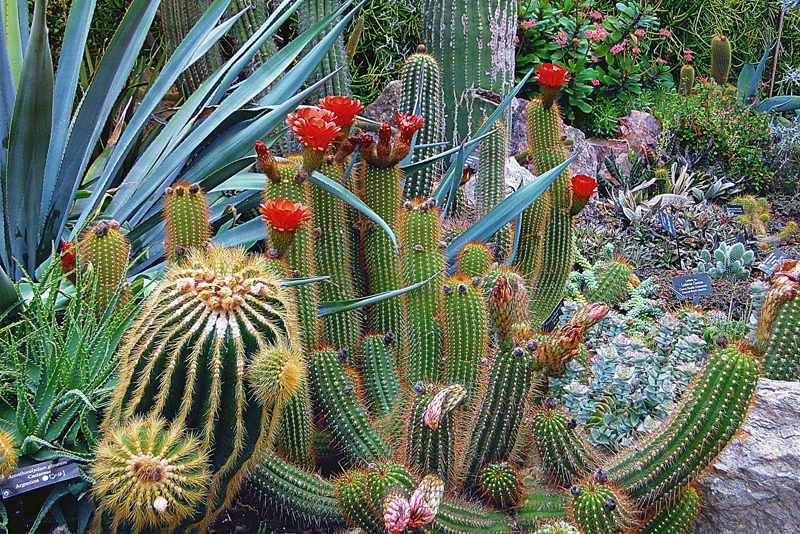 In this article I highlight some of the very best succulents that provide red color for the landscape.

In addition to variegated plants, succulents offer many other kinds of color for the landscape. A good place to start is with ones with shades of red. Among the Sedums there are several with red or reddish leaves. Dragon's blood sedum (Sedum spurium 'Dragons Blood') is one of the most commonly grown. Less than ½ foot tall, this has attractive, reddish-bronze foliage. Hardy to zones 3 through 8, this species goes by the name two-row stonecrop. It is native to the Caucasus.

Known as orpine, some of the Sedum telephium cultivars offer red color. Sedum telephium 'Munstead Red' has reddish-tinged foliage that highlights the beautiful dark red blooms. This plant is about 1½ feet tall.

A cultivar of the Siebold stonecrop ( Sedum sieboldii 'Mediovariegatum') is highly colored. This has bright blotches with some reddish tones along with some yellow, but can also be in various shades of cream.

Of the Euphorbias or spurges, it is unusual to see red. Euphorbia griffithii is native to China and Tibet. Its leaves have red in the center of the foliage along with hints of orange. Suited to zones 5 through 9, this reaches two to three feet in height. There is a highly colored cultivar of this species. Euphorbia griffithii "Dixter' is about a foot in height, and has very unusual orange floral bracts and dark copper leaves.

Cobweb houseleek (Sempervuvum arachnoideum) is native to Europe. Hardy to zone 5 or 6, this is also known as the spiderweb houseleek. The leaf tips are blushed with red. In addition, the fine white hairs along the leaf margins add a wonderful touch. These become matted together to resemble a cobweb. Only four inches tall, this has beautiful red blooms that are an inch across.

Common houseleek (Sempervivum tectorum) is native to Europe. Its grayish-green foliage has blushes of red along with wide areas of purple on the tips. Hardy to zones 3 through 8, this is about 1-1½ feet in height. It features reddish-purple blooms that are about an inch wide. The rosettes are three to four inches wide. In addition to the species plant, the variety calcareum has very reddish leaves.

A number of the other houseleeks and hen-and-chicks offer red color. Sempervivum 'Unicorn' has large, downy, yellow-green foliage with distinctly red tips. In addition, the foliage is blushed with rose-pink for part of the year.

Sempervivum 'Kappa' can have light red to darker red leaves. Sempervivum 'Maytime' has dark reddish-brown on the very tips and edges of the leaves. This contrasts beautifully with the soft green foliage.

Sempervivum 'More Honey' has downy, light green foliage decorated with various other colors, including tinges of red and reddish-orange. But sometimes this can be more of a reddish-purple. This is recommended for zones 3-8.

Sempervivum 'Oddity' has dark red on the very tips of the densely clustered leaves. Hardy to zones 2-9, this plant has earned its name not because of the color but from an odd habit the foliage has. As strange as it may sound, these curl up to form tight rolls.

Sempervivum 'Red Devil' has become quite popular in the U.K., New Zealand, and Europe. This cultivar proudly displays its bright red leaves with hints of light green.

Semperivum 'Royanum' has large rosettes consisting of leaves that are yellow-green to very dark green with highlights of red, purple, or purplish-brown on the tips. This is recommended for zones 2 through 9.

Sempervivum 'Sir William Lawrence' has dark reddish-black tips that contrast sharply with the blue-green or gray-green leaves making up the tight rosettes.




This site needs an editor - click to learn more!


Related Articles
Editor's Picks Articles
Top Ten Articles
Previous Features
Site Map





Content copyright © 2023 by Connie Krochmal . All rights reserved.
This content was written by Connie Krochmal . If you wish to use this content in any manner, you need written permission. Contact BellaOnline Administration for details.