Decorating with Cacti and Succulents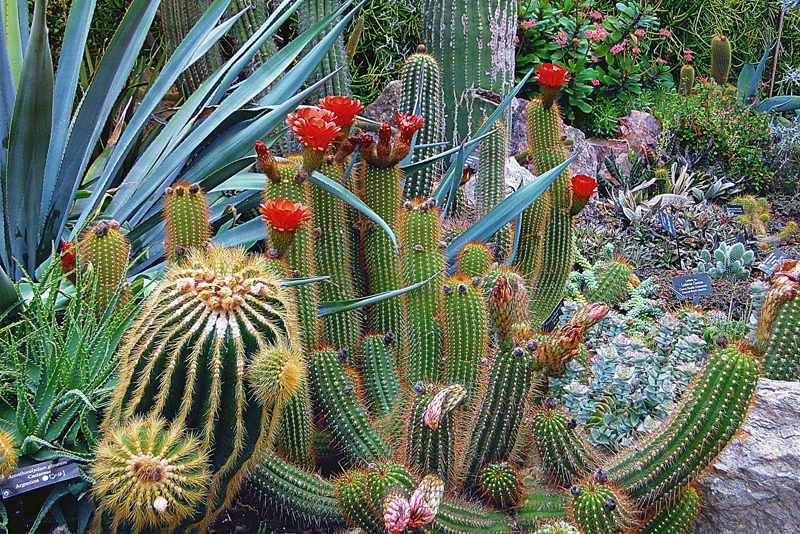 Here are a few ways we can use cacti and succulents as part of home decor.

Cacti and succulents are commonly grown as house plants. With their beautiful forms and colors, they can add great beauty to the home. Typically, we aren't exploiting the real possibilities these plants have to offer.

This article will look at some of the ways we can utilize these. In addition to living plants, there are other means of introducing these images to most every room throughout the house. The goal is to create a fresh, inviting look.

Pots of cacti and succulents can fulfill many roles indoors. For example, large ones can be used as focal points or accents. Very tall ones are suitable for creating room dividers, which can be used to break up large rooms into cozy, more intimate settings. In poorly lit bathrooms, snake plants and flowering pot plants, such as the kalanchoes, add a much-needed touch of nature.

For the dining room, don't overlook the possibility of centerpieces. Whether it is in the form of a living wreath made of succulents, or potted plants, these are excellent for decorating tables. For the most part, I would recommend using non-spiny species so visitors and children don't get injured.

Depending on the situation, indoor cacti and succulents can be planted in all sorts of decorative containers. For example, the miniature blooming kalanchoes would look lovely planted in the pint-size wooden berry boxes. For extra color, add decorative touches like bows or stencils to the containers you choose. Baskets of all sorts would also be suitable for indoor use.

When displaying live cacti and succulents, always use decorative pots and containers when possible. There are all sorts of ornamental pots and cache pots available in different materials. The material you choose should match that of the décor. Choose ones that fit into your overall decorating scheme. In some circumstances, the plants can be beautifully displayed on pedestals and columns.

For parties and dinners, combine cacti and succulent flowers with tropical foliage to create stunning floral arrangements. An easy way to use these as cut flowers is to float them in shallow bowls of water.

Replace the candles in a sconce with small containers of cacti and succulents. With some kinds of chandeliers, you can use this same approach.

Even cactus fruits can be used for indoor décor. Select a glass vase with a wide mouth, and fill it with ripe fruits. This would be a great decoration for various holidays, such as Thanksgiving and Christmas.

For autumn, create a display to reflect the beautiful fall colors. Mix and match cactus fruits with other seasonal veggies and fruits, such as gourds, and baby pumpkins.

For spring displays, most folks prefer pastels. If you shop around, you should be able to find cacti and succulents with delicately colored blooms. These potted plants can then be placed in cache pots with seasonal themes.

For summer, bright and vivid colors take the spotlight. For that season, there is no shortage of cacti and succulents with hot colored blooms. Most of the kalanchoes would fall into this category.

During the early winter months, people are pretty much looking for holiday
plants, which means reds and greens. However, pinks are also becoming very popular for this time period. The truth is that the color of the Christmas and Thanksgiving cacti is of little concern. They will be appropriate in any case.

So far as plant and flower color are concerned, one can always use dyes or glitter to get the desired effect. Many major craft stores will have special paints and glitter you can safely use on plants. Let's face it. There is no shortage of opportunity to use glitter during the Christmas holidays. Cactus fruits and even pieces of non-spiny succulents and cacti can be gilded for the holidays. Touches of gold add an old-fashioned touch to holiday decorations.

When we're looking for ways to decorate with cacti and succulents, don't neglect obvious places, such as ceiling beams. In most rooms, there are bound to be perfect spots where we can suspend hanging baskets of succulents and cacti.

When you are hanging these plants, be sure to match the light levels of the selected spot to those of the plant species. Many succulents need full sun, and should be placed near windows or sky lights. You can usually tell when these aren't receiving enough light for they will tend to stretch and get leggy.


This site needs an editor - click to learn more!


Editor's Picks Articles
Top Ten Articles
Previous Features
Site Map





Content copyright © 2022 by Connie Krochmal . All rights reserved.
This content was written by Connie Krochmal . If you wish to use this content in any manner, you need written permission. Contact BellaOnline Administration for details.