Decorating Schemes with Cacti and Succulents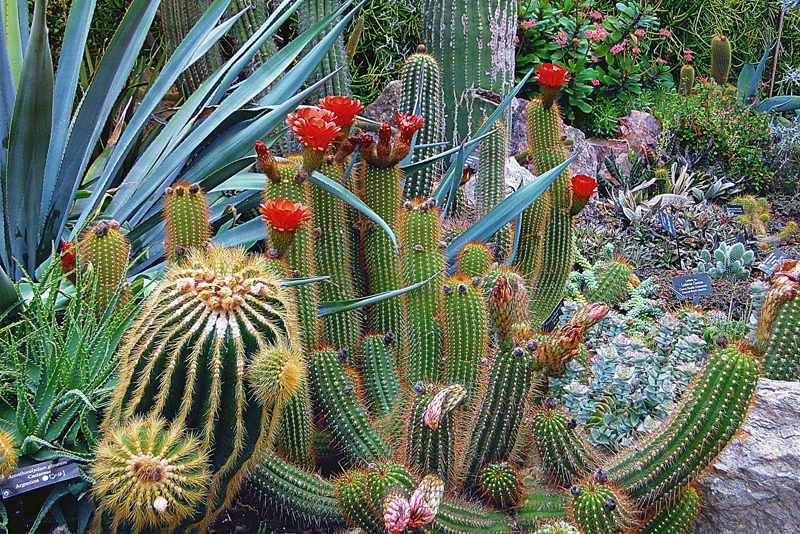 This week, we'll look at some of the various decorating styles, and see how we can incorporate cacti and succulents into these different schemes.

The overall style of the home and indoor décor determines what succulent and cacti plants will be appropriate.

For simplicity, I've lumped the different styles into various categories. First, there is the classical or traditional style. In this, you would expect to see a mix of different elements, such as antiques, heirlooms, and reproductions. For this sort of style, it is best to treat the plant as if it were an accent piece. For example, place a tall plant in the center of the mantle, and set candlesticks on each end. For the seasons when the fireplaces aren't in use, you could set tall cacti or succulents on the floor on either side of the fireplace. I've even seen cases where people placed a low-growing flowering plant inside the fireplace. This approach also works well.

A romantic style of home décor tends to be very rich and alluring. It radiates a serenity. For this style home, there are several kinds of plants that would be suitable. For one thing, flowering plants with pink, red, and white blooms work especially well. So do ones with semi-double and double flowers for these look very frilly and romantic. I would definitely use a cache pot or decorative pot in such a setting. If you prefer, wrap the container in some romantic-looking lacy material or something with ruffles.

Sophisticated decors can assume different forms. They may be eclectic, exotic, elegant, or very dramatic. Sometimes this style uses a mix of highly decorated objects, including ones in vivid psychedelic colors. In these settings, choose the plants with care. In these situations, you might try using succulents with highly colored blooms.

As a category of decorating styles, the country home can take several different approaches. There is the grand country home, which mainly uses classical, traditional, and provincial styles with symmetrical features. This approach does tend to be pretty sophisticated. Concerning suitable plants for this style, ones with pendant, trailing stems, such as burro's tail (Sedum morganianum) or string-of-pearls (Senecio herreanus).

On the other hand, the rustic country look uses lots of primitives, crude furniture, and artifacts. For this style, I suggest using Aeoniums in some primitive-looking wooden or ceramic containers. In a pinch, you could even use a pair of old shoes or boots.

The last style to consider is the modernist. This tends toward minimalism. It is especially popular in new homes. These austere settings tend to have sleek, clean, geometric lines with an overall impression of the abstract. These never have a lot of clutter. The walls tend to be plain, and lighting is often concealed. What works best of all for this setting is angular and quirky succulents and cacti that repeat some element in the décor, such as geometric lines. For example, buy the tallest snake plant or crown of thorns you can find. You want something that is really bold.

Embellish and decorate as you see fit within these overall decorating schemes.

This site needs an editor - click to learn more!


Editor's Picks Articles
Top Ten Articles
Previous Features
Site Map





Content copyright © 2022 by Connie Krochmal . All rights reserved.
This content was written by Connie Krochmal . If you wish to use this content in any manner, you need written permission. Contact BellaOnline Administration for details.