Guest Author - Kristi A Larson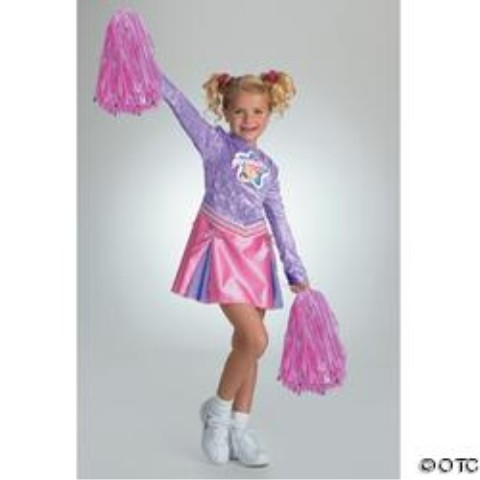 Little girls and big girls alike love to imagine themselves cheering their team to victory! Pom poms swishing, ponytails flying, and electricity in the air! So what a great idea for a birthday party, a cheerleading theme!
Consider making your own invitations by cutting out a circular shape from a cardstock your color of choice. Use glue to attach shredded mylar commonly found in the
Oriental Trading has costumes too!
craft section for filling gift baskets. Cut a two inch strip of elastic, fold it in half, and staple in the center of the mylar to create a terrific pom pom invitation!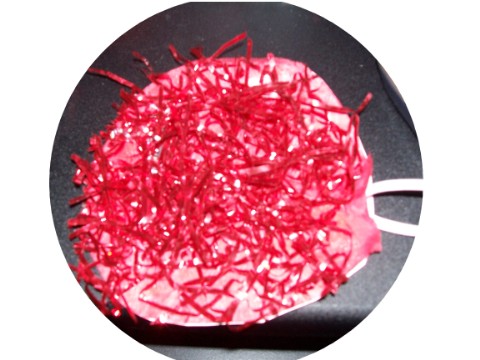 Or make "tickets" to the Big Game. For the words try to think of something that relates to the game or cheering. For example, if it is the girl's eighth birthday, "Two-Four-Six-She's Eight! It time that we appreciate Ellie! Ellie! Yay!" or "Join us for a Big 8 Tailgate!" Then continue to list out the details below. You could also use the invitation to encourage guests to come dressed in their favorite cheerleader outfit or teamwear. Consider a prize for "Most Devoted Fan". As the parent, it would only be appropriate for you to wear the zebra stripes of a referee!
Now it's time for the decorations. Chances are that if you are throwing a cheerleader party your daughter has a favorite team or color. Use that for your color scheme, especially if she has some items in her room already. If not most discount stores have cheerleading items in their toy sections. You can also use the same shredded mylar from the invitations to create larger pom poms for the guests, or shred some tissue paper. You can hang jerseys, sports equipment, megaphones, pom poms and pennants around the room. Don't forget to set up a concession stand in your kitchen or food serving area. Serve foods like hot dogs, popcorn, and nachos. Use megaphones to serve chips in.
There are so many games and activities suited to this theme. And remember, the better prepared you are, the smoother things will move along. Because once you lose kids...they're gone!
The Human Pyramid: Make sure to do this either on grass or a soft mat. Help the girls create a pyramid and capture it with lots of pictures! Let them take turns in different positions.
Cheers: Get the girls lined up and teach them some simple cheers. You might even enlist the help of a high school cheerleader willing to come and teach some.
Face Painting: Show their Team Spirit with a little face decorating!
Music: Create a simple dance routine to some techno style music and let the girls learn the choreography. They will have a blast!
Cheerleading Obstacle Course: For younger children, do simple exercises with them, jumping, waving pom poms, yelling...For older children, design an obstacle course that includes gymnastic style moves,more difficult jumps, memorizing and reciting a cheer...
If you consider yourself to be quite a cake decorator, try your skills at a megaphone shaped cake, cut from a large rectangular cake, or use a round cake pan and drizzle several strands of icing or licorice strands across to simulate pom poms (or use coconut dyed with food color)-make the handles with white fondant or melted white almond bark. If you aren't sure how they should look, use a real pom pom or megaphone for inspiration. If this seems a little complicated, make a simple rectangular cake and decorate it like a cheerleading uniform.
In addition, Oriental Trading Company has some great
Cheerleading Party Supplies!

Kids - yelling, girls - dressing up, birthdays - having fun! How can a cheerleading party not be a big hit?