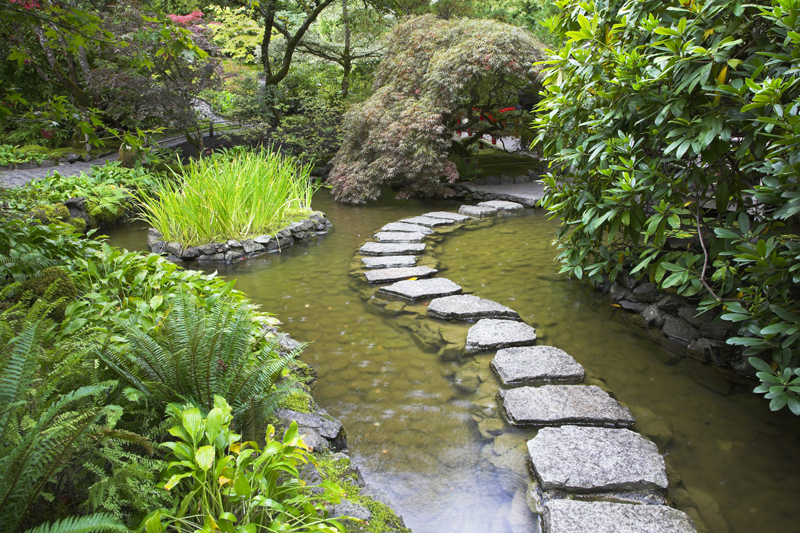 Nothing ever stays the same, and that's a good thing. By the time we're weary of the summer heat and humidity, fall is just around the corner. In many parts of the country, this is the best season of all. By this time of the year, we are ready to have some fun.

The fall foliage brings us a new palette of colors, and these are often echoed in the fall decorations we see in yards across the country. There are quick and easy ways to add autumn touches to your landscape. For a quick makeover, focus on key areas, such as patios, porches, and decks. First, slip your container plants into some fall-colored cache pots. Or wrap the pots in decorative wraps. Add some gourd or pumpkin-shaped candles to patio tables.

For covered porches, add a down-home touch with some fall wall hangings. Though some Halloween motifs, such as ghosts, may border on the trite, there are tasteful ways in which these traditional themes can be utilized in indoor and outdoor settings. Get the full flavor of fall without the silliness by checking out the quilt patterns at Mt. Redoubt Designs. They include various wall hangings for autumn. These patterns are designed by renowned artist Letitia Hutchings. Her fall designs include "Harvesting Dreams." It features pumpkins, gourds, and other fall produce on a beautiful starry blue background and swirling purple border.

On the "Gathering Girl" harvest quilt, a Native American girl harvests Indian corn. "Sweet Addiction" shows traditional fall motifs, including candied apples, a full moon, jack-o-lantern, a giant pumpkin, and a quirky
witch with orange hair and boots.

"Witchy-Poo" depicts a rural scene with a barn and weather vane surrounded by fall foliage and a witch traveling across the sky on her broom.

Each pattern comes with complete, step-by-step instructions, and list of materials. Mt. Redoubt Design patterns have something else you won't get elsewhere. Each design includes an original poem by the artist.

Fall is a time for us to renew our ties with nature. This is beautifully, expressed in a quote by Nathaniel Hawthorne, "I cannot endure to waste anything as precious as autumn sunshine by staying in the house. So I spend almost all the daylight hours in the open air."

In modern culture, diversity is prized. We're absorbed all sorts of fall customs and themes, but are often unaware of the origins from which these customs arose. A new book from Llewellyn Publications casts light on this subject. "Autumn Equinox-the Enchantment of Mabon" is by Ellen Dugan. She explains the rituals, myths, and traditions associated with this holiday, and presents fascinating stories. In addition, this includes various kinds of seasonal crafts, and decorations as well as tasty harvest-time goodies. The author includes details on special fall prayers, meditation, spells, and charms. She is commonly known as the "Garden Witch,' and has written numerous books.

In addition to the autumn equinox, there are other fall holidays, such as the Day of the Dead, or Los Dias de Muertos. Lasting for several days, this takes place at the end of October. A number of rituals and customs are associated with this holiday, which is becoming increasing popular in America. Pomegranate has published a groundbreaking, bilingual (English and Spanish) book on this subject. "The Days of the Dead-Los Dias de Muertos" features photos by John Greenleigh and text by cultural scholar Rosalind Rosoff Beimler. The author carefully explains each aspect of the holiday from buying candies, breads, and other items in the shape of skulls to visiting cemeteries and decorating the graves of loved ones with lots of flowers and items with skulls and skeletons. Many kinds of blooms are used for decorations, but marigolds and marigold petals are particularly popular. The photographer visited small towns in Mexico over a period of years.



Related Articles
Editor's Picks Articles
Top Ten Articles
Previous Features
Site Map





Content copyright © 2021 by Connie Krochmal. All rights reserved.
This content was written by Connie Krochmal. If you wish to use this content in any manner, you need written permission. Contact Connie Krochmal for details.