Komodo Island and Its Dragon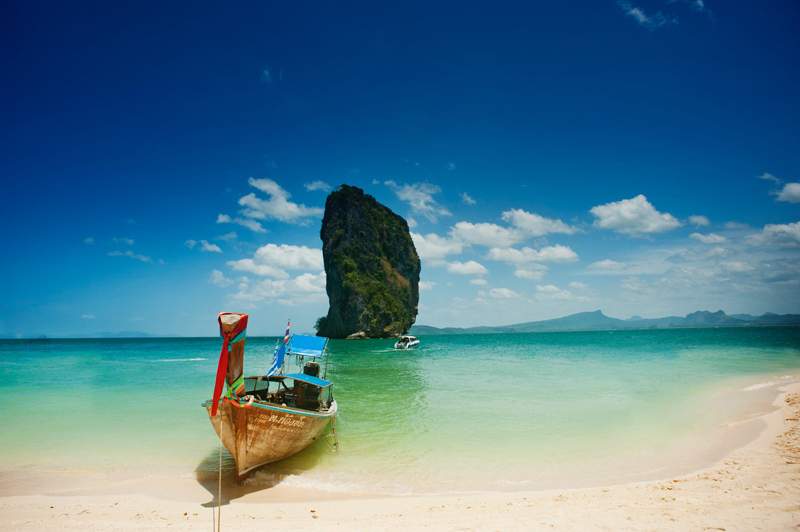 Komodo island is located in the eastern part of Indonesia and is proclaimed as one of the New Seven Wonders of Nature. The island's unique and perfect environment is the best place for the gigantic-looking reptiles that look like the vanished dinosaurs, known as the Komodo dragon (Varanus Komodoensis). It is the largest living species of lizard found in the islands of Komodo, Rinca, Flores, Gili Motang and Padar. These magnificent and endangered species lived quietly in the harsh climate of Indonesia's Lesser Sunda Islands for millions of years until they were found by the Dutch sailors for the first time about 100 years ago.

To protect the Komodo dragons, Indonesia founded The Komodo National Park (KNP) in 1980 and was declared as the World Heritage Site by UNESCO in 1986. The Park embraces three major islands, Komodo, Rinca and Padar and many smaller islands. About 2500 komodos live in this area. The large dragons are about two to three meters long and weigh about 90 kg or more. Despite of their gigantic size and appearance, they are a patient predator with slow movement and not active hunters. Usually they will follow the prey for a while even for several days, but suddenly they can be aggressive and move fast. With only one bite they will eat greedily the dying prey. It's quite amazing to see Komodo near their native habitat and if you are lucky, you can see komodos attacking their prey.

Getting around

However, if you don't see a dragon, you can see and do many activities there. The Park is also famous for the beautiful panoramic views of savannas and rain forests where you can find horses, wild buffalo, deer, wild boar and various types of birds. The Park is also noted for its diverse marine habitat consisting of 1,000 species of fish, 260 species of reef-building coral, sharks, dolphins, whales and sea turtles. Komodo waters are one of the best diving sites in the world with beautiful white beaches, coral reefs, sea grass beds and clean blue oceans. The recommended diving points included Merah Beach, Batu Bolong or Tatawa Islands and you can take a cruise ship or boat to go to these places.

Tips

Komodo island is an amazing place for those who like an adventurous trip. If you plan to visit the island, please be well prepared. Due to National Park restrictions, visitors will only be allowed onto Komodo Island if they come with an organized tour. Women having menstruation must report to a guide or a range for special attention as komodos have a very strong sense of smell and may turn aggressive when they smell blood.

•Please make sure to bring along some bottled water, hat and sun screen as the weather is very hot and dry during the day. Don't walk alone, don't disturb or feed komodos, it's best to walk around with a guide.

•When trekking, please take a stick as Komodos are usually afraid when threatened with a stick.

•Please wear comfortable shoes since the islands have 12 types of snakes and three of them are poisonous.

•Because the lands have many mosquitoes don't forget to bring along insect repellant.

•Since most lands are savannas you are not allowed to smoke or making fires.

Have a breathtaking adventure!



Related Articles
Editor's Picks Articles
Top Ten Articles
Previous Features
Site Map





Content copyright © 2022 by Hanny Suriadi. All rights reserved.
This content was written by Hanny Suriadi. If you wish to use this content in any manner, you need written permission. Contact Hanny Suriadi for details.