Gifts for Gardeners and Cacti/Succulent Lovers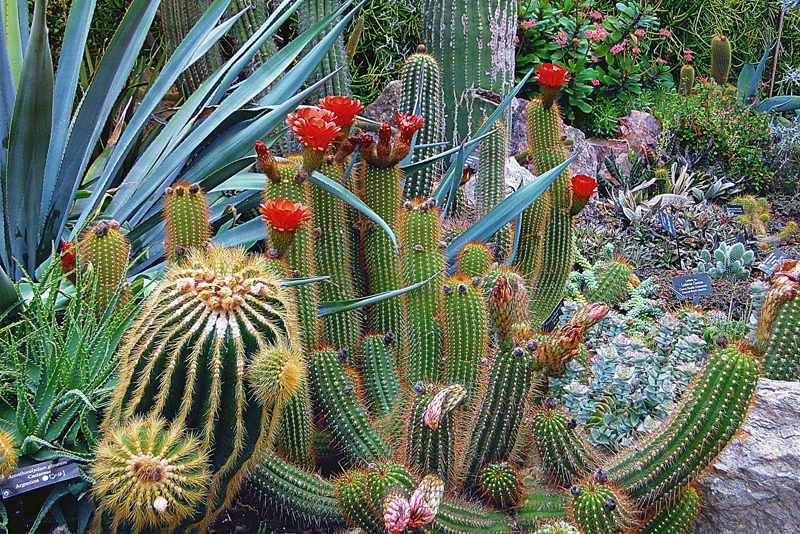 It will soon be time to think about buying those holiday gifts. It is easy to find items for cacti and succulent lovers and other gardeners.

Garden software and CD-ROM's are always a wonderful choice. Some computer software may try our patience, but happily that isn't the case with English Cottage Gardening Version 1.3 for PC. This features descriptions and profiles for over 1500 plants and 5000 plant images.

This easy to use CD-ROM takes the guesswork out of gardening. Everything you possibly need to know about choosing, growing, and selecting plants for cottage gardens is found here.

An easy to use menu features around eight different plant categories with a calendar, tips on plant care and culture, and plant descriptions. You can search by either common name or Latin name, and save any information you wish to use later. This CD even features information on lawns and lawn care, and weeds. I found the lists of plant species for different purposes and situations to be especially helpful. Herb lovers will particularly like all
the details on growing, drying, preserving, and using herbs.

As if all that isn't enough, there are lots of articles on a wide range of gardening topics, such as mulch, frost dates, container gardens, and earthworms. There are even sample garden designs for various kinds of situations and purposes.

There are any number of software titles and CD-ROM's that deal specifically with cacti and succulents. I have reviewed most of these in earlier years, so I will hit the high spots here. For complete reviews, please refer to the article archives.

"Encyclopedia of Cacti and Succulents" CD-ROM by Philippe Faucon is available from the Desert Tropicals website. This allows you to locate plants by their common name, species, genus, or by type, including caudiciforms. The hardiness or minimum temperature is given for each. In addition to photos and detailed information on the plants, there is also a wide array of articles that will be of interest.

Tomas Kriz has several wonderful CD's available from his website. These include "Encyclopedia of Succulent Plants" with details, growing conditions, and photos for over 700 kinds with text in six languages (Czech, English, French, German, Spanish, and Swedish). One of his other titles, "Succulents," features over 300 species. This one is in Czech and English.

Any gardener would appreciate a membership in his/her favorite plant society. The same is true for subscriptions to gardening magazines.

There are so many kinds of suitable things for the garden that there isn't room to mention them all. For both indoors and outdoors, plant stands are a suitable choice. Often, these are made from wrought iron or other metals. Pot trellises for containers and garden trellises for outdoor gardens are also a possibility.

Who doesn't need some high quality garden markers or plant labels? These are especially helpful in the spring when we are wandering around the garden looking to see what has made it through the winter. Many of these come with matching stakes on which the labels or markers can hang.

Garden art and decorative items for the outdoors are very welcome. Stepping stones are a good example. These are both functional and ornamental. They come in so many styles that there are ones to suit every taste.

Practical gardening items make great gifts. Let's start with everyday things like a gardener's tote bag. Some of these have separate compartments for all the different tools and things we need to take out into the garden. Totes can often be personalized with names and photos if you wish. There are also garden tool belts, garden tool caddys, and similar gardening aids that really come in handy.

For those with more cash to spend, irrigation systems are an ideal holiday gift. These sure beat hand watering any time. Another item for outdoor gardens would be raised bed kits. In wetter areas of America, raised beds are a necessity if we want to be sure our cacti and succulents make it through the winter. I have seen some wonderful kits available, and any of them would be a good choice.

For those with greenhouses, the sky is really the limit. You can buy all sorts of supplies and things for hobby greenhouses from companies like Charleys Greenhouse and Garden, such as greenhouse heaters, fans, hoses, hose reels, and watering cans.

For indoor gardening, there are also many wonderful choices. Start with a lighted plant stand. These give the plants the light they need on cloudy winter days.

For both indoor and outdoor gardeners, there are all sorts of common everyday gardening things that come in handy. These would include nice pots, potting soil, decorative pebbles, garden gloves, garden thermometers, rain gauges, sturdy garden hats, soil testing kits, and knee pads. Container gardeners can really use pot feet and similar items to get the pots up off decks and other surfaces. Pot feet are available in many different decorative styles.

The easiest gift by far is to take a decorative basket of some sort and fill it with some of the various kinds of gardening tools, aids, and other items. I would also throw in some jars of prickly pear jelly or cactus honey as well. Tie a colorful ribbon and gift tag on the basket, and you are all set to go. No gift wrapping is needed.

Anyone who has bad knees would certainly appreciate a combination garden kneeler/seat. Some models of these have wheels, while others do not.

If you aren't sure what the gardener might want, why not buy a gift certificate from a local garden center or nursery, mail-order or online company? Some companies specialize in cacti and succulents. Start by visiting Nature's Curiosity Shop at the Cactus and Succulent Plant Mall. This company relocated in recent years, and specializes in Gasteria, Agaves, and Haworthias. Instead of a color catalog, they have a CD available of the Gasteria collection featuring 150 photos, which is well worth $5 postage-paid. A complete printed list of the plants they sell is available free of charge.

In addition to all these gardening items, gardeners would love pillows, art prints, and other things for the home that feature cacti and succulents.

For gifts, you can't beat the "Debbie Mumm 2006 Engagement Calendar." This is a sturdy hardback with a spiral binding. It has all the features you would expect in a premium quality calendar. Inside the front cover is a handy ruler, and a pouch to store notes and papers. This is beautifully decorated throughout with Mumm's signature art for which she is so well known. For each day, there is lots of space to record appointments. You'll find extra blank pages and additional space throughout the calendar for recording notes, including a whole section at the end. At the back, there is also a handy address book and space to list birthdays and important dates during the year.

This site needs an editor - click to learn more!


Editor's Picks Articles
Top Ten Articles
Previous Features
Site Map





Content copyright © 2022 by Connie Krochmal . All rights reserved.
This content was written by Connie Krochmal . If you wish to use this content in any manner, you need written permission. Contact BellaOnline Administration for details.