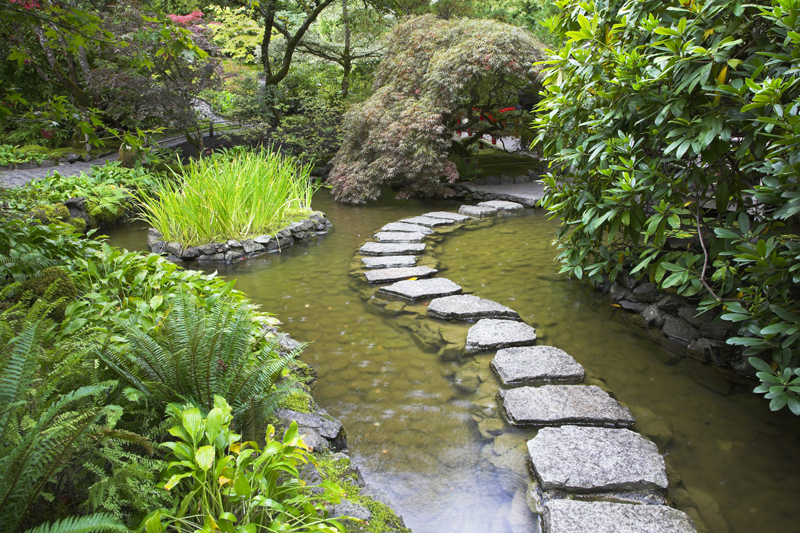 Fall is a busy time for the landscape. It's one of the best times for planting in many areas. But there are any number of other landscaping chores as well that need done before winter arrives.

During the fall I like to renew my container plantings to give the landscape a fresh look. By the time autumn arrives, many of my annuals growing in pots no longer look their best. So I'm ready for a change.

Many kinds of plants are well suited to container culture. Annuals are most commonly grown in pots. When we tire of seeing a container garden, we can discard the annuals, and replant it with something else.

However, more permanent-type plantings for pots would be perennials, and even dwarf shrubs and trees. Generally, these will be hardy plants that remain outdoors over the winter. Dwarf conifers and evergreen herbs like lavender are excellent choices.

The best approach is to use a compatible mix of different ones with various kinds of growth habits. For a shady site, you could combine English ivy, ajuga, and ground-hugging loosestrife. For full or partial sun, there are many plants suitable for containers. Fir instance, you could use the tricolored and Icterina sages and leadwort. All of these foliage plants should give you interesting color throughout the autumn and early winter.

During the very late fall, we need to prepare our water gardens for the winter months that are ahead. Tender waterlilies and other non-hardy aquatic plants can be overwintered in frost-free places like cellars and garages.

One of the last things we need to do before old man winter arrives is to
clean up and store our garden tools and equipment. If this isn't done, rust often forms on metal.

Be on the lookout for the last of the garden produce of the season. Before frost hits, harvest any remaining tender vegetables. Often tomatoes will ripen if they are stored in a dry, frost-free place. If space isn't available, you can always make a batch of relish from the different mixed vegetables you have harvested. I make this from green tomatoes, green peppers, and the like.

There are numerous other landscaping chores that are best done in the fall months, but pruning isn't one of them. The plants need to get ready for winter. Pruning too late in the season doesn't allow the new growth to harden off before the freezing temperatures arrive.

Autumn is a busy time for the landscape. It's the ideal time for planting hardy bulbs. These do best if they're planted when night temperatures are somewhere in the 40's and 50's Fahrenheit. This allows time for the bulb roots to become well-developed before the ground freezes. If drainage is a problem in your area, try using raised beds for bulbs. These will dry out quicker than the surrounding soil.

Red may be the color of stoplights. But when we see the leaves turning red in the fall, it's a signal that we need to plan our fall chores. At the same time, we should take the time to enjoy the show nature has to offer. There's more to colorful fall foliage than meets the eye.

"Fall Foliage-the Mystery, Science, and Folklore of Autumn Leaves" by Charles W.G. Smith with photos by Frank Kaczmarek was published by FalconGuide, an imprint of The Globe Pequot Press. Any question you could possibly have about fall foliage is answered in this lushly illustrated guide. In the introduction, the author explains in an accessible style the process of color change. There are chapters devoted to different sorts of habitats from the woody plants and vines you would see in rural areas and forests to cultivated trees and shrubs in cities and towns. For each of these, there is a profile of each different plant with a basic description, highlights of their fall color, and the habitats in which these can be found as well as their economic importance.

A map shows the distribution of each one. Designed as both a travel and nature guide, this also presents some of the best areas for viewing fall color and what you can expect to see region by region. The appendix features websites and hotlines you may want to contact when planning your fall foliage trips.





Related Articles
Editor's Picks Articles
Top Ten Articles
Previous Features
Site Map





Content copyright © 2021 by Connie Krochmal. All rights reserved.
This content was written by Connie Krochmal. If you wish to use this content in any manner, you need written permission. Contact Connie Krochmal for details.