Some New Succulents for 2006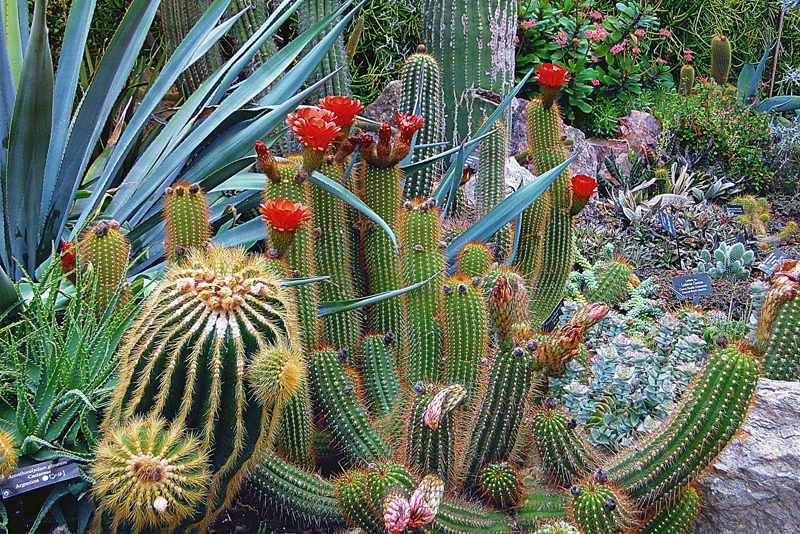 For 2006, cacti and succulent lovers can expect to find many wonderful new varieties are available in nurseries and garden centers in the U.S. Here are some of the new succulents to consider. A few can be grown from seed, a fact that is included under the plant descriptions below.

The Forever Midi series of kalanchoes includes two new colors for 2006. Forever Midi Red is early blooming. It produces large, vivid red blossoms. Forever Midi Coral also begins flowering sooner than most. A vigorous plant, Forever Midi Coral has large, salmon-pink blooms with whitish eyes in the center. All of the Forever Midis have a neat, uniform growth habit. These will only be hardy in the warmest areas of the country. Elsewhere, they should be treated as annuals or pot plants.

The Veranda series of kalanchoes is also being introduced for 2006. These large, vigorous plants are especially recommended for container gardens and patio planters. With their sturdy, thick stems, and large foliage, they make a very good impression. They are very free flowering. The Verandas will be tender in most areas of the country, and would normally be discarded at the end of the growing season.

For 2006, a wonderful, long-blooming kalanchoe, Kalanchoe Snowdon, will be available. Snowdon remains in bloom for about seven to eight weeks. Initially creamy white when they first open, the blossoms later become pure white. Emerging in large clusters, masses of them cover the attractively branched plant. The flat, dark green foliage is medium in size.



Didelta Dawn is a new kind of succulent. This features thick, silvery succulent leaves much like that of the ice plants or Delspermas. Didelta Dawn produces masses of vivid yellow blooms. In most regions, this is best treated as an annual and discarded at the end of the growing season. It will not be hardy everywhere.

Crassula Campfire is winter hardy only in zones nine through eleven. Elsewhere, it can be grown as an annual or container plant. This is also recommended as an indoor plant. About a foot in height, this features unusual red blossoms.

The Purslane Rio is a new series of succulents that will be available in 2006. This includes six different colors. Very vigorous and well branched, these are suitable for hanging baskets. The colors include apricot, orange, rose, scarlet, white, and yellow.

So far as the moss rose or portulaca is concerned, one of the most exciting additions is the Portulaca Stopwatch series. Unlike some moss rose varieties, these will not get stretched and lanky during hot, humid weather. This means gardeners in the South should make full use of these lovely plants for these are really tough. Flowering freely throughout the growing season, this fast growing annual has blooms that remain open much later in the day than those of other portulacas. That is why this name was chosen. Only about six inches tall and less than a foot across, the plants have a restrained growth habit. They don't spread as much as most other moss roses. This makes them suitable for small gardens, hanging baskets and other containers, and other situations where limited space is available.

Stopwatch White has clear white blossoms that are about two inches across. In addition to white, the series includes other colors, such as rose, orange, yellow, and cream. This can be grown from seeds. The yellow is a strong yellow with a hint of red in the center. Rose pink is a medium shade of pink. The orange has a peachy overtone to the flowers. Cream is ivory to cream with a tinge of purple in the center.

The Sundial Portulaca series also contains new additions. Chiffon Sundial has pale pink blossoms with hints of a salmon undertone.

All of the portulacas or moss roses can be grown from seed. I would recommend starting them early indoors or in a greenhouse.

Delosperma floribundum Sequins is recommended as a perennial for zones six through nine. This ice plant has a low, spreading growth habit just like most of its relatives. It produces flowers the very first year. The bicolor blossoms are a mix of white and purple.

Another new ice plant should also be found in American garden centers. Delosperma congestum is recommended for zones six through nine. Growing from two to four inches in height, this evergreen perennial has lovely succulent, dark green foliage. During the colder months, this can develop purple tones. The sunshine yellow blooms are shaped like daisies. These are produced abundantly. This is recommended for containers as well as for ground covers and rock gardens.




This site needs an editor - click to learn more!


Related Articles
Editor's Picks Articles
Top Ten Articles
Previous Features
Site Map





Content copyright © 2022 by Connie Krochmal . All rights reserved.
This content was written by Connie Krochmal . If you wish to use this content in any manner, you need written permission. Contact BellaOnline Administration for details.