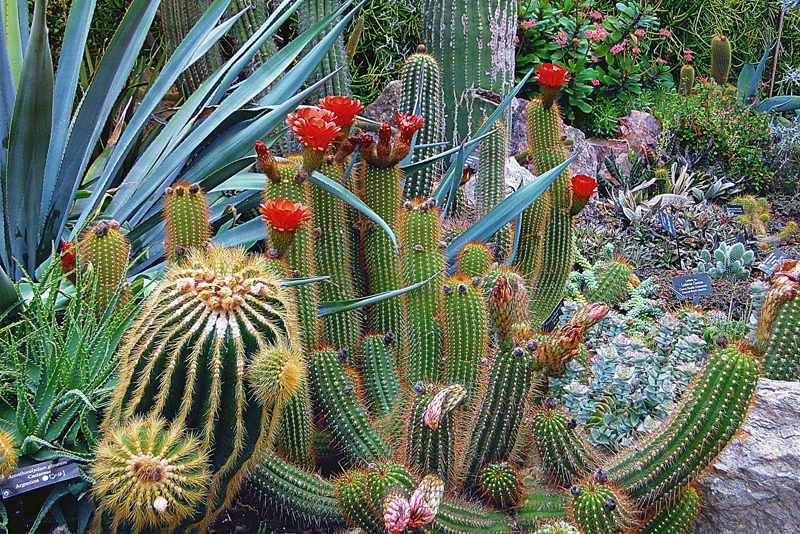 Various kinds of Sedums are being introduced in 2006. These will be available at local garden centers and nurseries. In addition, they should be listed in mail-order catalogs and online. A few of these can be grown from seed, but for the most part most must be purchased as plants.

Sedum Cloud Walker is recommended as a perennial for zones four through nine. This is a compact plant with open branches and a vase-like growth habit. It features dark foliage that provides a perfect background for the clusters of large mauve blooms. The layer-like fashion of the flowers resembles clouds, which accounts for the name. This is a hybrid of Sedum spectabile.

Sedum Hot Stuff is slightly lower growing than some upright forms. The stems are held in a tight cluster rather than sprawling. It has vivid bright pink blossoms. This is recommended as a perennial for zones four through nine.

Sedum telephium Emperor's Wave has lovely blue-green foliage. This vigorous plant has sturdy, dark stems. The flowers are reddish-purple. Unlike some Sedum varieties, this one can be grown from seed.

Sedum acre Oktoberfest is another that can be grown from seeds. This is a vigorous plant with a dense, spreading stems. These carpet the ground. This plant has attractive green foliage. Freely flowering, this produces lovely, creamy white blooms.

Sedum Black Jack developed as a sport in a bed of dark-leaved Matrona plants. Black Jack has about the darkest foliage you can expect to see from fall blooming Sedums. This features rich, blackish-purple leaves for which it is named. It is truly the first stonecrop to have genuine dark black foliage. The stems are very sturdy. Growing to about two feet in height, this strong, upright plant is recommended as a perennial for zones three through nine. Both the flowers and foliage are truly outstanding. During the fall, the lovely pink flowers open in enormous, eight-inch-wide flower heads. They are beautifully displayed against the dark foliage.

Sedum Samuel Oliphant is a variety of autumn stonecrop. The foliage assumes many differing forms of variegation with splashes of cream, green, and burgundy or pink. The style and amount of variegation seems to vary, depending on the light conditions. Growing from 2-2½ feet in height, this features colorful purple flower stalks. Cream to pink in bud, the blossoms are pink. They open in clusters, up to five inches across. This plant was a sport of Matrona Sedum. It is suited to zones three through nine.

Sedum Postman's Pride is another new autumn stonecrop. Reaching about 1½-2 feet in height, this features a semi-upright form. The leaves are the deepest purplish-blue you can imagine. The flowers emerge as reddish-pink, while the buds are deep purple. A Belgian postman originally found this growing in his garden, so it is named in his honor.

Sedum dasyphyllum Major is also new for 2006. Hardy in zones four through nine, this mat-forming variety only grows to about four inches in height. It features blue foliage in tight clusters. During May and June, clusters of small white blossoms open freely.

Sedum Mr. Goodbud is a hybrid of Sedum spectabile. This features short, robust, upright stems. The leaves are massed together along the length of the stems. Light colored in bud, the blossoms open to a dark mauve. This is recommended for zones four through nine.

Sedum Purple Emperor combines beautiful foliage and flowers that will knock your socks off. Well suited to warm climates, this is recommended for zones three through eight. Despite muggy, hot weather, this plant will remain neat looking. Around 1-1¼ feet in height, it has gorgeous deep purple foliage. Freely flowering over a long period, this produces masses of delicate, soft pink blooms that emerge on dark reddish-purple stems in neat, round flattened clusters. A favorite among butterflies, this is recommended for containers, mixed borders, and as an accent plant.

Sedum Abbey Dome has been introduced from the Netherlands. This sturdy plant features thick, blue-green foliage. Masses of bright pink blossoms with red centers cover the plant. Even the red seed pods are attractive.




This site needs an editor - click to learn more!


Editor's Picks Articles
Top Ten Articles
Previous Features
Site Map





Content copyright © 2023 by Connie Krochmal . All rights reserved.
This content was written by Connie Krochmal . If you wish to use this content in any manner, you need written permission. Contact BellaOnline Administration for details.