Spanish Prepositions - A -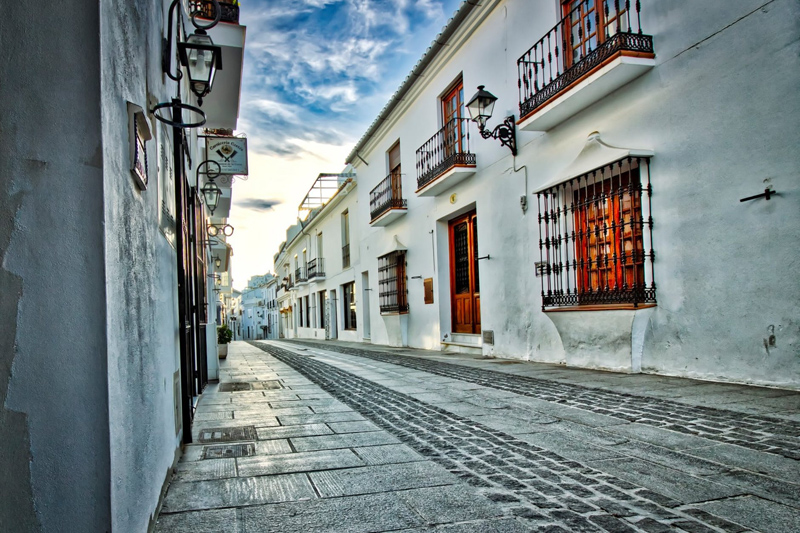 - A -
Preposition "a";
Pronunciation: a (click on it to listen)
Origins: "A" comes from the Latin "Ad".
English equivalents: at, to
Uses:
1. 
The preposition "a"is used with verbs (and nouns) that express idea of movement, ordestination:
· Voy a Estados Unidos el año próximo. (I am going to the Unite States next year.)
· El tren llegó a la estación. (The train arrived at the station)
· El plato cayó al suelo. (The dish felt to the floor.) - Note that "al" is the contraction for 'a + el'

2.  
To express position:
· Estoy al final del pasillo. (I am at the end of the corridor.)

3.  
'A' is also used to connect a verb of movement and an infinitive.
· Ana va a ver una película. (Ana is going to watch a film).

4.  
In expressions of time: · Pedro llegó a las cinco. (Peter arrived at five o'clock.)
· Yo termino mi trabajo a mediodía. (I finish my work at noon.)

5.

 

As personal 'a'. This is when the preposition 'a' is used with a Direct Object that refers to a person. Direct Objects others that those refereeing to persons, don't use the preposition "a", but when those D.O. refer to people, this preposition is used:
· Él conoció a María hace dos años. (He met María two years ago.)

In this example, "María" is the Direct Object but, as it refers to a person, we use the preposition "a". This is valid for any verb except for "tener"; with this verb, we don't use any "a" preposition with the D.O.. (i.e.: "Yo tengo dos hermanos")

6.  
With Indirect Objects:
· He comprado un libro a mi hermano. (I bought a book for my brother.)

7.  
A + QUIEN, used as the equivalent to WHOM
· ¿A quién viste ayer? Whom did you see yesterday?

8.  
To express the method used to do something.
· Esta joya está hecha a mano. (This jewel is made by hand)
· El va a la escuela a pie. He goes to school by foot
.
9.

 

To express rates or prices:
· Al nueve por ciento. (At nine per cent).
· Ellos venden los libros a tres dólares. (They sell the books at three dollars)

10.
We can express distance between two points with Estar + a:
· Mi colegio está a dos kilómetros de tu casa. (My school is two kilometers away from your home).

 These are the main uses for this Spanish preposition. This section will be updated soon so... get tuned!!
As always, for any question or comment,
go to the Spanish Forum
and post it.
¡Hasta pronto!
---
Recommended material:
You can find below some materials / web pages that, from my point of view, can be useful and interesting:
| | |
| --- | --- |
| Spanish Prepositions | ::: About Simple and Compound Spanish Prepositions; Personal A, Possessive De, Spanish Prepositions used wih verbs and much more. |
| | ::: Visual Link Spanish™ teaches you how to build sentences, ask and answer questions, and truly communicate in Spanish. Free lessons: Sentence Building, Advanced Sentences, Numbers, Colors, Verbs, Locations, Daily Objects, Restaurant, Sports and Hobbies, Rent-a-Car, Bank and more. Just click, listen and repeat! |
| BBC.co.uk - Spanish Prepositions | ::: Practice the Spanish prepositions with 6 stories. |
| Think Spanish! Magazine | ::: I write monthly articles for "Think Spanish" ("Piensa en español") since 2002. All "Think Spanish" articles are written in Spanish, and they include a Spanish/English glossary. You'll also have the option to buy this magazine including a CD. Nice way to learn about Spanish language and customs! |
Online Exercises

Recommended Books and DVDs


Related Articles
Editor's Picks Articles
Top Ten Articles
Previous Features
Site Map





Content copyright © 2018 by Angeles Fernández. All rights reserved.
This content was written by Angeles Fernández. If you wish to use this content in any manner, you need written permission. Contact Angeles Fernández for details.