Guest Author - Elizabeth Darrach
Hello, and welcome back! If you haven't stopped by
the forum
lately, you've missed the first two weeks of this fall's big giveaway, and there's only one week left to qualify for the final giveaway. You do have to be a registered user of the forum to participate, but registration is free, and with it comes the chance to talk books with other readers in addition to the regular giveaways there. So come join us!
Now that that's out of the way, I have three new historicals to share with you all this week, so let's get started.

Dark Desires (Zebra) by Eve Silver is a debut book, set in London's Whitechapel district at the height of the Ripper's reign. Darcie Finch thought her sister was her last hope at having a roof over her head, but her sister sends her to Dr. Damien Cole instead. Damien Cole is mysterious and possibly dangerous, but Darcie can't help getting involved with him beyond her employment as his maid. Still, she has cause to wonder if he might be behind the gruesome murders happening in the city. This tale shows much promise for the future of gothic romance. Mostly sweet, and told solely in Darcie's point of view, this one is a nice change from some of what I've read lately. I have high hopes for Ms. Silver's success as a romance author. This one's earned three and a half of Cupid's five arrows.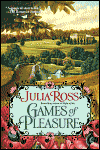 The Games of Pleasure (Berkley) by Julia Ross is up next, with courtesan Miracle Heather rescued from certain death by Lord Ryderbourne. Their passionate night together is her way of thanking him, but she's gone by morning, still fleeing her past. Ryder, at last, is not the too-dark, too-brooding heroes of Ms. Ross's previous tales, with a much lighter outlook. Miracle is another story, though. I'm sorry to say I didn't love this one. I didn't even like it much, unfortunately. My feelings on Ms. Ross's stories have been hot and cold in the past, and after this, I'm inclined to say they're leaning much more heavily in the 'cold' direction now. This one gets two arrows.

His Dark Desires (Pocket) by Jennifer St. Giles gives us our second gothic tale this week. Juliet Bucheron's home is being threatened, but she doesn't know by whom. She just knows danger is lurking, and she may have just invited it into her home, in the form of new boarder Stephen Trevelyan. There really isn't a point in this story where I was able to believe Stephen might be threatening Juliet's life or home. This one is told in first person, but if you're put off by that, as I normally am, try thinking of this as an old Victoria Holt, and go from there. By the end, you'll know who the bad guy is, but this one is still worth a read for gothic romance fans. Nary a vampire in sight, and plenty of steam generated between this pair, aside from the scorching temperatures of the New Orleans bayous. I'm giving this one three and a half arrows as well.

Until next time, happy reading!