Guest Author - Elizabeth Darrach
Hello, and welcome back! Just as fall baseball has finally wound down, the holidays are staring me in the face! Good thing I have plenty of reading material to keep me busy when I should be doing other things, like finding holiday cards or shopping. Personally, I'm waiting impatiently for the release of Nora's next book later this month, but I'm making do with what I have at the moment.
Blow Me Down (Signet Eclipse) by Katie MacAlister is up first, with single mom Amy Stewart jumping into an online pirate game to prove to her daughter how not-uptight she is. Her pirate persona, Earless Erika, meets up with Black Corbin, who turns out to be the creator of the game, but there's a bad guy who doesn't just want to do away with their pirates in virtual reality, but Corbin in reality as well. This one's told in first person, which was strike one for me. Strike two is that these aren't very likable characters. Strike three is that this tries way, way too hard to be funny, which I find very annoying in my reading material. I'm not a MacAlister fan, and I don't expect to be. I'm giving this one of Cupid's five arrows.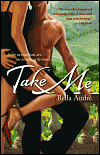 Take Me (Pocket Books) by debut author Bella Andre is next, with Lily Ellis doing a favor for her sister that leads to one hot night with Travis, the annoying twin brother of her best friend. Lily has a lot of issues with her body image, and Travis is super-sexy, so of course they could never work together on a permanent basis. I wanted to like this one, because I'm always looking for great new erotic romance authors, but this one is rather clinically-told, and I just didn't like Travis very much--there are times he's just not nice. I'm sorry not to be able to give this one more than two and a half arrows. I have hope that perhaps her next book will grab me more.

Until next time, happy reading!