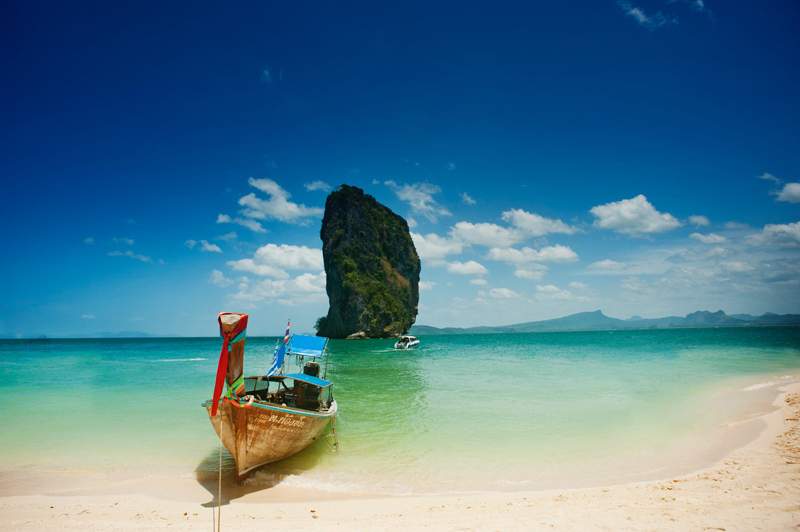 Most tourists who travel to Vietnam are fascinated by the country's natural beauty that range from the lush paddy terraces and the charming valleys of the Central Highlands in the north to the beautiful beaches in the south. In fact, Vietnam is a country with ancient traditions. It has a long history with old temples, colonial towns, archaeological sites, and traditional villages. Some of tourist's attractions you should not miss in Vietnam are:

Nha Trang – a gorgeous seaside resort town with beautiful beaches and clear ocean water is popular for scuba divers. The landmarks of the town are: Long Son Pagoda is famous for its statue of Buddha Gautama, Nha Trang Cathedral and the historic Po Nagar Cham Towers built by the Champa. Many tourists enjoy boat tour on Cai River visiting islands off the coast and explore the view of countryside, fishing villages, Ba Ho waterfall and hot springs.

Mekong Delta – located in the southwestern Vietnam where you can explore the colorful floating markets, fruit orchards, rice paddies, sugar cane groves, bird sanctuaries and attractive villages like Tra Vinh. The region is very fertile by the maze of canals and streams fed by the Mekong River. It has a nickname as "Vietnam Rice Basket" as it produces rice paddies and fish farms for the country. A river boat cruise in Vinh Long can take you to a floating market and other places like Hon Chong, feature stone grottoes, Ben Tre with fruit orchards, Sa Dec with colorful flower farms and Cao Lanh for bird lovers.

Cu Chi Tunnels – located in the Cu Chi district, approximately 30 km northwest of Ho Chi Minh City (Saigon). The tunnels are a huge network of underground passageways that run more than 200 km. The tunnels were built by Viet Cong soldiers in 1948 as a means of hiding spot from the French air attack during the Indochina conflict, as well as serving for several military campaigns during the Vietnam War. More than two decades the tunnels became a complex underground city which included hospitals, supply routes, food, weapon defenses and living quarters for North Vietnamese fighters. The tunnel systems were very important to the Viet Cong in their fighting to American army during the American – Vietnamese war. Now much of the original system was destroyed during bombing raids in 1970 but the remaining parts have been restored and opened as a fascinating reminder. A number of Cu Chi tunnels are now accessible for visitors to explore challenging experience or just for a pleasure visit.

Ho Chi Minh City (Saigon) is the country's biggest city and the centre of commercial business. Located on the banks of Saigon River and it is still known as Saigon to its people, the city has now emerged as one of a flourishing metropolitan city and cultural trendsetter yet the timeless traditions of ancient culture still exist.
Much of the city's life takes place on the streets where the street markets, pavement cafes, stands-on-wheels vendors are selling their merchandise on the sidewalks. You should try to browse the markets such as Binh Tay Market in the evening where you can taste the spring roll, snacks, sticky rice cake or a French baguette to keep you strolling while you shop. Try the food stalls for authentic cuisines at local prices. Most of Vietnamese dishes are boiled or steamed rather than stir-fried with herbs and seasoning. Have your plate fill up with a variety selection of fresh food. This would give you a rich experience!



Related Articles
Editor's Picks Articles
Top Ten Articles
Previous Features
Site Map





Content copyright © 2023 by Hanny Suriadi. All rights reserved.
This content was written by Hanny Suriadi. If you wish to use this content in any manner, you need written permission. Contact Hanny Suriadi for details.